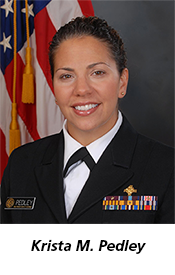 Rear Admiral Krista M. Pedley, assistant surgeon general and director of the Health Resources & Services Administration (HRSA) Office of Special Health Initiatives (OSHI), says the training she received as a pharmacist was the perfect launch pad for her 22-year career in public service.
"We are unique," Pedley told her pharmacy audience Sept. 13 as she delivered ASHP's William A. Zellmer Lecture in Bethesda, Maryland. "No matter what role we play, we use our training and foundational values to rise to every occasion."
The William A. Zellmer Lecture Award was established in 2010 to recognize leadership in advancing public policy that improves medication use through the efforts of pharmacists. The annual lecture takes place during Policy Week, when members of ASHP's policy-recommending councils and the Commission on Affiliate Relations travel to Capitol Hill to advocate for issues important to the pharmacy profession. Policy Week participants also drive the development of ASHP's professional policies and lay the foundation for ASHP's advocacy efforts.
This year's advocacy topics included passage of the Equitable Community Access to Pharmacist Services Act, which would give Medicare beneficiaries access to testing and treatment services that pharmacists are licensed to provide. Policy Week attendees also spoke with their congressional representatives about the need to expand pharmacists' authority to treat opioid use disorder and to ensure federal funding for pharmacy residency programs.
Pedley said Policy Week exemplifies the dedication and determination of pharmacists to use their everyday experiences to shape policies that advance the profession, improve patient care, and contribute to the transformation of public health. Her work at OSHI focuses on population health priorities such as long COVID, climate change and environmental justice, and global health, including the U.S. President's Emergency Plan for AIDS Relief.
Pedley said pharmacists have "shown our ability to be flexible by providing logistics support, leadership, clinical roles, immunizing, screening, and more" in public health activities.
Throughout her career, Pedley has applied her core pharmacy skills and expertise to the challenges she's faced in the Public Health Service.
After Hurricane Katrina struck the Gulf Coast in 2005, Pedley was part of a response team that worked with local pharmacies to ensure communities affected by the disaster had access to affordable medications.
When the 2009 influenza A H1N1 virus emerged, Pedley helped lead the federal pandemic response by developing guidance on influenza preparedness funding for state health departments, with a focus on pharmaceutical caches and antiviral therapy.
And when the COVID-19 pandemic hit, Pedley provided pharmacy expertise for the declaration and implementation of the federal Public Readiness and Emergency Preparedness Act. She worked with her federal colleagues, ASHP, and other stakeholders to ensure that the act granted authority to pharmacy personnel to administer vaccines and other COVID-19 countermeasures. Pedley said the act and its amendments "recognized the clinical expertise and training provided to pharmacists and knocked down barriers in an extreme time of need."
She also emphasized that pharmacists across the country have been front and center in the local, national, and global pandemic response. She praised the profession's efforts to ensure "access to vaccines and essential therapies, with a focus on health equity for underserved ... and vulnerable populations."
One of the public health initiatives Pedley is most proud of is the Patient Safety and Clinical Pharmacy Services Collaborative, which HRSA established in 2008. Under HRSA, the collaborative became a national campaign to provide high-risk, chronically ill patients with clinical pharmacy services through community-level delivery systems. Pedley said that with the support of ASHP and other stakeholders, the collaborative evolved into an innovative public–private partnership whose critical work continues today, making big differences in health outcomes and patient safety.
In the pharmacy community, Pedley is perhaps best known for her work with the 340B Drug Pricing Program. The program was established in 1992 to allow safety net hospitals and other covered entities to purchase outpatient medications at a discounted price and direct that savings to services that improve the care of vulnerable patient populations.
Before leading OSHI, Pedley was director of HRSA's Office of Pharmacy Affairs (OPA), which manages the 340B program. She remains involved in the program through her work for OSHI, which has oversight of OPA.
The 340B program helps support critical pharmacy activities that improve patient care and access to medications. But threats to the program have increased in recent years, and preserving the program continues to be a key advocacy priority for ASHP.
Pedley has testified before Congress on behalf of the program and said she looks for opportunities to improve it while remaining flexible and learning from 340B program stakeholders.
Pedley ended her remarks with a call for pharmacists to use their leadership skills to advance public health, embrace teamwork, and bring balance to their work and lives. She said balance has been especially important for women in pharmacy, and she credited her home and work families with providing the support and balance she needed to achieve a personal goal of attaining the rank of admiral.
"For the women out there, we are leading the way," she said. "With that support, we can do it all."
She added that it's critical for all pharmacists to be resilient and persistent, to leverage successes, and to recognize and embrace professional opportunities.
"Decide who you want to be, moving forward, and the path you want to get on, and go for it," she said. "Take risks and chances."
Posted September 28, 2022