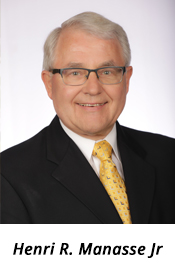 In what may be a first for pharmacy, former ASHP Chief Executive Officer (CEO) Henri R. Manasse Jr. was exiting the ski slopes at Vail, Colorado, when he took a phone call informing him he was to receive the Remington Honor Medal, the highest recognition bestowed by the American Pharmacists Association (APhA).
"I was pleasantly surprised when I got a call from the interim CEO at APhA, Ilisa Bernstein," Manasse recalled. "And I said, 'I'm already at 9,200 feet, so you've just added another thousand feet, I think.'"
APhA established the Remington Honor Medal in 1918 to recognize distinguished service on behalf of American pharmacy. In recognizing Manasse, APhA honors his work to elevate the role of pharmacists in society, improve pharmacy education, and advance pharmacy practice through collaboration among healthcare leaders, government officials, and other stakeholders.
Manasse will be officially recognized in March at APhA's Annual Meeting & Exposition in Phoenix, Arizona. He will deliver remarks there as part of the annual Remington Honor Medal award ceremony.
ASHP CEO Paul W. Abramowitz, who will speak to Manasse's accomplishments at the ceremony, said he's delighted on Manasse's behalf and honored to celebrate his predecessor's many contributions to the profession.
"Dr. Manasse's contributions to pharmacy have had an immense influence in elevating how pharmacists define their role in society and how they are educated and trained for that role," Abramowitz said. "He has also greatly deepened the understanding and appreciation of the capabilities of pharmacists among healthcare leaders, government officials, and other influential individuals outside of pharmacy."
Remington honorees who have inspired Manasse and influenced his work include contemporary colleagues Harold Godwin (2018) and Peter Vlasses (2022). Manasse also took inspiration from Daniel Nona, the 2000 Remington recipient and former University of Illinois professor who encouraged Manasse, as a young pharmacist, to pursue an academic career.
Manasse earned a bachelor's degree in pharmacy from the University of Illinois, a master's degree in educational psychology from Loyola University of Chicago, and a doctorate in pharmacy administration from the University of Minnesota. He holds honorary doctoral degrees from eight universities.
Early in his career, Manasse spent nearly 25 years at the University of Illinois as an educator and, for 12 years, as dean of the College of Pharmacy. Through his leadership, the college of pharmacy made the then-controversial decision, in 1983, to offer the PharmD as the only professional degree in pharmacy.
"We were the first school in the Big Ten to make that move and one of the first research-based public universities to embrace this," Manasse said. "At the same time, we also felt that we needed to expand residency education."
Manasse said his professional focus on interdisciplinary collaboration grew from his doctoral research on the personalities and values of people who practice pharmacy and comparative studies of personality types in medicine and nursing.
Manasse left Illinois in 1993 and spent three years at the University of Iowa as vice president for health sciences and chairman of the board for the University of Iowa Health System.
While in Iowa, he was approached by then-ASHP President Rebecca Finley to become ASHP's new CEO, following the retirement of Joseph A. Oddis.
"We spent many evenings on the phone talking about whether to make this move. Because for me, becoming a CEO of a national/international health organization like ASHP was a huge career change," Manasse said. "And it took me quite a while to sort it all through and make a decision to come."
Ultimately, Manasse said, he was swayed by ASHP's forward-looking plans for the profession. He supported ASHP's goals of strengthening relationships with other health professions and hospital executives and building ASHP's presence and credibility in public policy and with regulatory and accrediting bodies.
Manasse became ASHP's executive vice president and CEO in 1997 and served in this capacity until his retirement at the end of 2011. Looking back, he said ASHP remained true to the goals that had first attracted him to the organization.
ASHP also became a respected national voice for medication safety, an accomplishment that was driven by Manasse's commitment to solving problems revealed in the landmark 2000 National Academies report, To Err Is Human. This focus raised ASHP's national profile as an authority on patient safety and helped to establish pharmacists in the public sphere as essential members of patient care teams.
Manasse was the driving force behind a 2008 multistakeholder summit on improving the safe use of IV medications. The summit's influence continues today through ASHP's interprofessional Standardize 4 Safety initiative.
The Practice Advancement Initiative (PAI), formerly the Pharmacy Practice Model Initiative, was launched in 2010 under Manasse's leadership. Through partnerships with ASHP state affiliates, health systems, and pharmacy practitioners, PAI is establishing pharmacists as the healthcare professionals who are responsible and accountable for medication-use outcomes. The initiative remains a priority for ASHP CEO Paul W. Abramowitz, whose leadership continues PAI's advancement.
Manasse also led the modernization of ASHP's policymaking process, positioning the organization as a leader in advocacy around drug shortages, patient safety, professional education, and pharmacy workforce issues.
Manasse fondly recalled the years he spent at ASHP and the opportunities to interact with bright, motivated staff members and professional colleagues.
"I worked with a variety of individuals in various leadership positions and made strong friendships — friendships that I still have to this day," Manasse said.
Manasse has received numerous professional awards, and his service to pharmacy has been recognized in the United States and abroad. He is the 2007 recipient of the ASHP Harvey A.K. Whitney Lecture Award and was named an ASHP honorary member in 2019. He was honored as a Fellow of the International Pharmaceutical Federation (FIP) in 2008 and, in 2015, he was awarded the FIP Joseph A. Oddis Award for Exceptional Service.
Manasse maintains strong ties to Illinois, where he spent much of his career and where he currently resides. Manasse serves as professor and dean emeritus at the University of Illinois at Chicago College of Pharmacy.
Manasse is also an adjunct clinical professor at the Texas A&M University Rangel School of Pharmacy in Kingsville.
In the years since his retirement, he has traveled extensively as an invited lecturer at pharmacy events throughout the world.
"I've had a wonderful career that has allowed me to work in areas that I was passionate about," Manasse reflected. "I feel like I've been really blessed."
Posted March 8, 2023