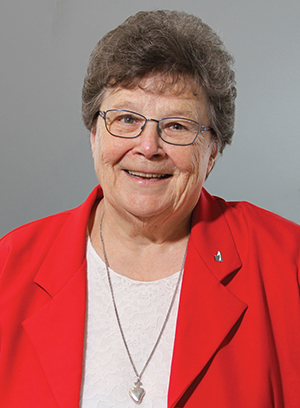 Sister Mary Louise Degenhart
Sister Mary Louise (Mary Matthew) Degenhart died March 31 in Belleville, Illinois, after many decades of service to the pharmacy profession and the Adorers of the Blood of Christ (ASC) religious community. She was 85 years old.
Degenhart held leadership positions at several Illinois hospital pharmacy departments. She helped found the Southern Illinois Society of Hospital Pharmacists and the Illinois Council of Health-System Pharmacists (ICHP). She served for several years as an assistant director and surveyor for ASHP's accreditation services division.
"Sister Mary Louise's wisdom, grace, and passion for making the world a better place have immeasurably enriched the lives of her professional colleagues, her patients, and the communities she served," said ASHP Chief Executive Officer Paul W. Abramowitz. "Throughout her long association with ASHP, including several years as a member of our accreditation services team, she demonstrated a staunch commitment to advancing the profession and shaping it to meet the needs of patients and future generations of pharmacists."
Degenhart became an ASHP member at the start of her pharmacy career in 1960. She was named an ASHP Fellow in 1996, became an honorary ASHP member in 2002, and was the 2016 recipient of the ASHP Harvey A.K Whitney Lecture Award. Her accomplishments were recognized by many pharmacy, educational, and community organizations.
In November 2022, Degenhart became the inaugural recipient of the University of Health Sciences & Pharmacy in St. Louis (UHSP) S. Mary Louise Degenhart, B.S. '60 President's Leadership Award.
UHSP President David D. Allen, who presented the award, said it recognizes alumni for outstanding service to UHSP, exemplary community leadership, and influence within the pharmacy profession.
"This award represents the highest honor bestowed by the university, and it is reserved for those who share and demonstrate UHSP's values of discovery, diversity, inclusion, integrity, respect, and service," Allen said during the ceremony.
Degenhart was born April 14, 1937, in Piopolis, Illinois, to Albert and Rose Ann (Ewald) Degenhart. She became a member of the ASC community in 1954 and took her final vows in 1959, a year before earning a bachelor's degree from the St. Louis College of Pharmacy in Missouri (now known as UHSP).
In her 2016 Whitney lecture, Degenhart said she chose to study at the St. Louis College of Pharmacy, in part, because of the opportunity to live with a local group of ASC sisters and remain connected to her religious community. Degenhart approached her profession — the ministry of pharmacy services — through the lens of her spiritual community's commitment to civil rights, social justice, and parish work.
After earning her bachelor's degree, Degenhart served as chief pharmacist at St. Joseph Memorial Hospital in Murphysboro, Illinois. She left in 1961 after being selected as chief pharmacist at St. Clement Hospital in Red Bud, Illinois.
While working in these small hospitals, Degenhart had an outsized role defining and launching clinical pharmacy services that were unusual at the time. As the only staff pharmacist at St. Joseph Memorial Hospital, Degenhart became, of necessity, part of a collaborative interprofessional patient care team. At St. Clement Hospital, Degenhart and her pharmacy technician participated in bedside rounds, took medication histories, and implemented a unit-dose drug distribution system.
In 1960, Degenhart began seeking support for the creation of a local ASHP affiliate. Thanks to Degenhart's leadership, ASHP officially recognized the Southern Illinois Society of Hospital Pharmacists in 1962.
Degenhart then helped implement the ASHP-requested merging of the southern affiliate and the Illinois Society of Hospital Pharmacists to form ICHP in 1963. She became ICHP's third president, serving her term in 1966–1967.
Scott Meyers, who led ICHP for nearly three decades, said
Degenhart remained true to her downstate Illinois roots even as she became a pivotal figure in ICHP.
"She never lost touch with what was going on with in ICHP, even when she stepped away from healthcare" for ministerial work, Meyers added.
In her Whitney lecture, Degenhart described her volunteer work with the state affiliates as "one way of giving back to the profession and paying it forward."
In 1972, the University of Chicago Hospitals and Clinics recruited Degenhart for an assistant director of pharmacy position. She remained there for three years and then sought to broaden her education, earning a master of business administration degree from Southern Illinois University in 1977.
Starting in 1978, Degenhart held a series of leadership positions at St. John's Hospital in Springfield, Illinois. Her responsibilities extended to the hospital's skilled nursing facility, adult daycare program, acute and hospice care services, and substance use disorder treatment programs.
Degenhart was the hospital's assistant director of clinical pharmacy services when she was recruited by ASHP for the position of assistant director of accreditation services. She came to ASHP in 1989 under the leadership of accreditation services director Donald Letendre, who is now dean and professor at the University of Iowa College of Pharmacy.
Letendre described Degenhart as a caring, humble, and dedicated professional with a boundless passion and commitment to meeting the needs of those she served.
"Sister Mary Louise was an integral and highly valued member of the ASHP accreditation services team during a time of unprecedented growth in residency training as well as development and accreditation of pharmacy technician programs," Letendre said.
"The hard work and dedication she displayed throughout her life undoubtedly helped advance the profession" and enriched countless lives, he added.
Degenhart remained on the accreditation services staff until 1996, when she was called to serve as executive director of ASC Health in St. Louis, a nonprofit whose mission is to provide assistance, including healthcare and education, to at-risk community members. Degenhart continued to work for ASHP as a contract surveyor for the accreditation services division, completing her last survey in late 2015.
In 2003, Degenhart began seven years of service as a member of the Precious Blood Ministry of Reconciliation in Chicago, a community-based ASC collaborative that focuses on restorative justice, reconciliation, and addressing harm and violence. Degenhart's final ministerial position was at her alma mater, where she was special assistant to the UHSP president for more than a decade.
Degenhart was predeceased by her parents; her sister-in-law Norma Degenhart; and her niece Judy Cameron. She is survived by brothers James, Paul, and John Degenhart; nephews Philip, Jeremy, and Darin Degenhart; niece Kristina Garrison; several great-nieces and great nephews; and members of the Adorers of the Blood of Christ.
Posted April 17, 2023