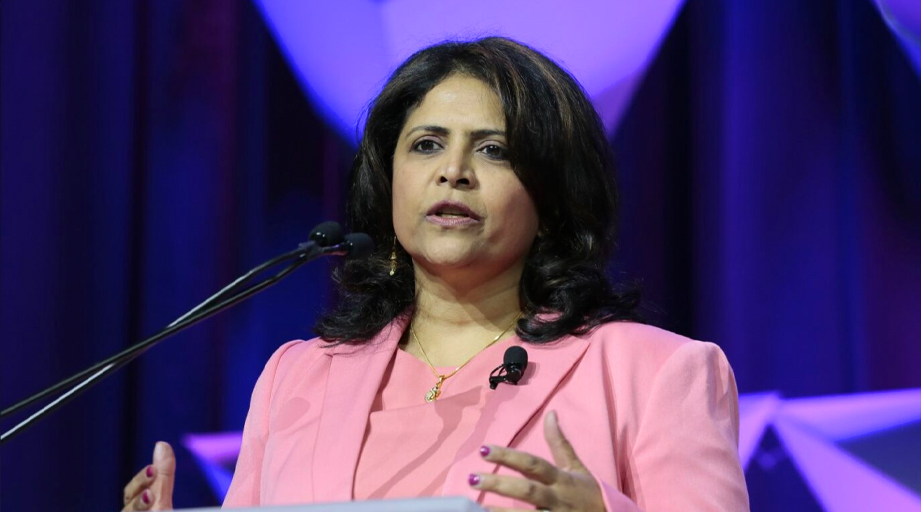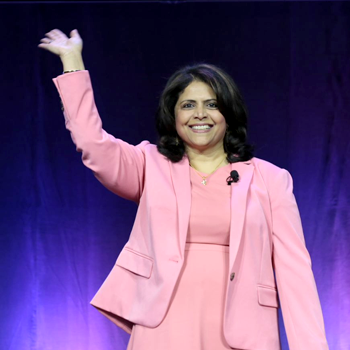 Nishaminy Kasbekar
Nishaminy (Nish) Kasbekar's June 13 inaugural presidential speech urged the profession to "be bold and be more" in a technology-focused environment that presents opportunities for pharmacists to advance the profession.
"Manage — and lead — to be the change in the coming digital revolution," Kasbekar told attendees at ASHP's 2023 Summer Meetings in Baltimore, Maryland. "The idea that each of us can be the change that we wish to see in the world — personally, professionally, and in our communities — is tremendously motivating."
Kasbekar said pharmacy has always embraced change, with today's clinicians taking on additional roles as mentors, leaders, educators, and advocates for patients and the profession.
"We are lifelong learners," she said. "We keep our knowledge current. We learn new skills. We continue to pursue intellectual growth and expansion in an ever-changing field, even when it is not required."
That willingness to learn is critical, because healthcare's digital future is already here. Kasbekar predicted additional shifts from treatment to prevention, supported by voice-activated systems, robotic health coaches, and artificial intelligence platforms that predict responses to treatment.
"We will not have a choice to change. It will be a requirement," she said. She called the prioritization of digital healthcare a critical issue for the profession's future.
Kasbekar said ASHP has already developed future-focused resources to help pharmacists transform care. These tools include the ASHP Leadership Center, which was launched last year to facilitate leadership development at all career stages. The initiative includes a membership group for pharmacy executives, who are increasingly stepping into roles that extend beyond the pharmacy enterprise.
Another key ASHP resource is the Certified Pharmacy Executive Leader (CPELSM) credentialing program, which has already graduated several cohorts whose members share a commitment to achieving and maintaining excellence in executive pharmacy leadership.
And Kasbekar said she's excited by the recent launch of ASHP's membership section for digital and telehealth practitioners. The new section addresses a key need, identified by ASHP's Commission on Goals, for pharmacy to manage digital technologies that improve patient care.
Kasbekar also shared how, as a child of immigrants, she learned to embrace change and to respect cultural differences. She took inspiration from her parents' example of courage and hard work, which gave her the foundation to follow her dream of becoming a clinical pharmacist.
Her own journey taught Kasbekar that pharmacy is better for having a diverse workforce and a professional culture that anticipates and adapts to change.
"Our world flourishes when different voices come together, when different cultures connect, and when different ideas integrate, symbolic of a true melting pot," she said.
Kasbekar pledged to lead the way on change during her presidential term.
"I am prepared to be the change and elevate the vital roles that health-system pharmacy practitioners play as providers in new and emerging science and to prepare the workforce for the digital future of pharmacy practice," she said.
Posted June 14, 2023