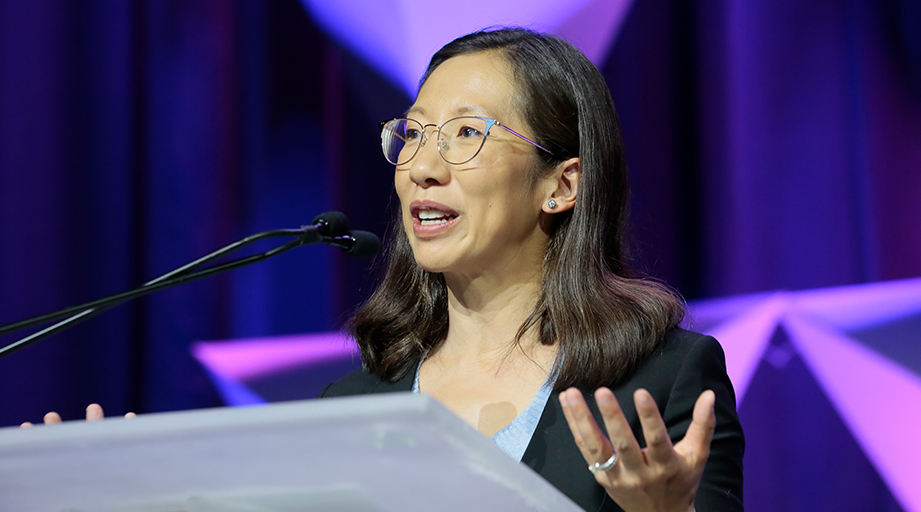 One lingering challenge of the COVID-19 pandemic is the need to fix preexisting cracks in the nation's public health infrastructure — in an environment where public health isn't always viewed as a societal good, says Leana Wen, the opening session keynote speaker at ASHP's 2023 Summer Meetings & Exhibition in Baltimore, Maryland.
"We all play a part in helping restore trust in public health and healthcare," Wen said.
As an emergency physician and Baltimore's former health commissioner, Wen is familiar with public health challenges and successes. She recounted how, about a decade ago, the city's public health system overcame community resistance to expanding opioid use disorder treatment by focusing first on making naloxone accessible and training people to use the opioid antagonist.
Within about three years, Wen said, the city had provided more than 30,000 naloxone trainings, which led to more than 3,000 overdose reversals by lay bystanders.
She explained that by starting with "the idea of saving people's lives," Baltimore was able to build on success and expand into new areas to fight the opioid crisis.
Wen said public mistrust related to COVID-19 involves antivaccine sentiment and a backlash to the masking requirements and other measures that were instituted at the start of the pandemic. Some healthcare workers, who were initially lauded as heroic, were later characterized as villains — a situation Wen called heartbreaking.
She noted that at least 25 state legislatures have crafted legislation since the start of the pandemic that limits the tools public health officials can use against COVID-19 and other health threats.
Wen encouraged her audience to show policymakers how public health connects with and improves public safety, education, and other high-priority community initiatives. And she emphasized that healthcare providers need to initiate these conversations.
"Nobody else is going to do that for us," she said.
Wen said the pandemic increased public awareness about disparities in care and the importance of social determinants of health — problems that predated the pandemic and are familiar to healthcare providers. She said much remains to be done to solve these problems.
Other preexisting national public health problems that the pandemic overshadowed include the opioid crisis and the related need for comprehensive behavioral health services, Wen said.
But the pandemic also revealed the potential for telemedicine and telehealth to increase access to healthcare. Wen citied a Bipartisan Policy Center report that found in 2019, less than 1% of Medicare beneficiaries received telehealth services. Within two years, she said, that number approached 30%, thanks to the removal of policy barriers to coverage for the services.
Wen said the pandemic also appears to have raised awareness of the problem of burnout in healthcare and the need for strategies to boost peoples' resilience.
"I think we can do a lot more," Wen noted. She recommended looking for joy outside of work and to deepen connections with people in their lives as ways to counter moral injury — the concept that clinicians suffer when, for lack of resources, they are unable to provide the ideal care they know their patients need.
She also encouraged audience members to recognize what they can accomplish and to know that their work, though challenging, makes a difference in the world.
"Keep focusing on your north star, the patients and communities we serve," she urged.
Posted June 14, 2023