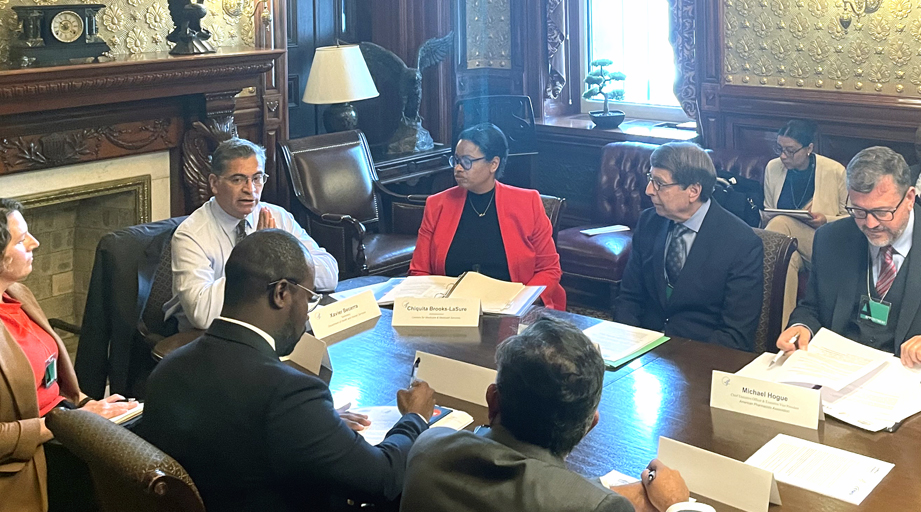 Today, ASHP Chief Executive Officer Paul W. Abramowitz and leaders from partner organizations met at the White House with Department of Health and Human Services (HHS) Secretary Xavier Becerra and other top officials to discuss the implementation of the Inflation Reduction Act (IRA) of 2022.
During the meeting, Dr. Abramowitz spoke with Secretary Becerra, Chiquita Brooks-LaSure, administrator for the Centers for Medicare & Medicaid Services, and Neera Tanden, an assistant to President Biden and director of the Domestic Policy Council, to emphasize ASHP's support for IRA provisions that reduce consumer medication costs and highlight ways that health-system pharmacists can help patients understand their benefits.
The IRA aims to reduce the rising prices of medications, with cost-saving provisions for consumers, including out-of-pocket caps for Medicare Part D, as well as changes to federal healthcare spending, notably requirements that the government negotiate with drug manufacturers on prices of certain medications and that manufacturers pay rebates when the cost of their medications rise faster than the inflation rate.
Along with voicing our support for the IRA, ASHP pushed for additional financial support to hospital pharmacies so that patients can have wider access to the care they need. ASHP supports pending legislation in Congress, including the Equitable Community Access to Pharmacist Services Act and the Pharmacy and Medically Underserved Areas Enhancement Act, which would provide direct payments for some pharmacy services. ASHP also raised the need to fully fund pharmacy residency programs to support training the next generation of clinicians.
In addition, ASHP noted that it is the premier organization for tracking drug shortages through its drug shortage list and encouraged the administration to create an inflation rebates framework that protects against shortages.
Other participants in today's meeting included representatives from CVS, Rite Aid, Walgreens, Walmart, the American Pharmacists Association, the National Association of Chain Drug Stores, and the National Community Pharmacists Association.
Posted July 18, 2023