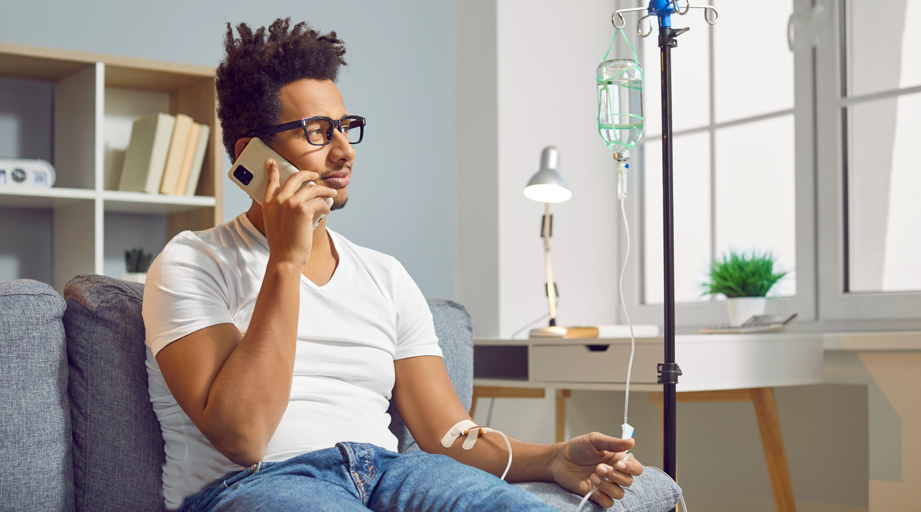 Pharmacy leaders gathered virtually July 12 to learn about strategies for success from colleagues whose organizations have established robust home infusion programs — a service line that's increasingly important for the profession.
Approximately 60 people attended Home Infusion: Strategies for Establishing and Evaluating Pharmacy Services — the second in ASHP's ongoing series of roundtables on the topic. The event featured a presentation from Thomas Brown, director of health ventures for Thomas Jefferson University Hospitals in Philadelphia, Pennsylvania.
A third roundtable is planned for this fall. Each session is an opportunity for pharmacy leaders at multi-hospital organizations, in conjunction with ASHP's pharmacy practice leaders and specialty pharmacy practitioner sections, to network about establishing and optimizing home infusion services.
Global Market Insights valued the U.S. home infusion therapy market at more than $11 billion last year and predicted that the value will exceed $29 billion in 2032. Other market research organizations similarly predict strong growth in home infusion services, driven by factors that include disease trends and the need to reduce healthcare costs.
Brown said health systems that want to enter the home therapy market must first consider what types of services to provide, such as IV infusion and enteral nutrition. Other critical decisions include identifying specific therapies that align with the health system's clinical specialties; maximizing referral opportunities; assessing the local market for infusion services; and aligning home infusion goals with the health system's expectations.
He said Jefferson's home infusion program serves about 1,000 active patients per month, not including patients receiving enteral nutrition therapy. One of the program's strengths is that it's managed almost exclusively inhouse by Jefferson employees, including nurses, pharmacists, and billing specialists. Medications are even delivered to patients' homes by Jefferson-uniformed drivers to convey a sense of continuity and confidence to patients, he said.
Brown acknowledged that although this model works for his organization, not all health systems have the staffing and other resources to establish a fully inhouse home infusion program. He also noted that Jefferson's geographic service area is manageable under this model, which may not be the case for health systems that serve large rural areas.
During the breakout sessions that followed Brown's presentation, participants were asked to discuss the ideal scope of home infusion services; how organizations prioritize next steps for expanding the services; how outsourcing decisions are made; interdisciplinary partnerships that support home infusion services; and innovative practices that have expanded site-of-care options for patients.
Themes that emerged during the breakout sessions included:
Challenges related to the lack of off-the-shelf, interoperable information systems for home infusion services
The need to offset critical but low-margin services with those that provide higher reimbursement
Uncertainty about how to provide home infusion therapies covered under the 340B Drug Pricing Program
How to advocate with payers to include home infusion services in value-based care models
What service components to outsource
How to communicate effectively with physicians and other providers about how home infusion referrals benefit their patients and practice
One breakout group tasked its members with offering three pieces of advice for health systems that are starting a home infusion service from scratch. The participants recommended emphasizing to decision-makers that any health system that hesitates to provide the services will lose its patients to for-profit competitors.
A second recommendation was to learn about home infusion and the infrastructure needed to sustain the service — and to educate decision-makers about the value of home infusion to the organization. The final advice was to lean on existing expertise within the organization and partner with colleagues in all departments that contribute to the program and its components.
The first home infusion roundtable was held May 17 and featured presentations from Tim Affeldt, vice president of specialty and infusion operations at Fairview Pharmacy Services, and Mitra Gavgani, chief operating officer and vice president of clinical operations and pharmacy services at Johns Hopkins Home Care Group. Denise Scarpelli, vice president and chief pharmacy officer for University of Chicago Medicine, will be the featured speaker at the Oct. 4 home infusion roundtable.
Posted July 18, 2023