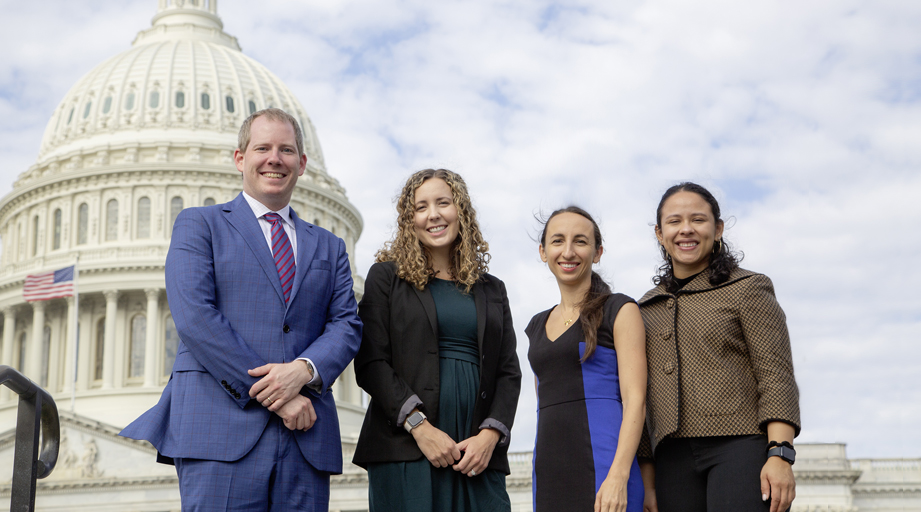 After meeting as third-year pharmacy students on an ASHP advisory group, Tyler and Mary-Haston Vest have navigated the twists and turns of a life together: a long-distance relationship, demanding residency programs, marriage, and parenthood.
On Wednesday, ASHP's Legislative Day, the couple was navigating the twists and turns of unfamiliar Congressional offices, preparing for meetings with their senators and representative to help advocate for provider status legislation, the 340B Drug Pricing Program, and proposals to end the drug shortages crisis.
The Vests were two of nearly 120 ASHP members who trekked to Capitol Hill to make their voices heard on a day of advocacy that is perhaps the most visible part of Policy Week.
"It's this once-a-year time when you come together and focus on issues impacting all of pharmacy," said Mary-Haston Vest, a systems director of pharmacy at UNC Health. "It's another side of the profession that pulls you out of your day job and allows you to focus on these (efforts) to advance our care for patients."
"I think it's inspiring to share those stories so (legislators) have examples," said Tyler Vest, an associate chief pharmacy officer at Duke University Health System and past winner of an ASHP Distinguished Service Award. "It's not just 'Hey, we want to talk to you about drug shortages. It's 'Hey, we want to talk to you about drug shortages because we couldn't give cancer care.'"
The day began at Union Station's Columbus Room, with a breakfast and remarks from keynote speaker U.S. Rep. Greg Murphy (R-NC). As the only practicing surgeon in Congress, Murphy said he shared many of ASHP members' concerns, including ones over pharmacy benefit managers and the opioid crisis.
ASHP President Nishaminy Kasbekar thanked members for making the trip to Capitol Hill.
"By putting a human face on these issues, you help your legislators and their aides gain a deeper understanding of how the policies they consider affect the well-being of the people of their states and districts that they represent," she said.
The Vests joined fellow North Carolinians, Stacy Dalpoas, a clinical pharmacy outcomes manager with Novant Health, and Aliyah Cruz, who grew up in the state, graduated from University of North Carolina's Eshelman School of Pharmacy, and is now a postgraduate year 2 resident at University of Wisconsin Health in Madison, Wisconsin.
The four headed to appointments with the staff of their senators, Ted Budd and Thom Tillis. Gathered in conference rooms with staffers, they asked for the senators' support for the Equitable Community Access to Pharmacists Services Act; detailed the impact of drug shortages on their patients; explained how the 340B program supports affordable medications for uninsured patients; and sought help to protect funding for pharmacy residency programs.
Between meetings, Dalpoas talked about her earlier experiences going to Legislative Day after she finished her residency program.
"What's continued to motivate me to come back is that the more experience I have in speaking to their interests, the better an advocate I can be for making our practice better and making the profession stronger," she said.
Dalpoas said she was also pleased that she could talk more about pharmacists' provider status as legislative interest in it has grown in recent years. "That's exciting to talk to our legislators about because it seems like it's something they're starting to develop opinions on, so our insight is acutely impactful in shaping their thoughts" she said.
Cruz, who last year won one of ASHP's Student Leadership Awards, was attending her first Policy Week. She talked to Congressional staff about the importance of healthcare access in rural areas, like the one she grew up in. Naturally, she also spoke up about the importance of securing funding for residencies.
"As a current resident I think it's important that we continue to have that funding so we can continue to do the great work we're doing in research and patient care," she said after her first meeting.
Huddling in the corridors of the Dirksen Senate Office Building, the North Carolina contingent said they felt upbeat about their meetings. The Senate staffers asked questions, took their information, and offered to help on a few issues. The group was going to find a spot for lunch before meeting with their House representatives.
Mary-Haston Vest said such experiences as Legislative Day are critical for the profession and rewarding for participants.
"It's so fun to go with your colleagues and think big picture about how we can help our patients," she said.
Posted September 15, 2023