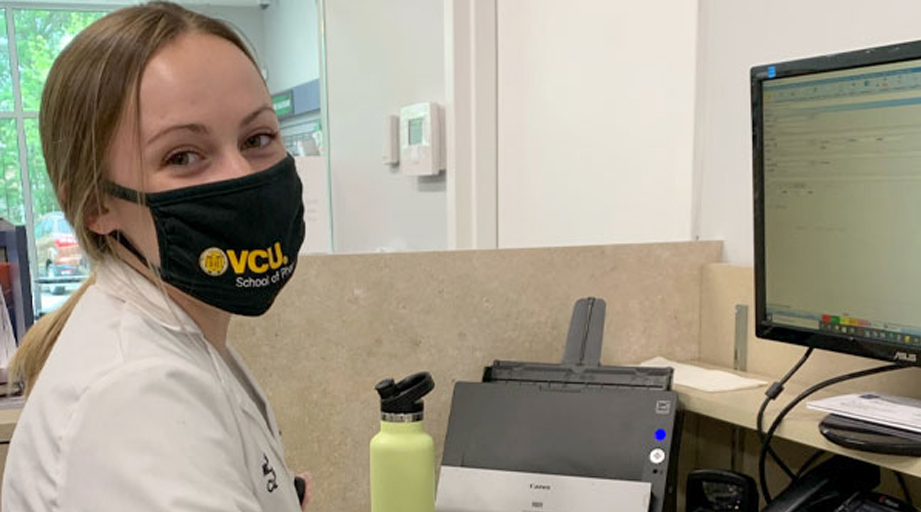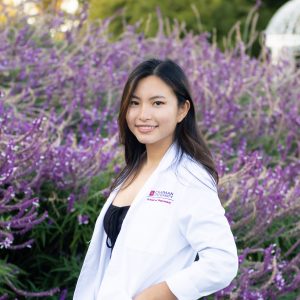 FOR FIRST-YEAR PROFESSIONAL (P1) STUDENTS, jumping further into health-system pharmacy can be exhilarating and overwhelming. There is an increasing number of career possibilities and numerous ways of deepening one's involvement in the pharmacy community.
To help P1 students navigate this new experience, ASHP is offering a one-year complimentary membership. With all the resources students need to continue their schooling, they can start their career journey off on a solid footing.
Bound for Ambulatory Care
For Charlotte Tran, a Pharm.D. Candidate (2023) at Chapman University School of Pharmacy in Irvine, California, networking and leadership development offerings have been a couple of the most valuable aspects of her ASHP membership.
"Through events at ASHP's student society, I've had the chance to meet and hear from pharmacists in different areas of the health system and see what their days look like," said Tran.
Meeting practicing pharmacists has given Tran an appreciation of the range of responsibilities she can look forward to as she moves towards a residency and a career as a pharmacist.
Tran, who is president of her university's Student Society of Health-System Pharmacists, said she has developed an interest in ambulatory care pharmacy, and chronic disease statement management in particular, because of the potential to develop long-term pharmacist-patient relationships.
"I think the best possible care for patients starts by spending time with them and building relationships," she said.
With a career in ambulatory care pharmacy in her sights, Tran has been drawing on ASHP online resources, like career profiles, to better understand what "the road to a specialization in ambulatory care looks like." Through the ASHP website, she has also gotten help with her CV and found tips for sharpening her interviewing skills, as well as guidance on ways to get involved nationally with ASHP.
"Through the ASHP e-newsletter and discussion posts, I've also been able to stay up-to-date with the latest news and issues related to health-system pharmacy," Tran added.
ASHP Membership Facilitates Connections
Joining ASHP during the pandemic proved particularly valuable for Madison Noble, a Pharm.D. candidate (2024) at Virginia Commonwealth University School of Pharmacy in Richmond. Noble said she anticipated that the virtual school setting would make it challenging to feel connected with her fellow students and faculty.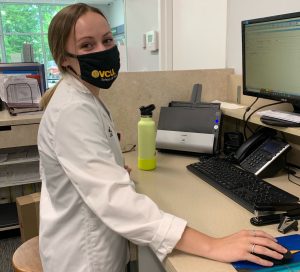 "However, ASHP provided me with opportunities to get to know my peers and to network within the school and hear from residents and pharmacists in fields of pharmacy I had not considered for my own future," she said.
Online ASHP resources such as the "Why Should I Do a Residency" page have helped Noble solidify her interest in pursuing a residency, which she said she was unsure of when she began her P1 year.
"At the start of this year, I wasn't totally clear on what a residency was exactly, and whether it was something I wanted to pursue," she said.
While Noble is now sure she wants to go down the residency path, she has not yet settled on a specific pharmacy stream. Drawing on the career profiles section of the ASHP site has helped her explore the variety of possibilities available within health-system pharmacy.
"I've learned a lot just by reading through the overviews of different careers and finding out what a typical workday looks like," she said. Preparing well in advance, Noble will soon be submitting her CV through ASHP's CV Review Program, where it will be reviewed by a volunteer pharmacist and provided with valuable feedback.
For others thinking of taking advantage of ASHP's free P1 membership, Noble said that joining the organization "is a great way to learn more about areas of pharmacy you may be interested in."
"Just within this first year of membership, I have learned so much about what a pharmacist within the health system does, and I plan to further this learning and keep my membership throughout pharmacy school," said Noble.
Although "free time is hard to come by these days," Noble – who is also planning to seek out ASHP student leadership opportunities at VCU – said she likes to peruse the ASHP website when she can.
"I find something new every time I explore the website," she said. "For example, I recently found the ASHP Wellness Wednesday Podcasts. I was excited to see one on meditation techniques geared toward the pharmacy workforce."
New Opportunities to Explore
Khushali Sarnot, a Pharm.D. candidate (2024) at Southern Illinois University Edwardsville School of Pharmacy, felt being an ASHP member would serve her well as she moved towards a post-graduate residency. That feeling was affirmed when she took up a position as a hospital inpatient pharmacy intern at SSM Health Saint Louis University Hospital in St. Louis, Missouri.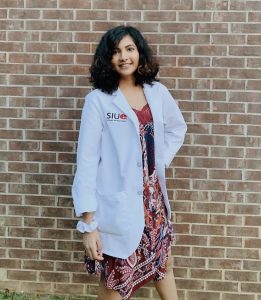 "Every one of the pharmacists I've been working with recommended joining ASHP," Sarnot said.
Apart from having access to career-building resources, one membership benefit Sarnot has enjoyed has been the daily ASHP email briefings, which have become a source of truth on all things COVID-19.
"Finding reliable and accurate information has been a challenge during the pandemic since there is so much misinformation in the media," she said. "As the only healthcare professional in my family, I tend to be the person they look towards for information on COVID-19 and to explain some of the science behind the disease and treatments and vaccines. I've turned to information from ASHP to answer their questions."
ASHP networking opportunities have also landed Sarnot an ASHP summer internship opportunity for this year. She will be working on several projects, including analyzing technician training programs.
"I hope the internship will expand my network, make me an outstanding candidate for residency and further establish my career," Sarnot said.
After "peeking into what different specialties are doing through the ASHP website," Sarnot is leaning towards pursuing a residency in cardiology. However, as a P1 student, she knows that her goals and aspirations could evolve in new and exciting directions as she gets more involved with the pharmacy community.
"I can't wait to see what other opportunities I discover through my ASHP membership journey," Sarnot said.
Posted August 11, 2021