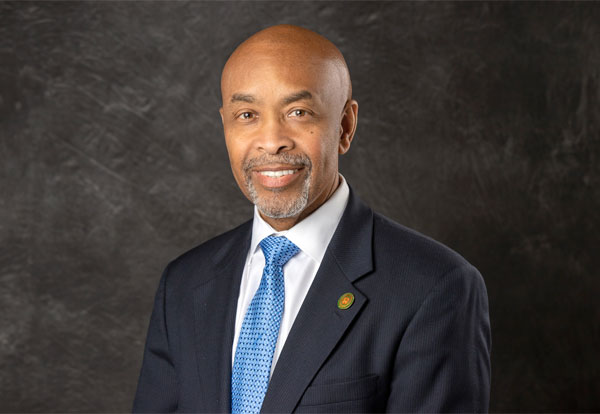 TWO PHARMACY LEADERS WITH A PASSION for education have been presented with Honorary Membership Awards by the ASHP Board of Directors.
The awards, which recognize individuals who have made outstanding contributions to pharmacy practice, were given to Johnnie L. Early II, R.Ph., Ph.D., FNPhA, dean of Florida A&M University College of Pharmacy and Pharmaceutical Sciences, Institute of Public Health, in Tallahassee, and to Peter H. Vlasses, Pharm.D., D.Sc. (Hon.), FCCP, executive director emeritus of the Accreditation Council for Pharmacy Education (ACPE) in Chicago. Both were elected for life by unanimous vote.
A lifetime of pharmacy leadership
Dr. Early was recognized for his nearly four decades of pharmacy education and his dedication to expanding opportunities for youth from various racial and ethnic backgrounds to explore careers in pharmacy practice and the pharmaceutical sciences. A charter member of the Student National Pharmaceutical Association (SNPhA), Dr. Early has worked tirelessly to recruit diverse students and create more diverse workforces at the several universities he has worked for. He is the recipient of numerous awards for his contributions to pharmacy, including the 2018 ASHP-ABHP Joint Leadership Award, the Outstanding Alumnus Award from the Purdue University chapter of the SNPhA, the National Pharmaceutical Association's Chauncey I. Copper Award, and the ABHP Wendell T. Hill Award. He also was among the first to be honored as a Fellow of the National Pharmaceutical Association.
Dr. Early "is a distinguished educator and visionary leader in pharmacy," ASHP said a formal announcement. "He has been instrumental in addressing racial disparities in healthcare, expanding opportunities for BIPOC youth to explore careers in pharmacy practice and the pharmaceutical sciences, and developing a more diverse and culturally competent healthcare workforce."
Home grown brew
Growing up, Dr. Early said he always had an interest in science and science fiction. But his first memory of being impressed by pharmacology was around age 5. He was sick, and laying in his bed, when his maternal grandmother came to the house and asked what was wrong. She felt his forehead, then went to the kitchen and rummaged through the knife drawer. The sound piqued Dr. Early's curiosity ("The first thing I thought was surgery," he laughed). Instead, his grandmother went out to the front yard, cut some leaves off a plant, and brewed him a warm, bitter tea to drink. Within 30 minutes or so, he felt better.
Years later, Dr. Early considered a variety of careers in the health sciences. As an undergraduate biology major at Fort Valley State University in Georgia, he was one of several students recruited directly by the dean of Mercer University Southern School of Pharmacy, Dr. Oliver Littlejohn. The day he started pharmacy school he was also invited to be interviewed for medical school. He explored public health and took the Dental Aptitude test where he was asked to carve a piece of chalk. Despite his dexterity, the chalk broke, and his career in pharmacy began. After graduating from Mercer, Dr. Early went on to receive his master's and Ph.D. degrees in pharmacology/toxicity from Purdue University.
A dedication to academics
Dr. Early has had a long academic career, holding several positions at Florida A&M including program director of the Minority Biomedical Research Support Program, assistant dean for research, and dean. He then served as dean and professor for the Medical University of South Carolina and for the University of Toledo, in Ohio, before returning to Florida A&M in 2018 for his current role.
Inspired by the dean who recruited him to pharmacy school, Dr. Early has made a point of recruiting potential trainees in person when possible. Over the past two decades, he has established programs at the University of Toledo and at Florida A&M through which minority high school students spend a few days on campus learning more about pharmacy and pharmaceutical sciences careers. Last year, due to the COVID-19 pandemic, the course was shortened and put online, but students still got some hands-on experience, including making capsules.
"I'm a guy who likes to work," he said. "And I'm always trying to figure out how to make my people and programs better. Every time somebody gets hired with us, and then is promoted and moves on to higher positions, I see that not as a loss but as an applause for the program."
Grateful and humbled
Dr. Early, who started attending ASHP meetings when he first became dean of Florida A&M in 1987, said he was floored to receive a call from ASHP CEO Paul Abramowitz, Pharm.D., Sc.D. (Hon), FASHP, letting him know of the honorary membership award. "It was not in my thinking that that kind of award would be anything that would come my way," he said. He thanked Dr. Abramowitz on the phone and, in his signature style, later in a handwritten note. "It's a most significant award, and something that I'm ever so grateful for."
Longtime pharmacy education leader
Dr. Vlasses was honored for his nearly 45 years in the pharmacy profession. During his 20-year tenure at ACPE, he oversaw the accreditation of the professional degree program in pharmacy; strengthened continuing professional education and development for pharmacists and pharmacy technicians; and championed interprofessional collaboration in education and accreditation. He also led the establishment of the ACPE International Services Program and supported its reach to improve pharmacy education and training worldwide.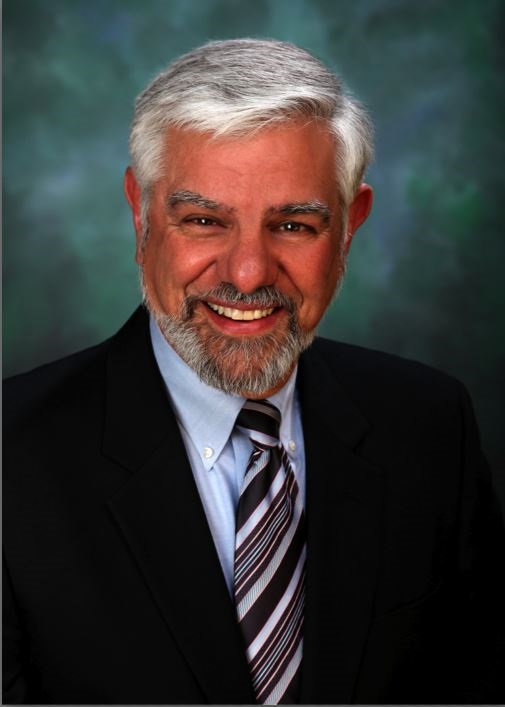 In 2014, Dr. Vlasses joined forces with ASHP to create the Pharmacy Technician Accreditation Commission (PTAC) to assure and advance the quality of pharmacy technician education and training programs. He has received numerous honors including the American Association of Colleges of Pharmacy's Board of Directors Distinguished Service Award and the National Center for Interprofessional Practice and Education Pioneer Award.
"Dr. Vlasses is a prominent leader in pharmacy who was a significant ASHP partner in developing the ASHP/ACPE national accreditation standards for pharmacy technician education and training programs," ASHP said a formal announcement. "His vision, commitment, and collaborative leadership have helped strengthen the foundation of excellence in accreditation of the education of pharmacists and pharmacy technicians in the United States and around the world."
A desire to change the world
Dr. Vlasses' parents were Greek immigrants. As the older of two sons, he was expected to take over the family's restaurant/bar and liquor store in Camden, N.J. This was in the 1960s, when young people were talking about changing the world and working to serve others. Dr. Vlasses said he didn't see the liquor store/bar part of the business as helping, so he reluctantly approached his father and asked about pursuing college and a profession.
Instead of being upset, his father talked through three career choices with him. They ruled out medicine because Dr. Vlasses was squeamish around blood. They ruled out law because as a native Greek speaker, he had some challenges with English. But a family friend was a pharmacist with his own store. After a visit, Dr. Vlasses chose to study pharmacy, enrolling at Philadelphia College of Pharmacy and Science. He attended his first ASHP Midyear Clinical Meeting as a student in 1970, when pharmacy education was starting to change. After receiving his bachelor's degree in pharmacy, Dr. Vlasses completed a one-year hospital pharmacy residency at Thomas Jefferson University Hospital and then completed his Pharm.D. education at the Philadelphia College of Pharmacy and Science.
Passion for research and academia
Dr. Vlasses then spent many years in academia, working for Ohio State, the Philadelphia College of Pharmacy and Science, and Jefferson Medical College in Philadelphia. He got involved in research and was elected president of the American College of Clinical Pharmacy. At the time, there was some controversy over whether pharmacists could be clinical investigators on research trials. He wrote to the Food and Drug Administration to inquire if that was permitted; the agency said it was.
"A lot of people subsequently told me that letter helped them do research and get funding," he said. "That was something I always valued that I contributed to the profession."
During that time, Dr. Vlasses also became more involved with professional organizations including ASHP, serving on the Council on Therapeutics and on the Research and Education Foundation and Awards program, before moving to ACPE in 1999. Not only did he help develop PTAC seeing that pharmacy technicians needed better training, but when he joined the organization, he worked to improve accredited continuing education standards for continuing education for pharmacy technicians. providers in pharmacy who were also committed to interprofessional continuing education.
Interprofessional collaboration
"When I joined ACPE, I saw medical professionals learning in silos—doctors in medical school, nurses in nursing school, etc.," he said. "There wasn't a lot of interactions to say we're on the same team, we should learn and practice together, and everybody should contribute at the top of their license."
Dr. Vlasses worked to change the accreditation standards for pharmacy degree programs so students were "team ready" at graduation, with education in the classroom, clinical experience, and exposed to interprofessional education in practice. Similarly, he worked with accreditor colleagues from other health professions to improve accredited continuing education standards to facilitate team-based continuing education, "planned by the team and for the team." He initially developed joint CE accreditation standards for pharmacy, nursing and medicine. That has since grown to include acceptance by accreditors for CE accreditors for athletic trainers, dentists, dietitians, optometrists, physician assistants, psychologists, and social workers. Any combination of those trainees can learn together and receive CE credit in their professional as well as interprofessional CE credit.
Living the American dream
Dr. Vlasses retired in 2019. He said when he received the call from Dr. Abramowitz about the honorary membership award, "I was very much honored that ASHP and the board would see me in that light, and valued the contributions I have made as a member of the organization and as a pharmacist. Starting out as a son of a Greek immigrant and the first college graduate in my family to being able to be recognized by a number of pharmacy organizations and ASHP was in many cases the American dream for me.
Posted August 26, 2021