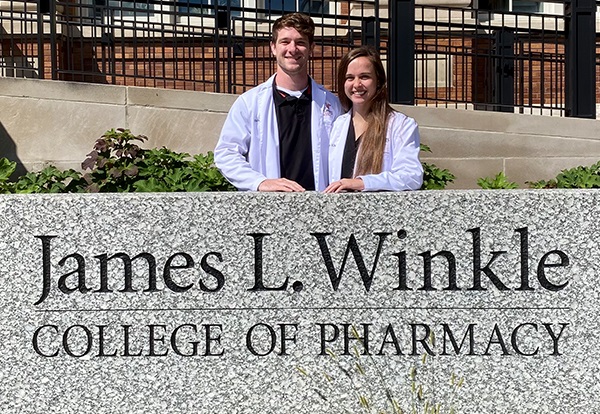 CONVERSATIONS AROUND THE DINNER TABLE are certainly interesting for the Klaserners of Cincinnati, Ohio. Adam and Allyson Klaserner are P3 and P4 students at the University of Cincinnati's (UC) James L. Winkle College of Pharmacy. Both follow in the footsteps of their pharmacist parents, John and Lorrie Klaserner, who also graduated from UC. And the Klaserner kids, like their mom was back in the day, are student members of ASHP.
Early interest in pharmacy
The family legacy started with John, who spent a year in the Air Force, then went to UC without a declared major knowing he wanted something in the medical realm. During his first year, he met some other students with similar interests. Together, they decided to pursue pharmacy.

Lorrie came to UC a year later. In high school, she took every science class she could, including astrology and geography. When she went to her guidance counselor and said she was thinking about becoming a doctor, the woman replied, "Are you sure? That's a lot of work." Instead, she encouraged Lorrie to look at pharmacy. "Fortunately, I really liked it and never looked back," Lorrie said.
John and Lorrie met while working at the pharmacy at Cincinnati's Christ Hospital on top of their studies. Lorrie was a pharmacy technician, and John was an intern who often checked her work. They later started dating and married, raising their three children in the area. John now works as a pharmacy district manager for Meijer, and Lorrie is a clinical pharmacist at Days Miami Heights Pharmacy, a community pharmacy owned, fittingly, by another family of pharmacists.
Parents and role models
Ally and Adam said their parents didn't overtly encourage them to pursue pharmacy but they did serve as good role models and influences. Ally remembers sick days in middle school when she accompanied Lorrie to work.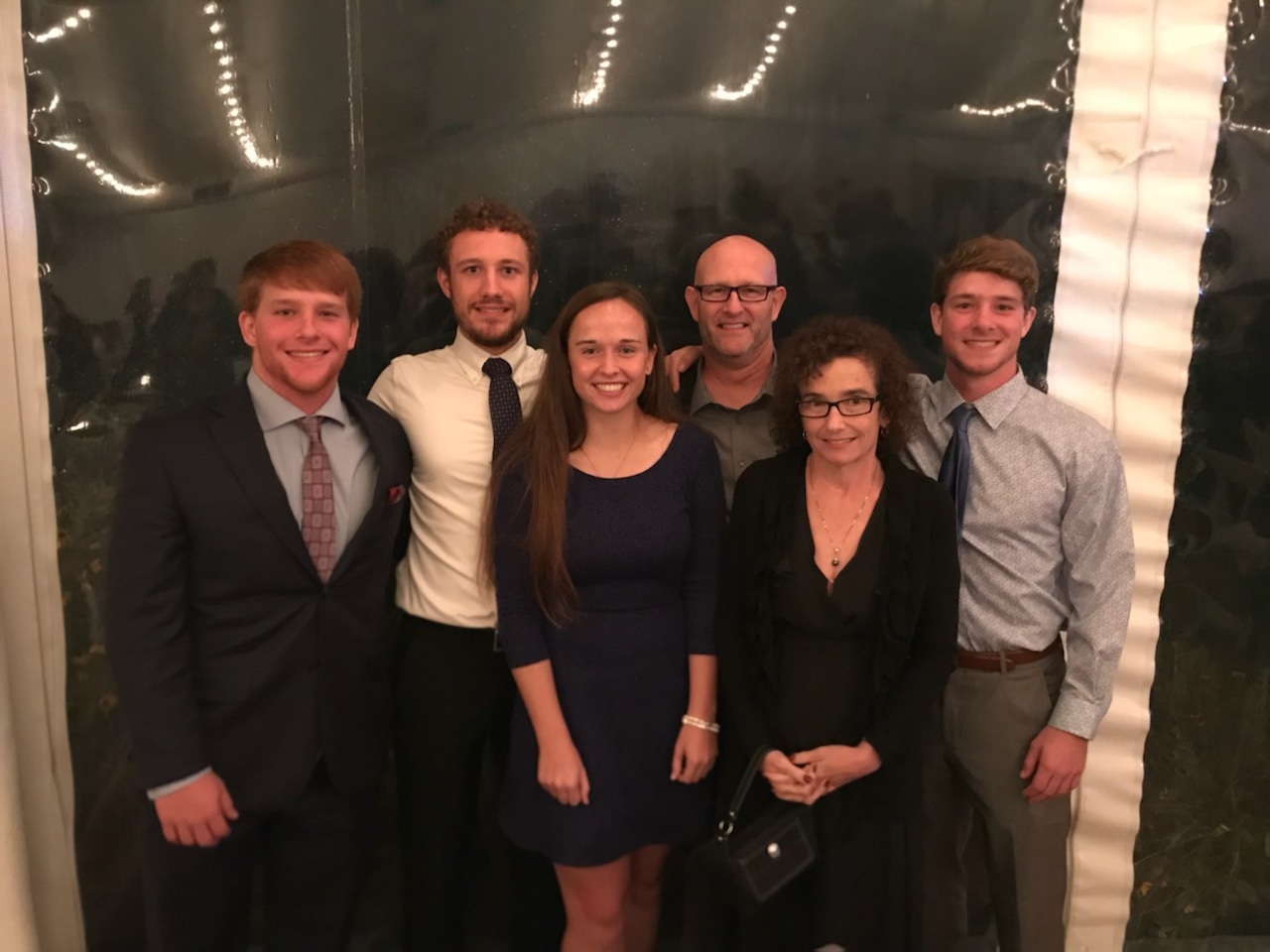 "She managed the entire clinic by herself," Ally said. "It was really unique to see every piece of it, including scripts processing and toxicology, which I thought was so interesting at the time. I was like, 'Wow, this is so cool. I'm going to do this.' I considered medicine, I considered physical therapy, but I think this fit my personality the best."
She is leaning toward a pharmacy residency, and maybe working in the hematology/oncology space, or an infusion center.
For Adam, choosing pharmacy was a "very last minute" decision. He originally planned to pursue a business degree at UC and was accepted for that program. "Then, at the very last second, I had a change of heart and I switched to prepharmacy," he said. "Since then, I haven't looked back. Every single day I'm happier that I chose pharmacy. There are so many different careers that pharmacists can have, and so many different roles, that no matter what, I'm confident I can find a job that I'll be happy in."
Adam's twin brother, Drew, attends "a different UC—the University of Charleston in West Virginia," said John, where he is studying sports management.
ASHP membership
Adam and Ally are active members of UC's Student Society of Health-System Pharmacy (SSHP), following in Lorrie's wake. Lorrie was one of the chapter presidents during her years, before starting her career in community pharmacy. Ally joined with some friends during her P1 year. Soon after, upper-level students were encouraging her to run for a leadership position. She has since served as director of communications, tribunal representative and vice president. She has enjoyed actively networking, planning meetings, and arranging for preceptors and presenters to speak with the group.
"That's not something I ever would have seen myself doing," she said. "But they encouraged that growth…it's really opened a lot of doors for me."
Adam's P1 year was during the height of COVID, but Ally encouraged him to join later.
"My experience so far has been really positive," he said. "There are a lot of resources available, and I think that I've gotten closer with my classmates. There's been a lot of exposure to different trains of thought, and different fields of pharmacy, that I think has been invaluable."
Sibling support
Adam and Ally said they enjoy being at school together and have been encouraged by John and Lorrie to gain new experiences. Ally, who is engaged, moved out of the family house but jokes that she sees Adam more at school than she did at home, frequently catching up with him in the hallways. They also occasionally overlap on clinical rotations, where the school has a P3 student shadow a P4. Sometimes, Adam ends up shadowing one of Ally's classmates. "That'll be funny," Ally said. "I'll be like, 'Guys, go hard on him.'"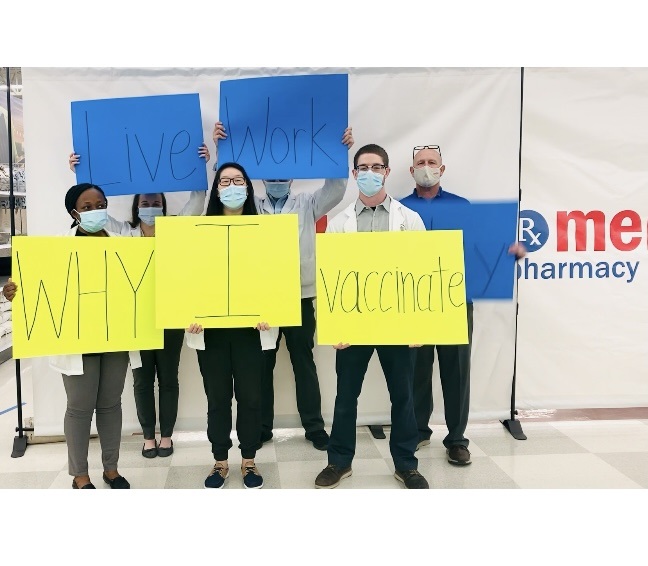 The Klaserners volunteering at a vaccine clinic. Ally second from left, Adam and John at right.
Adam said he appreciates that Ally has shared her notes and provided advice on good electives to take, and Ally said through Adam she has gotten to know more of the younger students.
At home, it's not uncommon for Adam and Ally to discuss their studies and work with their parents. "Lorrie always says it's neat sitting around the kitchen table, and sooner or later we start talking drugs," John said. "It's fun to sit around, especially with Ally, who's a year ahead, and she'll talk about disease state management that she learned, or cardiac care." Sometimes, they said, she tries to stump them with her new knowledge.
"Pretty much on a daily basis I bounce ideas off my dad," Adam said. "Instead of him asking how my day was, I go to him and I tell him. He's really interested. And I think it's just awesome that we share that experience."
Ally agreed that it's nice discussing their work without having to explain "all the background situations."
"We can say, 'Today was a hard day. I had these patient interactions that weren't great,' or 'Today was awesome. I helped this person get from point A to point B,' and celebrate our victories together," she said.
At one point during the pandemic, John, Ally, and Adam helped out at the same vaccination clinic operated by Meijer.
"There was nothing better than me looking out into the group and seeing my children vaccinate," John said. "The public was in need, and they were part of it. It was wonderful."
By Karen Blum
Posted October 7, 2022