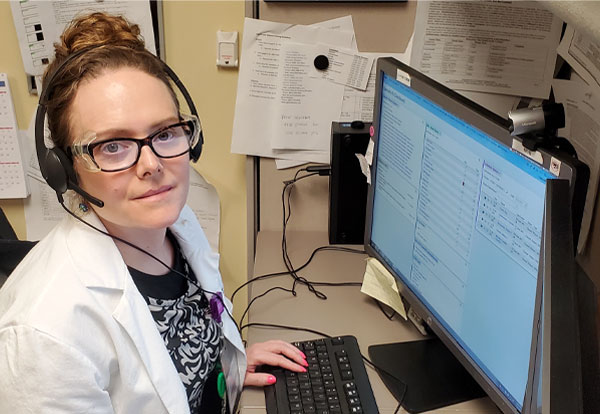 WHEN THE COVID-19 PANDEMIC erupted last March, clinicians with the University of Washington (UW Medicine), the Seattle Cancer Care Alliance and their four medical centers, and many other health systems across the country quickly amped up their provision of telehealth services to continue meeting patient needs. Pharmacists were key players in this activity, said ASHP member Caroline Pitney, Pharm.D., BCACP, a clinical pharmacist with UW Harborview Medical Center.
Telehealth Growth
Prior to the pandemic, federal regulations had limited the scope of telehealth pharmacist services, leaving it mainly for patients in rural areas far from clinics or who had limited access to healthcare. However, the Coronavirus Preparedness and Response Supplemental Appropriations Act enacted on March 6, 2020, loosened restrictions on telehealth services. Then, on March 17, 2020, CMS announced its telehealth waiver had been expanded to cover diagnosis and treatment of COVID-19 and other conditions.
With UW pharmacists already embedded in ambulatory care settings as providers seeing their own patients with various disease states, it only made sense for them to jump on the telehealth bandwagon as well, Dr. Pitney said. The organization credentialed 69 pharmacists to offer comprehensive medication management via telehealth to patients in their primary care and specialty clinics. Pharmacists and other clinicians then completed learning modules on obtaining informed consent, videoconferencing etiquette, documentation, billing, adverse event reporting, and risk management. The health system selected Zoom as its secure telehealth platform, integrating it within the electronic medical record system.
Typically, at Dr. Pitney's medical specialties clinic, doctors refer patients to pharmacists to help initiate new therapies or monitor ongoing treatment and chronic diseases. Dr. Pitney and her colleagues offered telehealth, along with in-person or telephone visits, to their patients as soon as it was available.
One benefit to video has been in face-to-face demonstrations of proper use of injectable medications, Dr. Pitney said. "It's really challenging to try to do that over the telephone," she said. "Before the pandemic, we would always recommend the person come in for an in-person teaching visit."
Overall, she said, telehealth has provided a modality for pharmacists to see patients and their medications. We can ascertain patients' ability to administer and take those medications. "Having this option in the future will only allow us to reach more patients. Not just for pharmacists but for all providers, it's a step in the right direction," Dr. Pitney added.
Technology Bridges Barriers
Some health systems using telehealth found themselves upgrading technology as time went on. In the very early stages of the pandemic, pharmacists with Tampa General Hospital in Florida first moved some patients' in-person visits to telephone calls, later shifting everyone to telehealth during April, May, and June while pharmacists worked from home, said ASHP member Jessica Bianco, Pharm.D., C.Ph., BCACP, CACP, a pharmacotherapy specialist in ambulatory care for the medical center. Their patient caseload includes people with diabetes and other chronic diseases, in addition to those taking anticoagulant medications.
By summer 2020, the hospital adopted a new platform with better video quality and the option to use translation services, Dr. Bianco said. Through a collaborative practice agreement there, pharmacists change or start medications and adjust doses between physician visits.
"Interestingly, I think some patients like it more," Dr. Bianco said of telehealth. "It's really bridged the barriers that there are for patients being able to make it to the clinic, such as transportation or parking issues."
Streamlining Care
Baptist Health South Florida, in the Miami area, sees many patients in their 70s, 80s, and 90s, so when the pandemic hit, clinicians and pharmacists were worried about putting them at risk. Fortunately, many patients were tech-savvy, or had family to support their adoption of telehealth, said ASHP member Jennifer Miles, Pharm.D., C.Ph., BCACP, BCMTMS, a clinical coordinator in ambulatory pharmacy there.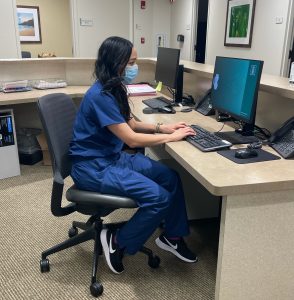 "Our patients were really happy there were minimal interruptions in their care because a lot of folks were really worried about offices shutting down and concerned with their safety and being able to get care," Dr. Miles said. "We didn't want to delay that."
Dr. Miles and her colleague Faaria Quadri, Pharm.D., BCPS, work with the health system's lipid clinic and congestive heart failure clinic. In their model, pharmacists see patients in tandem with advanced practice providers such as physician assistants or advanced practice registered nurses. Under telehealth, the provider sees a patient over telehealth for the medical portion of the visit and explains a pharmacist will call them next to go over medications and how they work, explain any potential drug interactions, help establish medication schedules, and talk about covering the medications, Dr. Miles explained.
Pharmacists also follow up with patients on a regular basis if they don't have clinic visits scheduled to ensure they are adherent to medications. The heart failure clinic even provided bathroom scales to patients so they could continue to record their weights and blood pressures at home, Dr. Quadri noted.
"Some patients, despite their age and risks, adamantly want to be seen in a clinic because they like that comfort of knowing they're checked out physically," Dr. Quadri said. "But another set is so nervous to come in, and so grateful for the opportunity to have a telemedicine visit."
Overcoming Challenges
Even as clinics nationwide have slowly resumed seeing patients in person, many have continued their telehealth appointments. About a third of patients at UW are still seen that way, Dr. Pitney said. At Tampa General, it's more than half, said Dr. Bianco.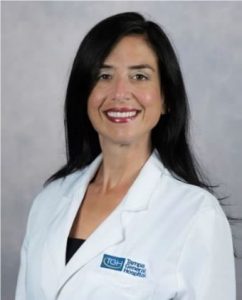 There are some limitations to telehealth that clinicians still need to work through, Dr. Pitney cautioned. Not every patient has access to a computer or secure video device. Some patients, depending on their disease states, still need periodic, in-person physical exams. And while pharmacists are considered providers in Washington and many other states, CMS currently does not reimburse for pharmacist visits, whether telehealth or in-person.
Pharmacists should look at telehealth as an opportunity to highlight their clinical skills and knowledge to the general population, Dr. Quadri said.
"It's a great opportunity to show what we're capable of," she said. "In the past, I think patients did not see our contributions to their medication regimens because we were making those to the providers and patients would assume it was from them. Now, they see firsthand that pharmacists can do this."
The pharmacists offered the following tips for optimizing telehealth:
Know your audience. Telehealth should not be a one-size-fits-all option, Dr. Bianco said. Some patients are not comfortable with video and prefer a phone call, while others will appreciate telehealth for more of a face-to-face visit. Be aware that some patients may not have access to a computer or a secure location to do a telehealth visit, added Dr. Pitney. In those cases, a telephone visit is a good alternative to an in-person one.
Shed your fears. There has been some trepidation among pharmacists that this will be a big change and patients won't like it, Dr. Miles said. Find a secure platform to continue your visits and set up infrastructure for training.
"We live in a society where our patients really want this to close the gap on the care they need, and limitations they have with their busy lives and now a pandemic keeping us all separate," she said. "We can find creative ways to still be connected to one another…I don't think anything will ever fully replace that human touch and being there face-to-face in the examination room with our patients, but it helps provide our presence in a way that is still supportive."
Telehealth pharmacy practice is one of five areas of focus in ASHP's Innovation Center. For more information, visit ASHP's Telehealth Resource Center or listen to ASHP's telehealth management pearls webinar. Be on the lookout for a special telehealth theme issue of AJHP later this year and a report summarizing the outcomes from the ASHP Pharmacy Executive Leadership Alliance's virtual conference on Telehealth Innovations.
Posted May 6, 2021