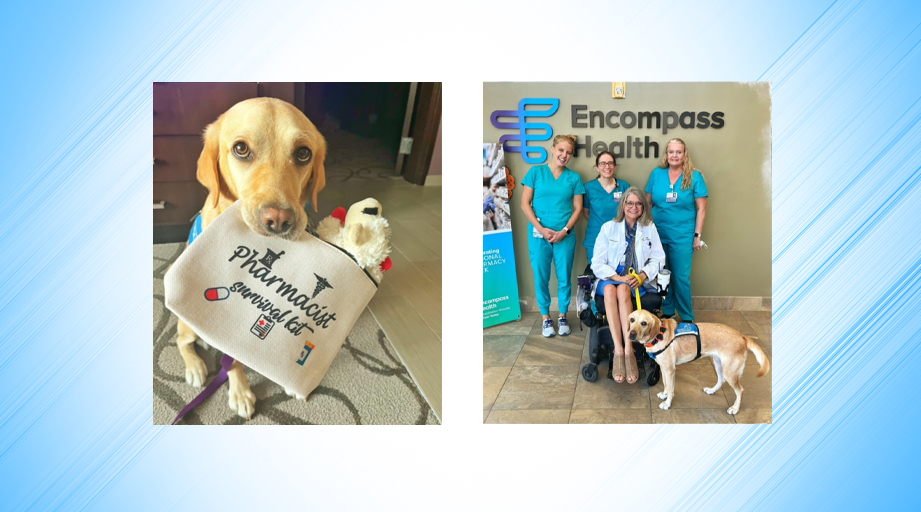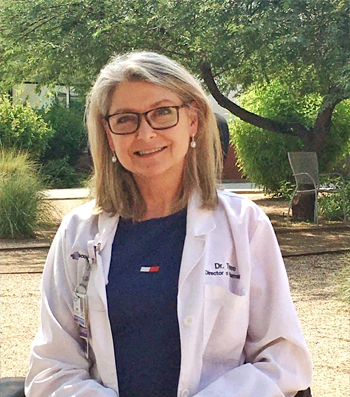 Figure out a way to say yes. It's a motto that Renee Tyree, PharmD, MHA, has embraced both in her personal life and throughout her professional career as a pharmacist who uses a wheelchair. This philosophy has led to a successful pharmacy leadership role, as well as winning gold, silver, and bronze medals in the Paralympic Games.
Dr. Tyree, a longtime ASHP member, is pharmacy director at Encompass Health Rehabilitation Hospital of East Valley in Mesa, Arizona, and regional director of pharmacy for Encompass Health's west region, overseeing 18 hospitals in seven states. She oversees seven staff members and is responsible for daily operations at the 70-bed acute rehabilitation hospital. She also travels periodically to other hospitals.
"We get so ingrained in our day-to-day pharmacy operations, so in tune to what the problems are and why we can't do something versus starting from yes, let's figure that out. Let's come up with solutions and alternatives," she said. "It's a more positive way to approach life."
She describes her current job like a needle in a haystack: "I love it because it's so diverse. I still get to see patients and be hands-on. I get to create. If you have an idea for x, we work as a team to create whatever that is. It feeds a lot of my entrepreneurial spirit."
As a pharmacist living with a disability, Dr. Tyree sometimes gets pulled into nonpharmacy patient care roles. Working at a rehab hospital, she's not above changing into hospital pajamas to demonstrate to patients how to perform maneuvers like transferring on and off a toilet or sharing her history. "It's rewarding, and patients love it," she said.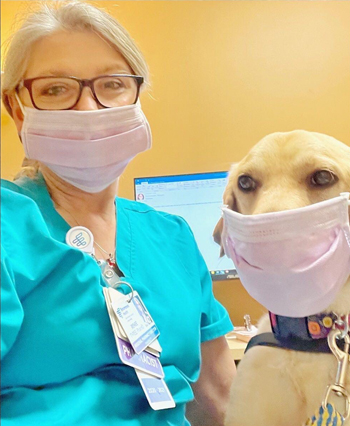 Kiki, the service dog
Since last October, Dr. Tyree has been accompanied by a special helper: her service dog, Kiki, a three-year-old yellow Labrador retriever.
"She does much more than I ever could have imagined," Dr. Tyree said. "She opens doors, closes things, pulls things. She's eager to work, and she has a fantastic personality. It's really kind of charming and funny."
Kiki helps open doors in a different way, as well, Dr. Tyree said. People tend to talk to Kiki and start conversations with her much easier and freer than they may be in approaching someone with a disability, she said. While Kiki is Dr. Tyree's full-time helper, she has also occasionally helped others on the job.
One day, Dr. Tyree was going down a hall when she heard a patient calling for help from their room. She and Kiki went to investigate, finding the patient had dropped her call button, and it had fallen under the bedside table. Dr. Tyree couldn't get the item herself, so she had Kiki retrieve the call button, and she was then able to give it back to the patient.
"I was able to feel independent in being able to take care of and assist this patient without missing a beat," Dr. Tyree said. She and the patient bonded further when the patient disclosed she had a granddaughter named Kiki.
Another time, they passed a male patient with a brain injury experiencing some behavioral challenges. The therapy team was doing some de-escalation maneuvers with him. Soon after going by, Dr. Tyree sensed that Kiki could help, so they turned around and went back toward him. The patient calmed down, started petting Kiki, and started using the arm the therapy team wanted him to use. "It completely transformed that patient," she said.
Saying 'yes' to pharmacy
Figuring out ways to say yes is also an attitude Dr. Tyree has applied in her personal life. At age 7, she contracted Guillain-Barré syndrome, a rare autoimmune disease, and became paralyzed from the neck down. She was hospitalized for six months and had a lengthy rehab process but completely recovered, and as an adult, began premed studies in college in Wisconsin. Then, at age 19, a second illness again left her paralyzed. She recovered but still needed a wheelchair.
This happened in the 1980s before the Americans with Disabilities Act was passed. Dr. Tyree was told she couldn't become a doctor, but with a number of premed courses already completed, she turned to pharmacy. However, pharmacy schools in Wisconsin were not then wheelchair accessible. Through calling around, Dr. Tyree found and moved to the University of Arizona.
Paralympic games
There, she also discovered the adaptive sports program and became a wheelchair basketball whiz, playing on the men's team and eventually getting recruited for the national women's Paralympic team.
She competed in three Paralympic Games, winning a silver medal in Barcelona, Spain, in 1992; a bronze medal in Atlanta in 1996; and a gold medal in Athens, Greece, in 2004. In 2021, she was inducted into the University of Arizona's Hall of Fame.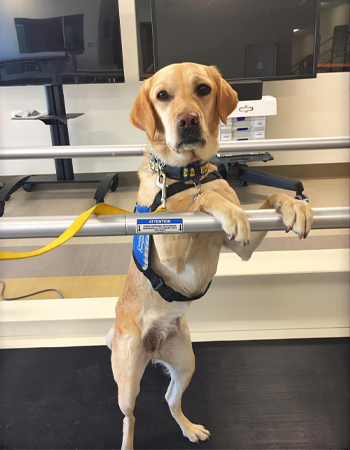 Accessibility in pharmacy practice
In the working world, Dr. Tyree has advocated for some accommodations. Noting that some automated dispensing machines are tall, she worked with the IT department at Pyxis to modify the machines in her pharmacy to add another keyboard with a cord that Dr. Tyree could use on her lap. For another machine, the manufacturer put a freestanding computer on an adjustable-height table so anyone can use it.
Dr. Tyree was also involved in the buildout of her pharmacy, where the team lowered all the shelves and ensured that all medications were accessible for her to reach. A few years ago, she asked for and got a power door for the locked security door of the pharmacy. Ultimately, the hospital added power doors throughout the building, "which fits what we should have been doing anyway since we're a rehab hospital," Dr. Tyree said.
Outside of work, Dr. Tyree regularly attends ASHP meetings. She said she was pleased to see a session at the 2022 Midyear meeting on accessibility and inclusion from the patient and practitioner perspectives. "That was huge," she said. "Having events that bring the conversation to disability within the practice of pharmacy is very beneficial. I was really proud that was presented."
She also mentors other pharmacists with disabilities and gives them the same advice: Figure out a way to say yes.
"If it's something you want to pursue, don't get stopped by the roadblocks or perceptions of that—advocate for yourself," Dr. Tyree said. "There's going to be barriers, there's going to be roadblocks. Be persistent if it's what you want to do. Anything is possible with the practice. There are a lot of practice studies and varieties so that you can find something that's a fit."
Check out Kiki's Instagram page to see her in action.
Posted July 11, 2023