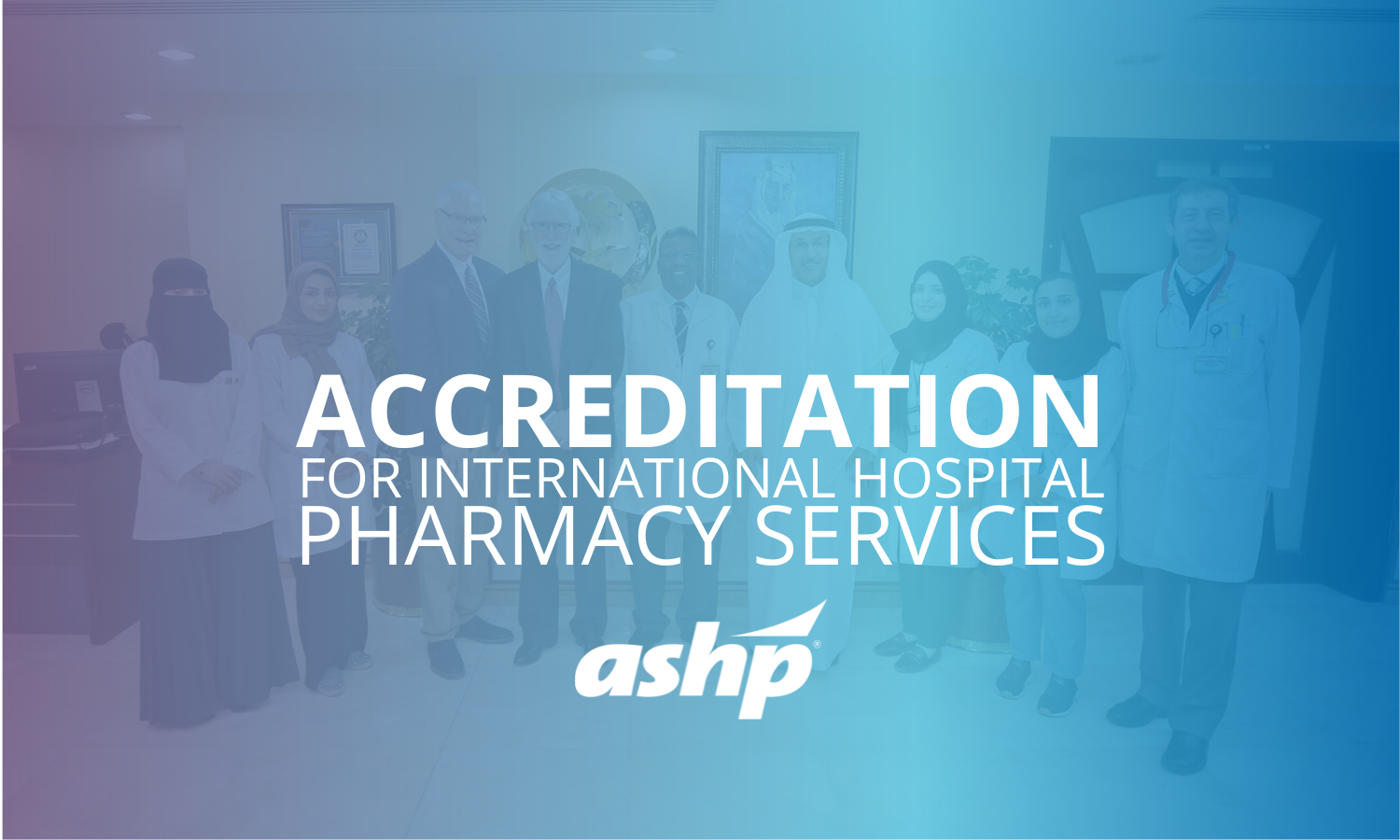 The ASHP Accreditation Standard addresses multiple areas for high-quality pharmacy practice including leadership, medication safety, education and training and more.
An essential goal for advancing pharmacy practice is to continue expansion of the role of the pharmacist in team-based healthcare to improve medication use and patient care.  Quality of care and improved patient outcomes are linked to clinically focused pharmacy departments that are well-led and managed.
ASHP identified the need to recognize innovative, high quality, safe, and effective hospital and health-system pharmacy services throughout the world, and we designed an accreditation standard that embodies continuous quality improvement to elevate pharmacy and patient care services. Accreditation is a process used by healthcare organizations worldwide to accurately assess their level of performance in relation to established standards and to implement ways to continuously improve. Accreditation specific to pharmacy can foster further development of pharmacy-delivered patient care services and advance pharmacy practice. ASHP's voluntary hospital and health-system pharmacy accreditation process is offered to international hospital and health-system pharmacies and their associated ambulatory care services with an interest in improving patient care.
The ASHP Accreditation Standard for International Hospital and Health-System Pharmacy Services address these primary areas for high quality pharmacy practice:
Leadership and management
Quality
Medication policy and drug information
Medication safety
Information management
Supply chain
Medication use process
Clinical pharmacy services
Facilities
Education and training
Accreditation is the process by which ASHP assesses your pharmacy department's level of performance in relation to the established accreditation standard and creates guidance on implementing continuous improvement. The accreditation process includes an application, review of pharmacy policies, procedures, and other documents demonstrating compliance with the standard, and an onsite survey.  The program's survey findings will be reviewed by the ASHP International Accreditation Commission. If appropriate, the commission will recommend accreditation of the program to the ASHP Board of Directors, which makes the decision regarding accreditation of the pharmacy department.  The accreditation term is three years. Reaccreditation occurs every three years, repeating the accreditation process as described.
Hospitals in Saudi Arabia, Egypt, and the United Arab Emirates are currently accredited or in the accreditation process under the ASHP Accreditation Standard for International Hospital Pharmacy Services.
For more information, please visit the ASHP Experience Center while attending Midyear, contact [email protected], or visit our website.
Posted November 1, 2022