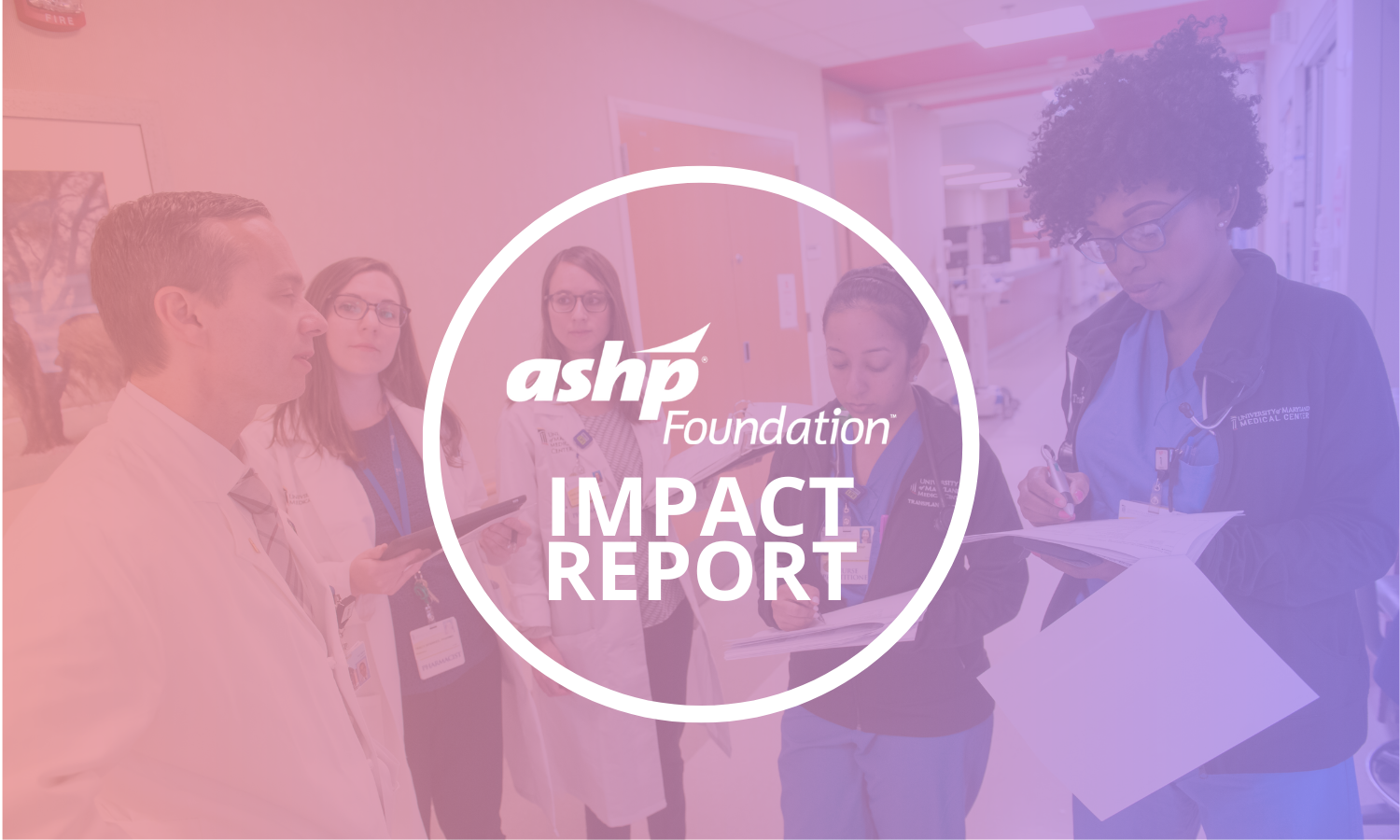 The ASHP Foundation has launched several new scholars programs aimed at advancing pharmacy practice and improving medication safety.
Thanks to the support of generous donors, the ASHP Foundation has made a tremendous impact on pharmacy practice – and ultimately, the patients that pharmacists serve. We are pleased to share our work in our recently published 2021-2022 Impact Report.
This past year, we increased our investments in new programming to make a more tangible impact on advancing pharmacy practice and improving medication safety: 
In support of ASHP's commitment to diversity, equity, and inclusion, we launched the Pharmacy Leadership Scholars™ Program, which supports meaningful research and builds a community of leaders who can spread and sustain change to promote diversity, equity, and inclusion in healthcare. Five inaugural grants of $10,000 each have already been awarded to early-stage pharmacist researchers. (Supported by Chiesi)
To strengthen our ongoing mission to improve medication safety, we created the Medication Safety Scholars Program, a distance impact program to engage future pharmacists by enhancing their knowledge and skills in medication safety. The first five scholars presented their Medication Safety Toolkit project at the 2022 Summer Meetings. (In collaboration with the Emily Jerry Foundation and the ASHP Student Forum)
In partnership with the American Nurses Foundation, we created the Collaborative Care Research Grant Program for Nurses and Pharmacists, a research grant program that aims to stimulate patient-centered interprofessional health services that demonstrates meaningful outcomes. The first research grant of $75,000 was recently awarded.
None of this work would be possible without our generous donors. Through meaningful gifts from donors, the ASHP Foundation can continue its work to advance pharmacy practice and validate the critical role that pharmacists and the pharmacy workforce play in enhancing medication safety and improving health outcomes.
You can learn more about the Foundation's impact on our website. 
Posted November 11, 2022