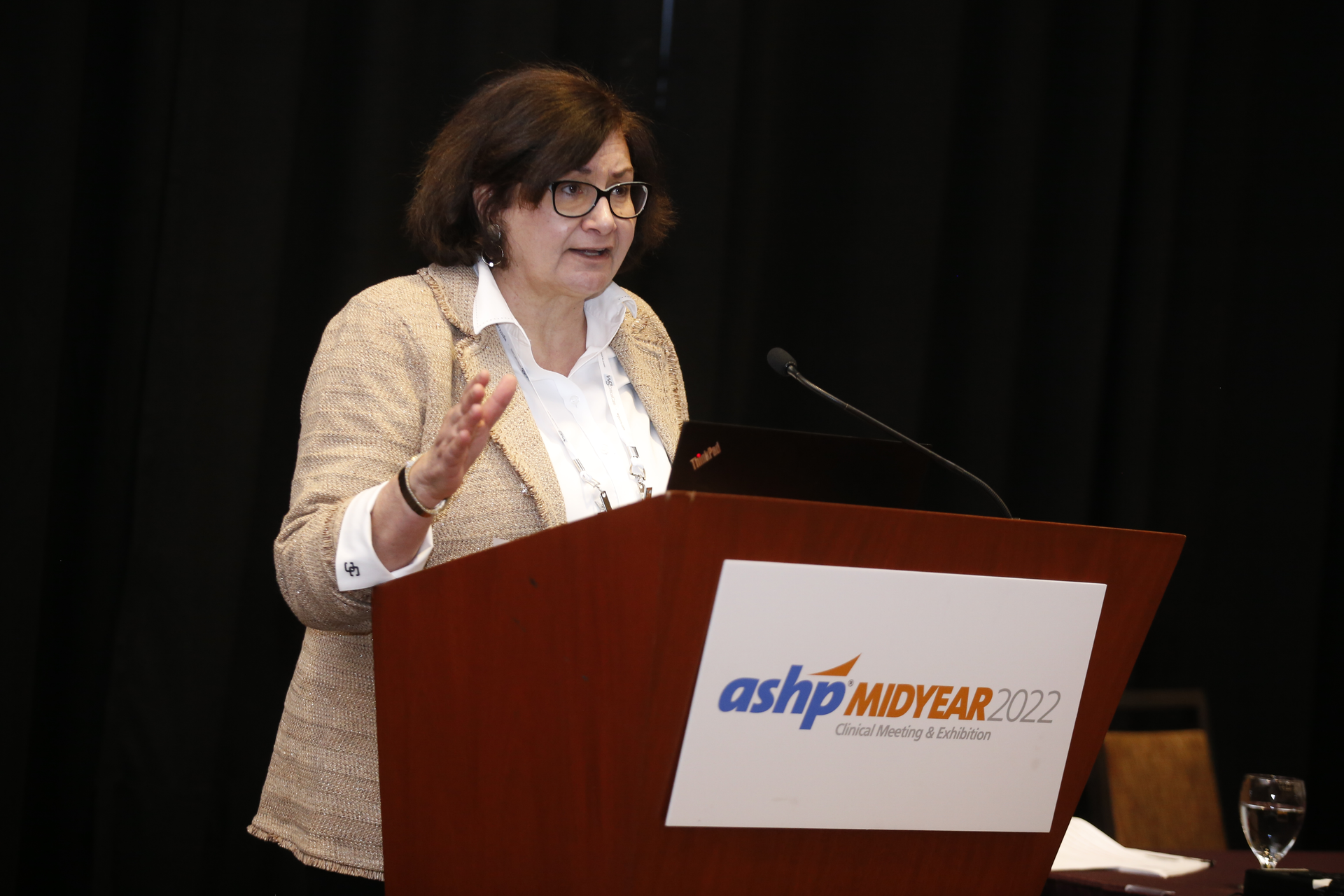 Get ready for updates on allergen preparation, autoverification, patient preference for medication choices, and more.

The Joint Commission has issued multiple updates in multiple areas which, if they are not already affecting your operation now, will have an impact in the coming year.
Speaking at Thursday's session Let's Ask the Consultants: The Joint Commission Medication Management Update for 2023, Jeannell Mansur, principal consultant on management and safety for Joint Commission Resources, said some of the biggest changes are happening in the survey process.
The Joint Commission has made a survey staffing change with the addition of a pharmacist surveyor to the survey team. This applies to hospitals that are part of the National Comprehensive Cancer Network, but Mansur cautioned that the pharmacist surveyor will not exclusively survey oncology processes.
"Surveyors may be on for one, two, or three days," she said. "They are probably going to be the ones who are taking a deep dive into your cleanrooms and looking at sterile compounding."
Another surveying change involves the system tracers that are scheduled during surveys. Mansur said previously infection control, data management, and medication management were kept separate. Under the new rules, those are now combined and depending on the size of the hospital, that system tracer session may run from one hour to an hour and a half.
"I will tell you it's a very different type of session than what you are used to," Mansur said. "The time for you to present a lot of data and to talk about a lot of your performance improvement projects is much more limited. You're really going to want to script what you want to present and make sure you have bullet points ready. You will not be leading the session, the surveyor will be leading the session and typically they will be taking 20 minutes for each of these topics, so make sure you plan for those sessions."
Mansur said you can also expect to see more surveys performed by the Joint Commission in the coming year as they look to make up for time lost due to the COVID-19 pandemic.
Another guidance update from the Joint Commission concerns diabetic patients who are being admitted to hospitals for various procedures and coming in with their own insulin pumps. Mansur said the Joint Commission had to decide whether this would be considered an example of patient self-administration of medication, which would entail more requirements as part of the standards covering that area.
"The Joint Commission has provided a safety set of recommendations for insulin pumps," Mansur said. "What we recommend to our hospital clients is that you really want to create a policy on insulin pumps or any pumps where the patient would control dosing. And in that policy, you want to talk about how you verify the medication that's in there and how you verify the functioning of the pump. You also want to cover what the provider's orders should look like and how medication administration of doses is going to be documented on the record. You don't want to think about those on the fly if your patient arrives with an insulin pump."
With the public release of the updated USP Chapter <797> in November, Mansur said the rules on the pre-spiking of IV bags have shifted.
"The review [of that chapter] by the Joint Commission quickly determined that USP has now categorized the spiking of the IV bag not as part of the preparation, but as part of the administration of the dose," she said. "And therefore, that is out of the scope of the chapter. It did not take the Joint Commission longer than three days to come up with an FAQ saying that they no longer had a position on the pre-spiking of IV bags. They will follow the hospital policy, so you need to go and make sure you know what's in your hospital policy and you may want to revise that."
The Joint Commission has also issued new requirements for antimicrobial stewardship, with the expectation that organizations will develop evidence-based guidelines to improve antibiotic use for at least two of the most common indications, including community-acquired pneumonia, urinary tract infection, skin and soft tissue infection, and asymptomatic bacteriuria.
With so many changes — not all of which are covered here — Mansur said her company is making some very specific recommendations to help all of its clients stay ahead of the curve.
"At this point you want to look at the standards and perform your own gap analysis," she said. "Do you have guidelines already developed for the ones that were listed in the new revised standards? Are they evidence-based guidelines? Does your antibiotic stewardship program cover all areas of the hospital? How are you going to collect data on some of those guidelines? And how are you acting on that data to improve your program?"
Posted December 7, 2022