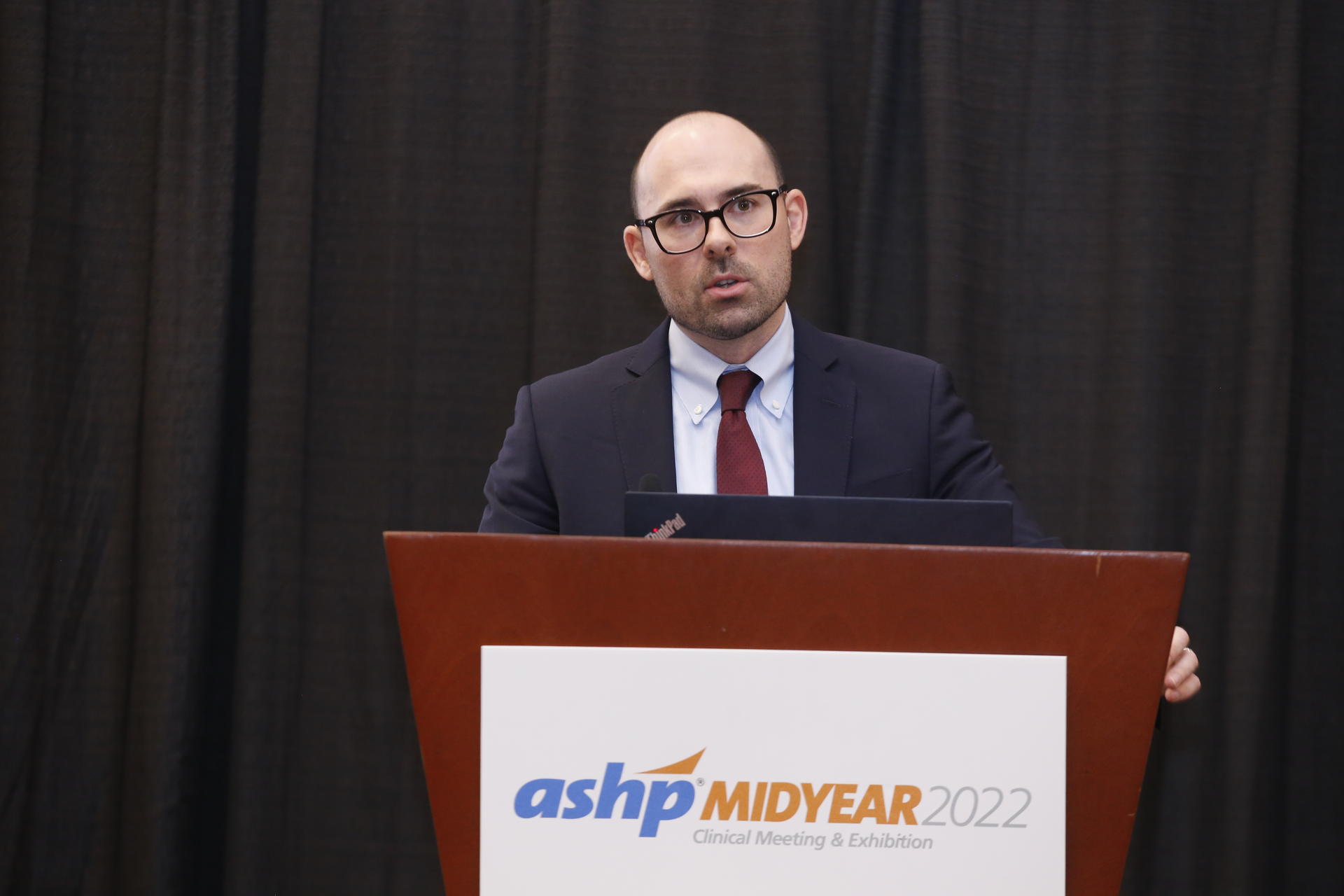 Stewardship strategies for cancer therapy include dose rounding, boosting biosimilar uptake, and shifting care to outpatient sites.
Dose rounding, expanding the use of biosimilars, and administering high-cost medications in outpatient settings are all strategies to bring the benefits of medication stewardship to cancer care, says Donald C. Moore, clinical oncology pharmacy manager at the Levine Cancer Institute in Charlotte, North Carolina.
Moore was the lead speaker at the Dec. 4 session Not Just for Antimicrobials: Integrating Oncology Stewardship into Practice at the 2022 Midyear Clinical Meeting & Exhibition in Las Vegas, Nevada.
"There is a growing sense in the general healthcare world and in pharmacy of stewardship outside the context of just ... antimicrobials," Moore said. "We're really trying to optimize care while also trying to decrease the overall cost of care."
Moore said dose rounding, or defaulting to the nearest product vial size that's within an acceptable percentage of the prescribed dose, can be appropriate for medications packaged in preservative-free, single-use vials. Clinical studies support the safety of dose rounding for monoclonal antibody therapies because they have wide therapeutic dose ranges.
"That's the rationale for why it's OK to do this," Moore said.
Studies also show that, for monoclonals used in cancer treatment, rounding down to a lower dose can result in substantial cost savings for hospitals.
The Hematology/Oncology Pharmacy Association (HOPA) finds dose rounding generally acceptable for monoclonal antibody therapies, other biologicals, and traditional cytotoxic chemotherapy when the final dose is within 10% of the ordered dose. Rounding may not be appropriate for medications with pharmacokinetically determined doses or for patients with major organ dysfunction or conditions that may alter the response to the medication, according to HOPA.
Many session attendees indicated by a show of hands that their institution has adopted dose rounding, often at the 10% threshold.
Session speaker Kate D. Taucher, system manager for oncology and infusion pharmacy services at UCHealth in Aurora, Colorado, gave an overview of biosimilars and issues affecting their use for cancer treatment.
She said one problem limiting biosimilar adoption is that many clinicians don't understand what biosimilars are.
"These are not generics, and that's a common misconception," Taucher said.
The Food and Drug Administration (FDA) defines biosimilars as biological products that are highly similar to an agency-approved reference product and have no clinically meaningful differences in safety, purity, and potency from that reference product. Unlike generics, biosimilars don't contain the same active pharmaceutical ingredient as the reference product, and even reference product specifications vary from lot to lot, Taucher said.
Taucher said biosimilars may cost less than reference biologics. But payer and clinician preferences can complicate decisions about which products to include on the formulary and whether patients can be switched from one biosimilar to an equivalent product.
She said operational concerns about adding new biosimilar products to the formulary include a lack of storage space — and the need to update order sets to accommodate additional biosimilars.
"It is a heavy lift here to make this happen," she acknowledged.
Session speaker Jason Bergsbaken, pharmacy coordinator for regional oncology services at UW Health in Madison, Wisconsin, reviewed how optimizing the site of care delivery can be a component of oncology stewardship. He noted that one health system reported saving about $2 million by shifting 18 rituximab-containing regimens and 14 chemotherapy protocols from inpatient to outpatient care sites.
Bergsbaken said careful patient selection is needed to transition cancer treatment to outpatient settings, and pharmacists are integral to the process.
"Pharmacists have a unique clinical skill set, and they have an understanding of potential toxicities that are going to occur with some of these therapies," he said. Bergsbaken added that pharmacists also provide essential insights on clinician and caregiver education and care coordination.
Posted December 4, 2022