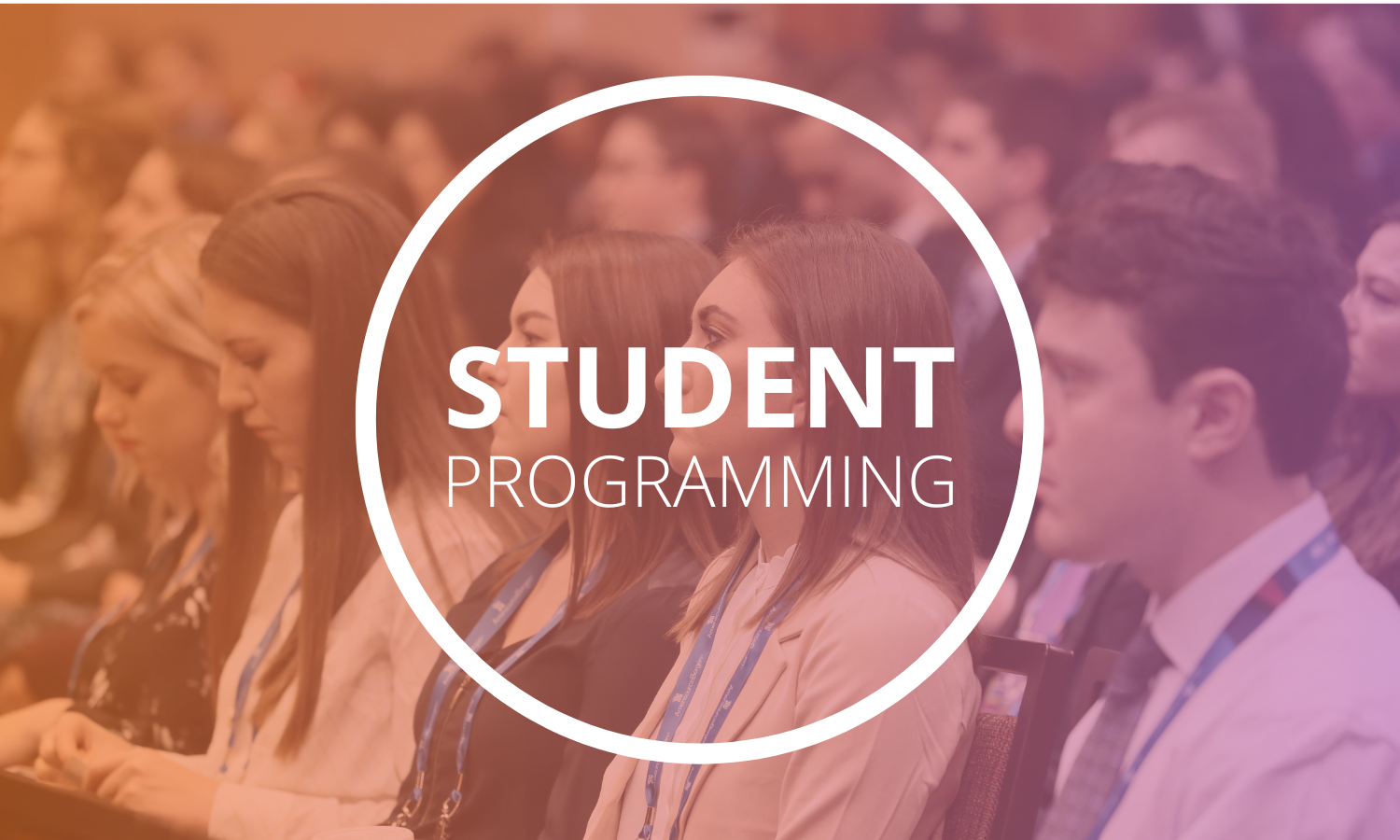 This year's lineup has something for first year, last year and everything in between.
Welcome to the largest gathering of pharmacists in the world, the ASHP Midyear Clinical Meeting & Exhibition! Whether you are in your first year of school or your last, there is an educational session created just for you. Below is a sampling of student programming sessions offered at this year's Midyear meeting. To take full advantage of the conference, review the full list of educational programs available and download the ASHP LIVE! app on your mobile device to get real-time updates on all sessions and events.
Sunday's Events
9:00 a.m. – 10:00 a.m.
Student Advocacy Workshop
10:00 a.m. – 11:00 a.m.
Pharmacy Student Forum Opening Session with Keynote Address
11:00 a.m. – 12:00 p.m.
PhORCAS: The Centralized Application System for Pharmacy Residencies
1:00 p.m. – 2:00 p.m.
Becoming a Relational Leader: A Transformative Approach to Collaboration, Learning, and Development
2:00 p.m. – 3:00 p.m.
Congrats!  You Matched!!
3:00 p.m. – 4:00 p.m.
Adulting 101: Finance Fundamentals and Tips Post-Graduation
4:00 p.m. – 5:00 p.m.
Impostors Among Us: Students, Impostors, or Both?
Monday's Events
2:00 p.m. – 3:00 p.m.
Let's Take a Look at the Playbook: Effectively Preparing for Interview Questions
3:30 p.m. – 4:30 p.m.
Pick Me! Writing a Letter of Intent that Stands Out
Tuesday's Events
1:00 p.m. – 2:00 p.m.
Now You See Me: Essentials to Creating an Affirming Environment
1:30 p.m. – 2:30 p.m.
Exploring Career Opportunities in Industry
2:15 p.m. – 3:00 p.m.
Road to Residency: Planning for Success
4:00 p.m. – 5:00 p.m.
Networking 101: Building Professional Connections
Residency Showcase
The Residency Showcase provides a great opportunity to meet with residency program directors and current residents to learn more about each residency program. The showcase will consist of three sessions, and each program will participate in only one session. To locate and prepare for programs of your interest, visit midyear.ashp.org/Residency-Showcase. The webpage will grant you access to the Residency Showcase floor plan and Residency Program Listing Portal.
*Please note: We request that those students interested in seeing the showcase but who will not be pursuing a residency in 2023 please wait until the second half of each individual session (wait until 2:30 p.m. for the 1-4 p.m. sessions and 9:30 a.m. for the 8-11 a.m. session) to enter the showcase.
Pharmacy Placement Services (PPS)
Whether you are considering a residency, a fellowship, or a full-time position in pharmacy, PPS is the place to get your questions answered. By registering for this exclusive event, you will be able to connect with potential employers, apply for jobs, and set up interviews in advance so you can spend your time at the meeting interviewing for positions. PPS will take place Sunday through Wednesday, and consist of scheduled one-on-one interviews for 1500+ positions. For student pharmacists interested in industry PharmD fellowships:
The top five fellowship sponsor companies with regards to number of industry fellows will be participating ​
Top employers representing more than 50% of all PharmD industry fellowships will be participating 
Posted October 5, 2022