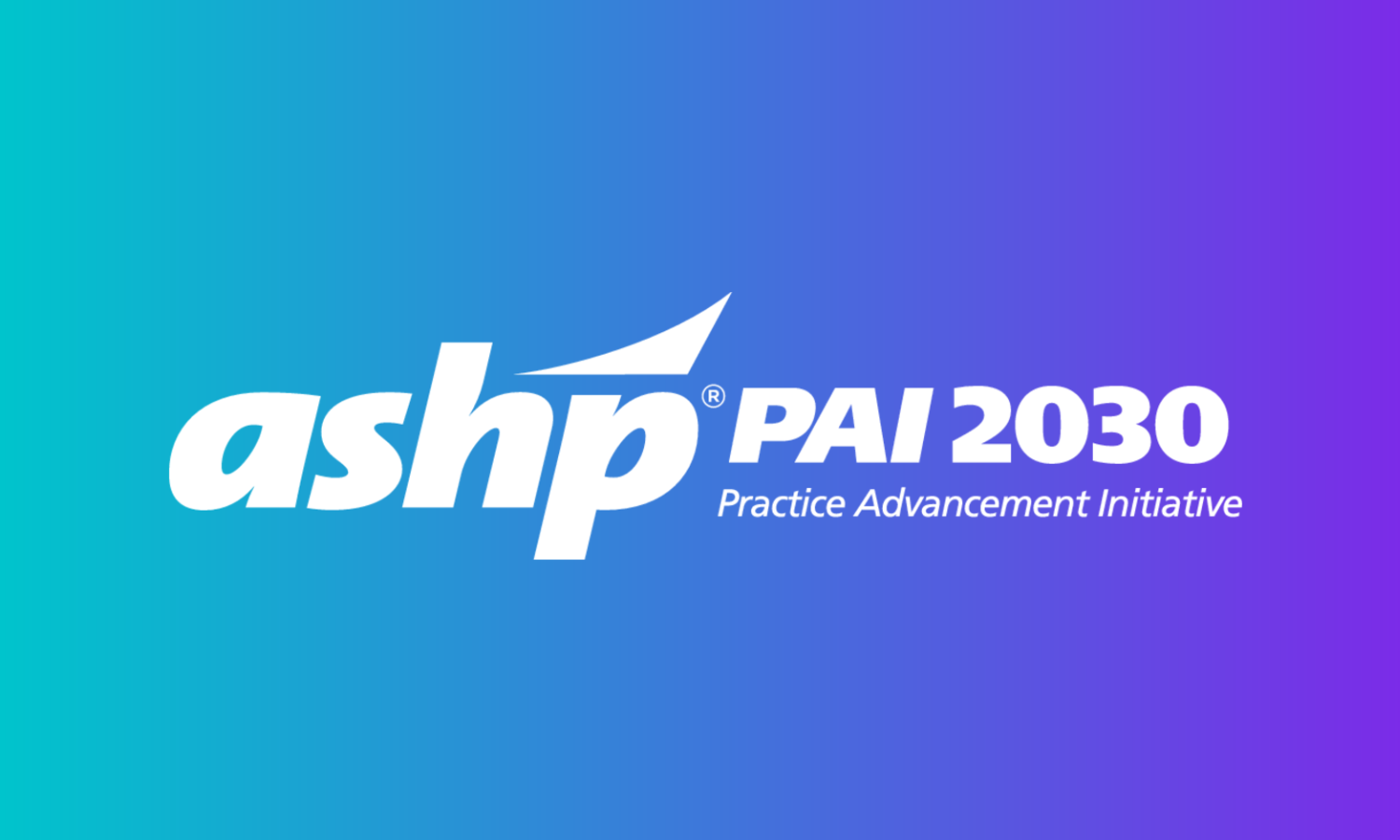 ASHP's Practice Advancement Initiative 2030 is a toolkit that aims to provide guidance and resources to help organizations and states adopted PAI 2030 recommendations.
Launched in December 2019, ASHP's Practice Advancement Initiative (PAI) 2030 provides pharmacy teams with guidance for advancing healthcare, patient outcomes, and pharmacy practice through 59 recommendations. The guidance offered by the recommendations helps pharmacists, health systems, and pharmacy leaders in their ongoing pursuit of optimal, safe, and effective use of medications.
The ASHP Midyear Clinical Meeting offers programming and events related to the PAI 2030 focused initiatives and each of the five PAI 2030 recommendation domains.
ASHP's PAI 2030 State Affiliate Toolkit provides guidance and resources to help organizations and states adopt PAI 2030 recommendations and focused initiatives. The toolkit includes tips for getting started, a step-by-step implementation pathway, a customizable communications template to fit state or organizational needs, and other helpful resources.
The PAI 2030 Self-Assessment Tool is a web-based resource that identifies areas in one's practice or organization where PAI 2030 recommendations could have the biggest impact. By completing this gap assessment, an organization or practitioner can gauge conformity with the PAI 2030 recommendations, analyze results to identify areas for improvement, and develop a customized list of priorities for implementing change. An ASHPOfficial podcast highlights the utility of the tool. So far, over 500 assessments have been completed or are in progress to help define strategic direction for a practice setting or state affiliate.
PAI 2030 Self-Assessment Tool action plan trends through September 2022 identify the following as high priority:
Pharmacists, pharmacy technicians, learners, and interns should engage or lead medication reconciliation processes and medication education in a collaborative, interprofessional fashion across the care continuum and particularly during admission, discharge, and in the emergency department.
Documentation made by pharmacists related to patient care should be available to community pharmacies and other external pharmacy service providers.
Completion of an ASHP/ACPE-accredited technician education and training program should be required for newly hired pharmacy technicians.
Pharmacy technicians should have complete responsibility for advanced technical and supporting activities such as the compounding of sterile preparations satisfying quality, safety, and environmental control requirements.
Two states that have made significant headway in the creation of a statewide strategy for addressing PAI 2030 recommendations are North Carolina and Wisconsin. In partnership with the North Carolina state affiliate of ASHP, health systems established a statewide approach to marshal resources and pursue focused efforts to advance practice in North Carolina. Wisconsin Health-System Pharmacy Administration and Leadership residents, through the Practice Advancement Leadership Team, collaborated with the Pharmacy Society of Wisconsin to support Wisconsin hospitals in completing the PAI 2030 Self-Assessment Tool and raise awareness of PAI 2030.
Lastly, Student Societies of Health-System Pharmacists (SSHP) actively promote the PAI 2030 recommendations within their chapters. A recent @ASHPOfficial podcast highlights examples of how to incorporate PAI 2030 into SSHP initiatives.
To learn more about PAI 2030 visit www.ashp.org/pai and direct questions to [email protected].
Posted November 14, 2022