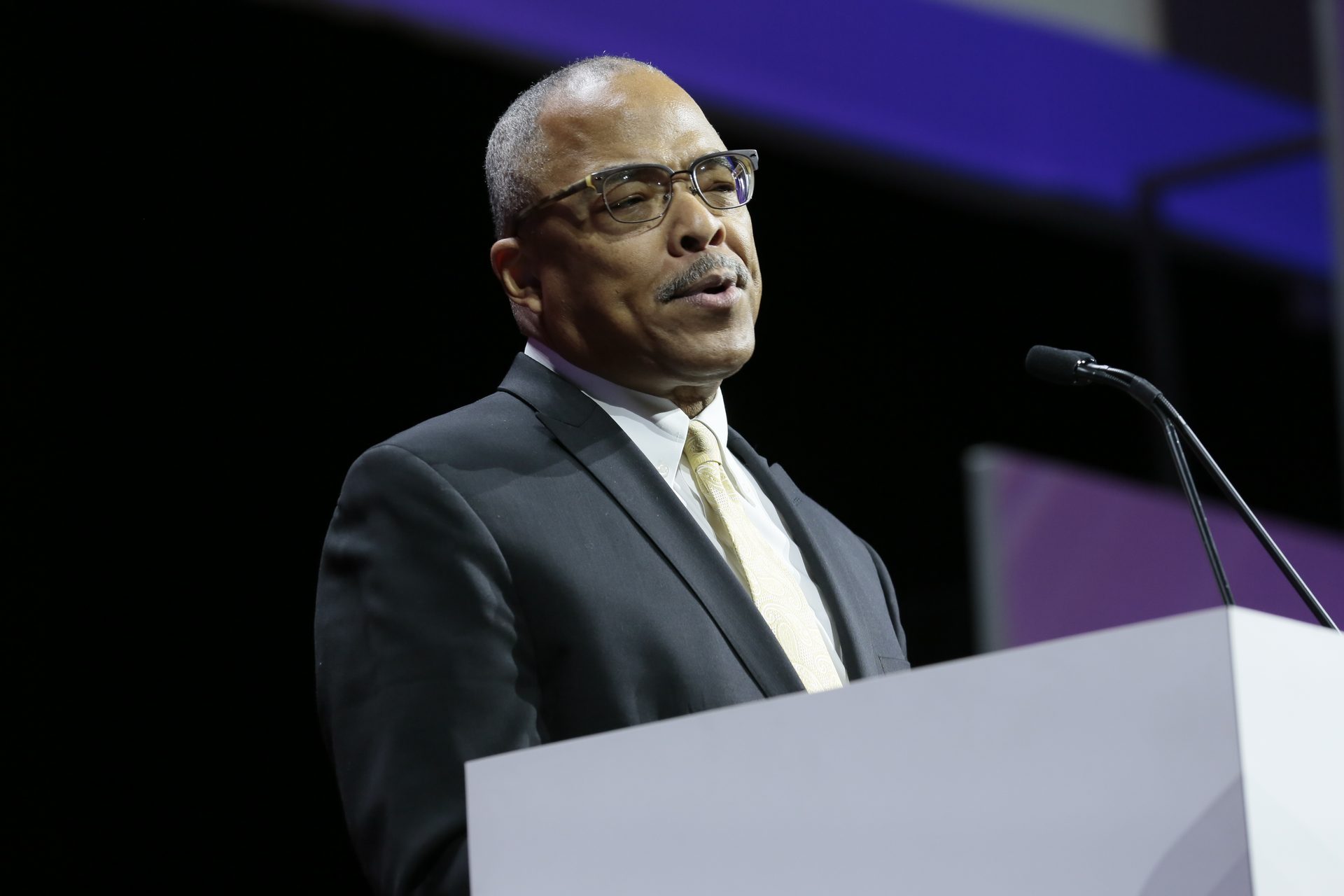 ASHP President Paul C. Walker celebrated ASHP's commitment to excellence during Monday's live Opening Session.
ASHP President Paul C. Walker welcomed an enthusiastic crowd to Monday's official opening of the Midyear Clinical Meeting & Exhibition — the first in-person Midyear meeting since 2019.
"We are 'better together' when we gather for the biggest and the best pharmacy meeting in the world," Walker announced, echoing the theme he introduced in his June inaugural address.
Walker called out some of the organization's major milestones from the past year: ASHP celebrated its 80th anniversary, passed the 60,000-member mark, and announced the availability, starting next fall, of $25,000 in new ASHP Foundation scholarship funding for students who are Black, indigenous, or people of color.
"We are better together when diverse voices are included and heard," Walker said. "The Midyear meeting presents tremendous opportunities for you to share your ideas and gain new perspectives, to learn about the latest in pharmacy practice and research."
ASHP's Midyear meeting, held this year in Las Vegas, Nevada, is the world's largest gathering of pharmacy professionals. The Midyear theme for 2022 is More than a Meeting, and the event offers hundreds of educational activities, including more than 150 clinical and professional development sessions. ASHP's Residency Showcase and Personnel Placement Service — the profession's largest recruitment event — are once again live at the Midyear to help attendees advance their careers.
Walker urged audience members to take advantage of the meeting's professional development opportunities and to enjoy the lighter side of the meeting, such as the scavenger hunt in the exhibit hall.
During his remarks, Walker confirmed ASHP's commitment to improving patient care by advocating for legislation and regulatory actions that expand access to pharmacy services. Top advocacy priorities include protecting the 340B Drug Pricing Program and urging Congress to pass legislation that maintains Medicare beneficiaries' access to pharmacist care and services.
Walker noted that most state Medicaid programs already understand the value of pharmacists' services.
"We have seen numerous states expand their authority for pharmacist payment — Medicaid programs in 47 states now provide payment for some level of pharmacist care," he said.
Walker predicted a bright future for the profession. He said ASHP's new Leadership Center and Section of Digital and Telehealth Practitioners are just two examples of ASHP's forward thinking on behalf of members.
And he thanked Midyear attendees for coming together to help make pharmacy better.
"Collaboration is essential to the success of our profession and our work," Walker said. "We are better together! We couldn't do what we do without you."
To learn more about ASHP's exciting initiatives, resources, and the scholarship visit the ASHP Experience Center (Booth 1713) in the exhibit hall.
Posted December 5, 2022