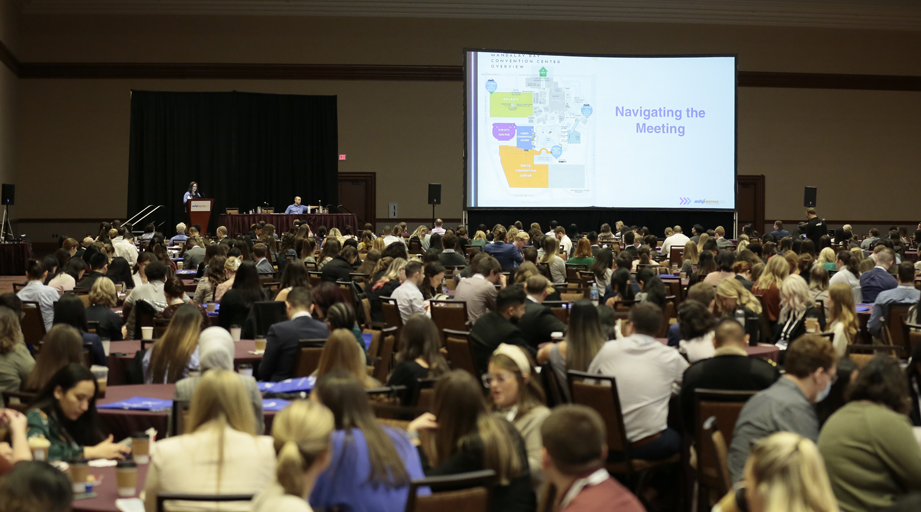 With more than 20,000 pharmacy professionals gathered in one place, and so many exciting opportunities and events awaiting you, the Midyear Clinical Meeting & Exhibition can be a little overwhelming for first timers. But fear not — we've got just the thing for you.
The First-Time Attendee Welcome Event (Sunday, December 3, from 8:30 to 9:30 a.m.) is packed with guidance from ASHP leadership, staff, and seasoned members to help you make the most of every educational, networking, and career-boosting opportunity at the Midyear.
Listen to what attendees had to say about the
2022 Midyear's First-Time Attendee Welcome Event


Be sure to arrive early to get a good seat. "It was standing room only last year as I looked out at a crowd of around 500 people," recalled ASHP President Nishaminy (Nish) Kasbekar. "I was so excited to see so many new faces."
During the event, you'll get an inside look at programming designed exclusively for students, including details for making the most of the Residency Showcase, which features more than 1,000 programs in advance of the matching process. You will also learn about our onsite career fair, called Personnel Placement Service, with more than 300 employers onsite representing thousands of positions.
"Plus, we'll share some tips and tricks from long-time attendees to help you better navigate your first Midyear (comfortable shoes and a meeting companion are a must)," said Briscoe-Dwyer said. "But you'll have to come to the event to hear the rest. See you there!"
Posted October 17, 2023