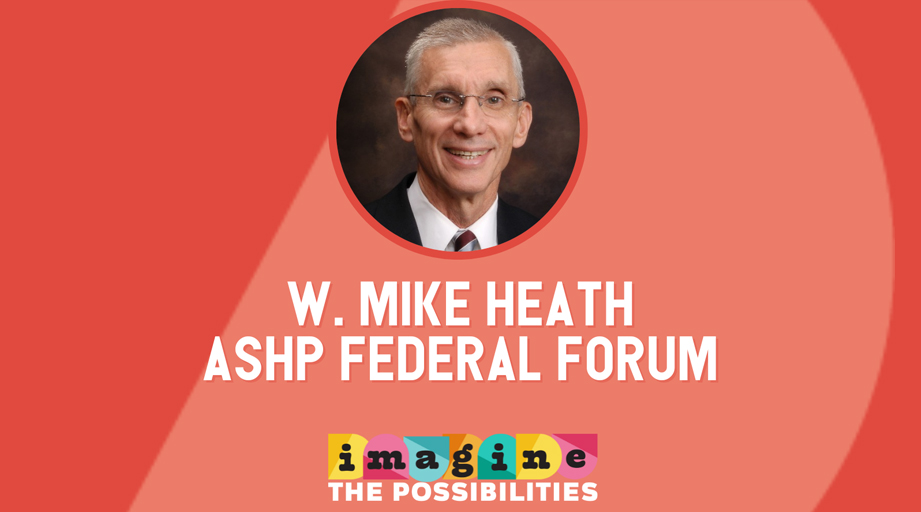 The 2023 ASHP Midyear Clinical Meeting and Exhibition in Anaheim, California, will feature the W. Mike Heath ASHP Federal Forum, welcoming active and former federal pharmacists and pharmacy technicians from the U.S. Department of Defense, the U.S. Public Health Service (USPHS), and the U.S. Department of Veterans Affairs (VA).
The federal forum, named in honor of retired U.S. Army Colonel W. Mike Heath, takes place Sunday, Dec. 3, and starts with a patriotic opening ceremony, including a presentation of the colors by a color guard from Edwards Air Force Base; a performance of the national anthem by Lt. Cmdr. Emily Winans of the USPHS; and opening remarks by ASHP President Nishaminy (Nish) Kasbekar.
This year's federal forum will be moderated by Lt. Col. Sherry Kwon of the U.S. Army. Following the opening ceremony, two educational sessions geared toward the needs of federal pharmacy professionals will be presented.
The first session will feature representation from the federal pharmacy chiefs, including: Rear Adm. Kelly Battese, chief pharmacist officer and chief executive officer for the Haskell Indian Health Center at the USPHS; Thomas Emmendorfer, executive director of pharmacy benefits management services at the VA; and Lt. Col. Joseph Taylor, deputy pharmacy consultant to the U.S. Army Surgeon General. They will discuss unique practice opportunities in federal pharmacy practice settings.
The second session will include Miranda Smith, senior global health officer at the Department of Health and Human Services, speaking on antimicrobial resistance and the global perspectives and challenges relating to antimicrobials, and Brian Paegel, professor, University of California–Irvine, who will present on next-generation drug discovery technology.
A meet the researchers federal forum poster session covering clinical, leadership, and educational topics immediately follows the education session.
Sunday, Dec. 3
1–3:15 p.m. — W. Mike Heath ASHP Federal Forum
1–1:15 p.m. — W. Mike Heath ASHP Federal Forum Welcome Event
1:15–2:15 p.m. — Federal Pharmacy Practice: Unending Opportunities
2:15–3:15 p.m. — Gems for Federal Pharmacy Practice
3:30– 5 p.m. — W. Mike Heath ASHP Federal Forum Posters
Visit ASHP's 2023 Midyear session schedule to find out more about the W. Mike Heath ASHP Federal Forum and the full roster of educational sessions and special events.
Posted November 8, 2023