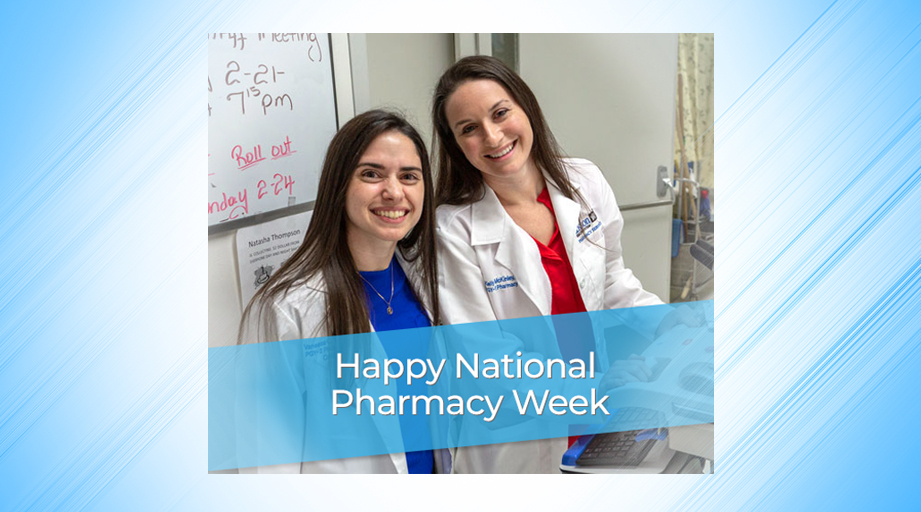 Indrani Kar was a teenage chemistry buff. Delia Carias was an undergraduate music major. Stephanie Weightman worked in high school at a retail pharmacy and admired her colleagues. Anthony Scott studied biology and knew all-day lab work was not for him.
All of them found their place in the pharmacy workforce.
"I was really excited by seeing the different types of careers that pharmacists were doing and thought it'd open up a lot of opportunities," Kar, now a drug information pharmacist at University Hospitals in Ohio, said in a video recorded for ASHP.
To mark National Pharmacy Week (Oct. 15-21), ASHP is highlighting its collection of videos from members sharing their stories about how they got their start in pharmacy. These stories, which include testimonials from clinical specialists, administrators, and educators, show the wide range of pharmacy career opportunities and the profession's impact on patient care.
"A pharmacy degree opens up tons of doors," said Weightman, now a clinical pharmacy educator in Dallas, Texas.
Weightman, for example, said she "stumbled" into pharmacy in high school while working as a cashier at a Walmart pharmacy. "I was immediately impressed by everything pharmacists did. They were available for people to walk up to the window and ask questions," she said. "It was amazing all the things they were able to do. It impressed me so much that I decided to pursue a career in pharmacy."
After earning her PharmD, she worked in a variety of settings, including an emergency room, before taking a job at an education company that helps pharmacy students prepare for their board exams. Weightman emphasized how many different types of jobs pharmacists can hold. "It's really crazy how many things you can do once you get a pharmacy degree," she said.
Kar said she learned in pharmacy school just how much of a broad impact pharmacists can have on health-system policies. In her position, she helps maintain the formulary and write system-wide policies. "That takes a lot of work. We have to evaluate all these medications," she said. "We have to look at the literature, the safety and the finances."
Her favorite part is knowing her decisions make a broad impact. "I get to work with every single person in our organization from our frontline clinical specialists to our pharmacy managers to our chief physicians to our CEO," she said. "I'm a very big-picture thinker. I like to help people take care of other people. And a lot of my work is behind the scenes. I'm not seeing patients but we're supporting all the guidelines and policies and formulary needs to help our frontline take care of patients. So it's very exciting."
Schulz, now a clinical coordinator at University of Wisconsin Health, said he is struck by his profession's ability to have an immediate impact on patients. He oversees medications for patients who have received organ transplants and those with infectious diseases.
"My favorite part of pharmacy is helping patients understand their medications and see positive outcomes when they start using them," he said. "We get an opportunity to interact with those patients and their families. That patient feels confident going home because they know they can move on with life and be successful once they leave the hospital."
Carias is the daughter of two pharmacist parents, so, naturally, she swore that she would never go into the field. But she ended up falling in love with the profession after getting a job in college as a pharmacy technician. Today she works as a medication use policy coordinator for St. Jude Research Hospital in Memphis, Tennessee, helping develop policies and therapeutic guidelines.
"I help decide which medications we keep stocked in our hospital and how we're going to use them and in what patients," she said. "With pediatric cancer patients, there's always a new oncology medication. You have to review the literature and say, 'O.K., is this treatment going to work for this patient population?' You're always learning. There's always a new problem to solve."
As someone who loves networking and getting to know colleagues, Scott, now director of pharmacy at Emory University Hospital in Atlanta, Georgia, was excited by the leadership opportunities that pharmacy provided. "As a leader, I have the fortune to impact the lives of everyone around me, whether they're patients or people I work with," he said.
Posted October 13, 2023