 The national demand for pharmacists will grow by 5.6% during the period 2016–26, including a 6.3% increase in the number of full-time positions for hospital pharmacists, according to the most recent projections from the U.S. Department of Labor (DOL).
That projected growth translates to 17,400 additional pharmacists overall and 4,900 pharmacists at state, local, and private hospitals.
The federal projection aligns with the findings of the most recent ASHP national survey of pharmacy practice in hospital settings, said Douglas Scheckelhoff, senior vice president of ASHP's Office of Practice Advancement.
"It's a positive report," Scheckelhoff said of the DOL document. "Over the last 15 years, we have seen growth in hospitals and health systems that's very consistent with what they are reporting and what they're projecting."
Not all practice settings are expected to grow through 2026. DOL predicted a 4.3% decrease in pharmacist positions at psychiatric and substance abuse hospitals. That prediction includes an expected 31.1% decrease in the number of pharmacist positions at state-owned facilities. Pharmacist positions at privately owned psychiatric and substance abuse hospitals are projected to grow by 23.8% through 2016, according to the report.
DOL recognizes pharmacists as professionals who dispense medications and provide information to patients about their medications and how to use them.
In addition, according to the agency's occupational profile, pharmacists may "advise physicians and other health practitioners on the selection, dosage, interactions, and side effects of medications."
The agency's employment projections include a breakdown of the labor market that appears to recognize nondispensing roles for pharmacists outside of hospitals.
According to the report, the equivalent of 14,600 full-time pharmacy positions in clinicians' offices will be needed in 2026, a 32.2% increase from 2016. And 5,900 pharmacists will be needed in outpatient clinic settings, a 39.3% increase over the number of such positions in 2016.
The outpatient sector projection includes an estimated 48.6% increase in the number of pharmacists working in home healthcare settings, or 2,500 total positions.
Over the years, ASHP's national survey has documented growth in ambulatory care roles for pharmacists. According to survey data, 30% of hospitals with primary care or ambulatory care clinics included pharmacists on the patient care team in 2006. A decade later, pharmacists helped staff these outpatient sites at 40% of hospitals that responded to the survey.
The 2017 national survey found that hospital-operated ambulatory care clinics with embedded pharmacists employed the equivalent of 4.3 clinical pharmacists in those positions, on average.
Staffing at ambulatory care clinics roughly corresponded to the survey respondents' hospital size. Hospitals with at least 600 beds deployed an average of 18.2 pharmacists in ambulatory care settings, as compared with 1.9 pharmacist positions, on average, at hospitals with fewer than 50 beds (see table).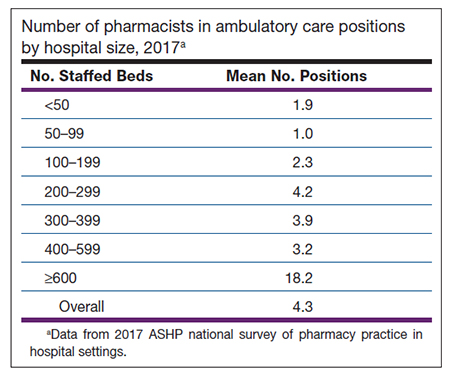 Unlike the DOL report, ASHP's national survey reports don't make projections about the activities of the pharmacist workforce in 2026. But the survey, which is conducted each year, captures trends over time.
One such trend is the increased presence of pharmacists on hospitals' antimicrobial stewardship teams. According to the 2017 survey report, 93% of hospitals reported having a stewardship program, up from 66% in 2015. And pharmacists played a leadership role in stewardship programs at 80% of hospitals that had them in 2017, up from 57% in 2015.
Scheckelhoff identified other pharmacy practice trends, such as new roles for pharmacists in the management of hospital-run specialty pharmacy operations and increased involvement in medication reconciliation and transitions-of-care services, including discharge medication services. He said pharmacists are also increasingly involved in informatics and emergency care.
He also identified a once-feared trend that hasn't yet materialized.
"With all the growing use of automation and the use of pharmacy technicians, 15 years ago some might have been worried that pharmacy technicians or automation might replace what pharmacists are doing. And we have replaced what some pharmacists were doing then. But what we've seen is really that pharmacists have moved into many more clinical roles and are much more involved in direct patient care. So it's been a positive change," Scheckelhoff said.
Partial results from the 2017 national survey were released in December at ASHP's Midyear Clinical Meeting, and the full results will be published this year in AJHP. About 700 hospitals submitted data for the 2017 survey, according to information presented in December.
[This news story appears in the April 1, 2018, issue of AJHP.]
Posted March 13, 2018