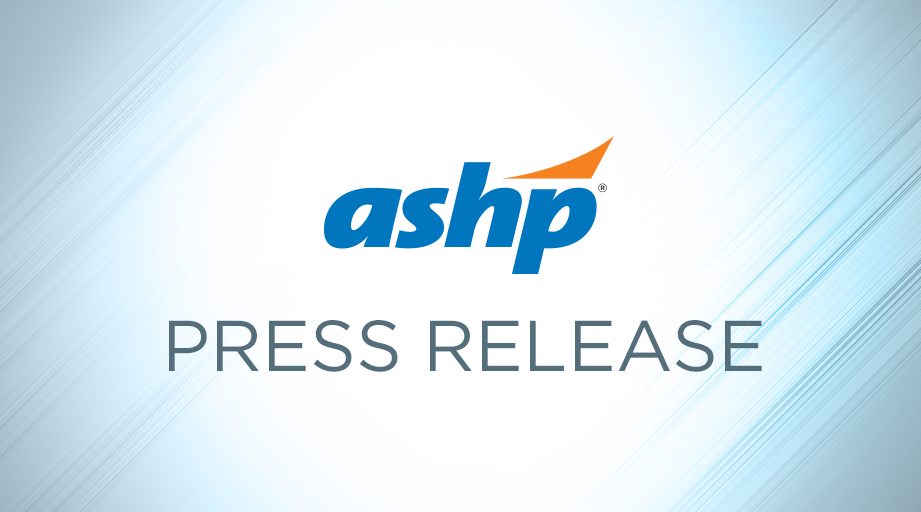 New Group Seeks to Elevate and Advance Pharmacy Technician Workforce
BETHESDA, Md. — ASHP today announced the launch of the Pharmacy Technician Forum, a new membership home within ASHP created to further elevate and advance the pharmacy technician workforce.
The ASHP Pharmacy Technician Forum, much like ASHP's pharmacist-focused sections and forums, will serve as the central point for pharmacy technician engagement in ASHP, providing tools, education, and numerous other resources to help pharmacy technicians advance their practice. Developing pharmacy technician leadership within ASHP will also be a key focus of the forum, including through participation in ASHP's policymaking process, strategic planning, advisory committees, and numerous current and evolving opportunities.
"Pharmacy technicians are the cornerstones supporting the safe, effective, and optimal use of medications, and are integral to the advancement of pharmacy practice," said ASHP CEO Paul W. Abramowitz, Pharm.D., Sc.D. (Hon.), FASHP. "ASHP has been the leader in advancing the roles of pharmacy technicians for decades, and we are eager to take things to the next level with the ASHP Pharmacy Technician Forum."
The Pharmacy Technician Forum recently selected its first Executive Committee, comprised of five pharmacy technicians representing a broad spectrum of practice expertise, for the 2018–2019 term:
Chair-elect: Barbara Hintzen
Barbara Hintzen is the Pharmacy Program Supervisor at North Memorial Health Hospital in Robbinsdale, Minn. She has more than 25 years of experience in operational workflow, management, purchasing, and regulatory compliance. Hintzen served on the Minnesota Society of Health-System Pharmacists Board of Directors; is a frequent lecturer on technician roles, process improvement, and the 340B Drug Pricing Program; and holds a Six Sigma Greenbelt certification.
Member: Tiffany Bartlett
Tiffany Bartlett is a Specialty Pharmacy Technician at the MD Anderson Cancer Center in Houston. She has more than 20 years of experience in academia, as well as in community and hospital pharmacy practice. She has served as a subject matter expert for the Pharmacy Technician Certification Board (PTCB) sterile compounding exam development team.
Member: Margarita Fedorova
Margarita Fedorova is a Pharmacy Technician Program Manager at Cedars-Sinai Medical Center in Los Angeles. She has 25 years of experience in hospital pharmacy practice and co-led the development and implementation of Cedars-Sinai's technician program. She is a member of the California Society of Health-System Pharmacists.
Member: Glen Gard
Glen Gard is the National Pharmacy Compliance Manager at Option Care in Chicago. With 12 years of pharmacy technician experience, he created and teaches a technician training program at various locations across the country. He also has experience working with the National Home Infusion Association and the PTCB.
Member: Tara McNulty
Tara McNulty is a Pharmacy Project Manager at Wellcare Health Plans in Tampa, Fla. She has more than 20 years of experience in academia, as well as in community and hospital pharmacy practice. She previously served as the Program Director of an ASHP-accredited postsecondary pharmacy technician training program. She is a member of the Florida Society of Health-System Pharmacists.
The Executive Committee will hold its first meeting in June during ASHP's Summer Meetings and Exhibition in Denver. The committee will first identify the Pharmacy Technician Forum's mission, vision, goals, and objectives. The group will review key issues facing technicians in order to identify professional and educational needs, tools, and resources for ASHP's technician members. The committee will also begin to investigate ways that ASHP can advance pharmacy technician practice through advisory groups, new initiatives, new continuing education offerings, and more.
For more information, visit ASHP's Pharmacy Technician Forum.
About ASHP
ASHP represents pharmacists who serve as patient care providers in acute and ambulatory settings. The organization's 45,000 members include pharmacists, student pharmacists, and pharmacy technicians. For more than 75 years, ASHP has been at the forefront of efforts to improve medication use and enhance patient safety. For more information about the wide array of ASHP activities and the many ways in which pharmacists advance healthcare, visit ASHP's website, www.ashp.org, or its consumer website, www.SafeMedication.com.
Posted April 3, 2018