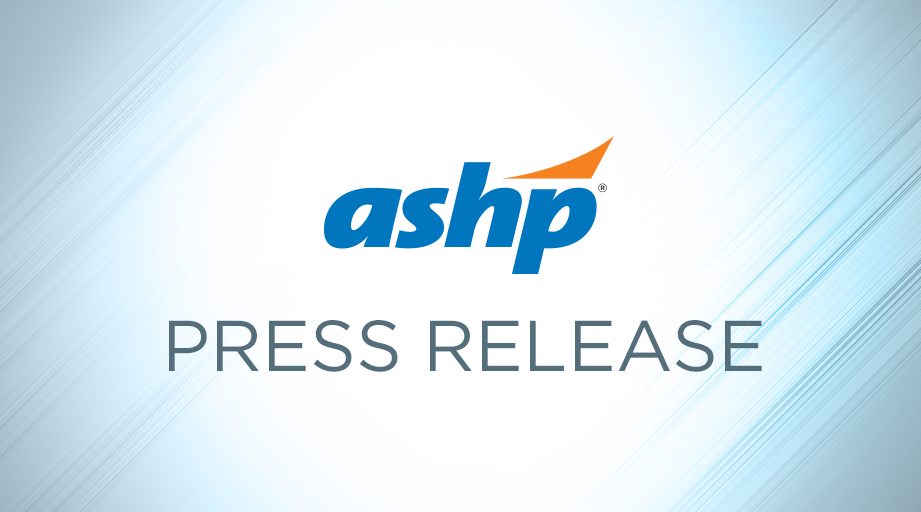 ASHP has named Daniel J. Cobaugh, Pharm.D., DABAT, FAACT, as Vice President, ASHP Publishing. In this new capacity, Dr. Cobaugh will continue to serve as the Editor-in-Chief of the American Journal of Health-System Pharmacy (AJHP), the nation's preeminent pharmacy journal.
Dr. Cobaugh has acted as the Interim Vice President of ASHP Publishing since January 2018. He formerly served as Assistant Vice President and Editor-in-Chief of AJHP, and he brings a distinctive background in pharmacy practice, publishing, and nonprofit management to his new role. As Vice President, Dr. Cobaugh will oversee an extensive and diverse multimedia publishing operation including AJHP, the AHFS drug information product line, and an extensive library of clinical and professional book titles.
"We are very pleased to welcome Dan to the position of Vice President of ASHP Publishing," said ASHP CEO Paul W. Abramowitz, Pharm.D., Sc.D. (Hon.), FASHP. "In an era of rapid change in both scholarly publishing and pharmacy practice, we are fortunate to have someone of Dr. Cobaugh's caliber to take the reins of our publishing operations. With his impressive credentials and proven expertise, Dr. Cobaugh is uniquely qualified to oversee the continued evolution of this critical area for ASHP."
Prior to his appointment as Editor-in-Chief at AJHP, Dr. Cobaugh most recently served as the Vice President of the ASHP Foundation, where he oversaw research, clinical education, award programs, and consensus-building events.
Before joining the Foundation, Dr. Cobaugh was director of ASHP's Section of Home, Ambulatory, and Chronic Care Practitioners from 2002 through 2004. In that position, he led ASHP's efforts to advance pharmacy practice in clinics and other ambulatory care settings, enhance continuity of care in the medication-use process, and establish emergency department pharmacy services.
As the author of 56 peer-reviewed publications and numerous book chapters and abstracts, Dr. Cobaugh is a prolific contributor to the pharmacy and medical literature. His published work embodies an evidence-based approach that is rooted in advancing patient care.
Prior to his work with ASHP, Dr. Cobaugh held association, clinical, and academic positions, including Associate Director at the American Association of Poison Control Centers, Director of the University of Rochester Medical Center Finger Lakes Regional Poison and Drug Information Center, Director of Research and Assistant Professor in the Department of Emergency Medicine at the University of Rochester Medical Center, and as Coordinator of the Toxicology Treatment Program at the University of Pittsburgh Medical Center and Assistant Professor of Pharmacy Practice and Emergency Medicine at the University of Pittsburgh Schools of Pharmacy and Medicine.
Dr. Cobaugh earned his Bachelor of Science degree in Pharmacy from the University of Pittsburgh and his Doctor of Pharmacy degree, magna cum laude, from Duquesne University. He completed an ASHP-accredited residency in hospital pharmacy at Mercy Hospital of Pittsburgh and a clinical toxicology fellowship at the Pittsburgh Poison Center/Children's Hospital of Pittsburgh. Dr. Cobaugh is a fellow of the American Academy of Clinical Toxicology and a 2012 distinguished alumnus of the University of Pittsburgh School of Pharmacy.
About ASHP
ASHP represents pharmacists who serve as patient care providers in acute and ambulatory settings. The organization's 45,000 members include pharmacists, student pharmacists, and pharmacy technicians. For more than 75 years, ASHP has been at the forefront of efforts to improve medication use and enhance patient safety. For more information about the wide array of ASHP activities and the many ways in which pharmacists advance healthcare, visit ASHP's website, www.ashp.org, or its consumer website, www.SafeMedication.com.
# # #
Posted May 31, 2018