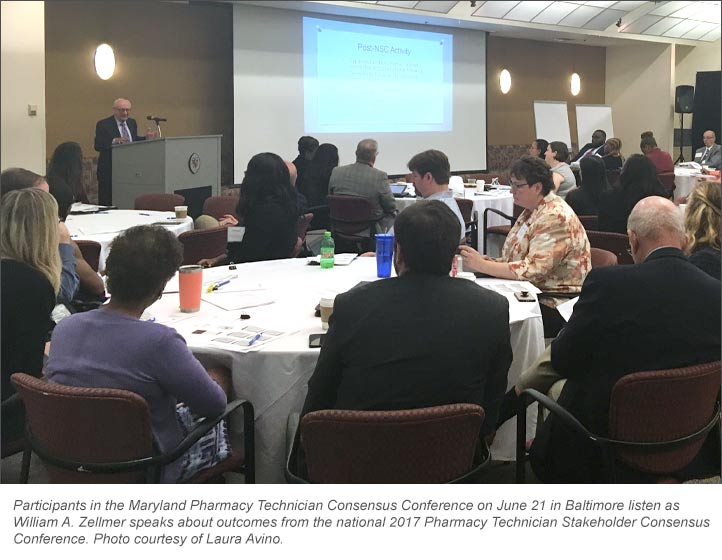 Stakeholders in the practice of pharmacy in Maryland agree on many issues regarding pharmacy technicians but not on the need for them to complete a nationally accredited education and training program or obtain national certification, organizers of a recent consensus conference said.
Tara Feller, a member of the planning committee for the June 21 Maryland Pharmacy Technician Consensus Conference, said the 125 stakeholders reached consensus on 29 statements.
"We had pretty broad representation from many pharmacy stakeholders," said Feller, who presented the results of the preconference survey and represented the Maryland Society of Health-System Pharmacy (MSHP) on the planning committee.
The survey had 2 questions on demographics and 48 statements for which stakeholders indicated their level of agreement on a 7-point Likert scale.
Feller said at least 80% of the ratings on a statement had to be "strongly agree" or "agree" for it to be regarded as a point of consensus.
Stakeholders who completed the preconference survey reached consensus on all 4 statements defining pharmacy technicians, she said, noting that she viewed those statements as potentially less controversial than the others.
Likewise, a consensus was reached on all 6 statements in what Feller called the "catch-all" area of "moving forward."
These same stakeholders also agreed by consensus that several areas of knowledge, skills, and abilities, such as calculations and maintenance of confidentiality, should be requirements for entry-level pharmacy technicians.
The 125 stakeholders, however, did not reach consensus on any of the statements about pharmacy technician education or certification.
"Our results at a state level paralleled very closely with what we saw at a national level," said Daniel M. Ashby, one of the Maryland conference's organizers.
The national 2017 Pharmacy Technician Stakeholder Consensus Conference, however, did not have a predetermined definition of consensus. That conference was held in February in Texas, with the results of the advance survey and onsite polling presented to attendees and then published at AJHP Online.
Ashby said MSHP established its Pharmacy Technician Training Task Force around the time he received an invitation to the national conference.
As the task force monitored national initiatives, communicated locally about those initiatives, and encouraged educational program providers to seek accreditation of their pharmacy technician training program, he said, "We realized that . . . we would need local or state action to mandate change."
The Maryland Pharmacy Coalition, which includes MSHP and is under the leadership of Meghan Swarthout, voted after the national conference to support a legislative initiative that would have the state following that conference's path and recommendations, Ashby said.
"Our state conference," he said, "was an effort to convey that, communicate that, and see what level of support we had for that."
Lacking stakeholder consensus on the education and certification of pharmacy technicians in Maryland, the coalition nonetheless will try to plan a strategy for moving forward on those issues, Ashby said.
The Maryland General Assembly normally meets each year for 90 days, starting in January. Thus, a group like the coalition would need to have proposed legislation ready 3 months earlier, in October, so that a legislator could introduce it at the start of the next session, Ashby said.
This need to "move fairly quickly," he said, was part of the reason that the coalition wanted to hold the consensus conference in June.
Ashby said the conference was conducted in a manner very similar to that used during the Pharmacy Practice Model Summit, which was held in 2010 and sponsored by ASHP and the ASHP Research and Education Foundation.
For the summit, participants completed a survey in advance. Survey statements that received "strongly agree" or "agree" ratings from at least 80% of participants were regarded as points of consensus. Statements lacking consensus were discussed at the summit, revised by breakout groups after hearing from invited speakers, and then voted on, with consensus defined as before.
Statements in the Maryland preconference survey, Feller said, were modified from the national conference's statements to suit the state's situation.
Another modification was the use of a 7-point Likert scale, which included the choices "somewhat agree" and "somewhat disagree." Unfortunately, Feller said, people seemed to have difficulty deciding between their feeling of "somewhat" and "neutral," resulting in "more gray area than we really wanted."
Interviewed in mid-July, Feller said organizers were still assessing the results of the polling conducted during the conference on statements revised by the breakout groups.
According to Laura Avino, who was among the 7 Johns Hopkins Hospital health-system pharmacy administration residents tasked by Ashby to help plan and conduct the conference, about 53% of the people who completed the preconference survey had been invited to the June 21 event in Baltimore. The other survey participants were members or representatives of the groups hosting the conference.
In all, Avino stated, 30% of survey participants described themselves as community pharmacists; 24%, as hospital pharmacists; 13%, as hospital pharmacy technicians; and 13%, as faculty members at a pharmacy school. The rest were pharmacy technician educators, community pharmacy technicians, staff with the state pharmacy board, and other stakeholders.
Ashby is vice president and chief pharmacy officer for The Johns Hopkins Health System in Baltimore. Feller and Avino are operations managers and Swarthout is a division director at Johns Hopkins Hospital.
The 2017 national conference was planned in collaboration with ASHP and the Accreditation Council for Pharmacy Education, which jointly accredit pharmacy technician education and training programs.
[This news story appears in the September 1, 2018, issue of AJHP.]
Posted August 10, 2018