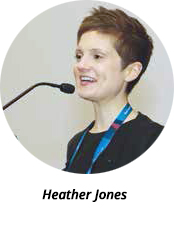 Before the outpatient oncology service at University of Wisconsin Health in Middleton implemented the MyChart telehealth messaging platform, the clinic's pharmacists were spending an hour or two each day trying to track down patients by phone for follow-up, says Heather Jones, Pharmacy Manager for Oncology Services.
Now, she said, instead of being tied to the phone — and unavailable for direct patient care — the clinic's pharmacists can communicate electronically with their patients, who then respond when it's convenient for them.
"We've been able to reach more patients and connect with them," Jones explained during the December 10 Midyear Clinical Meeting session Call Me, Beep Me If You Wanna Reach Me! Connecting with Our Patients Through Technology.
Jones said the clinic's pharmacists use the telehealth technology as part of chemotherapy management, including the use of medications to alleviate chemotherapy-associated nausea and vomiting, for more than 500 patients.
The pharmacists also use the platform for immune checkpoint inhibitor therapy follow-up and adverse event management for more than 100 patients. And Jones said the clinic's pharmacy residents are exploring additional uses of the technology.
"We want to continue to expand our MyChart messaging ... so pharmacists can spend more time seeing patients in clinic," she said.
Jones said telehealth services, in general, have the potential to reduce the cost of healthcare, increase access for patients, and improve the safety and efficiency of care. She predicted that these benefits will outweigh potential drawbacks of the technology, such as the risk that private patient information could be transmitted on insecure platforms and that patients cannot afford the technology or may need help understanding its use.
A 2017 special report in NEJM that Jones cited identified five trends that are expected to influence growth in telehealth services: continuous innovation in the consumer technology market; continuous advancement in electronic health record and clinical decision-support technology; projected shortages of healthcare providers; changes in the way healthcare is delivered and financed; and increased patient demand for improvements in technology and access to healthcare.
Session attendees also learned about how pharmacists conduct virtual visits with patients of the Cleveland Clinic's Kaufman Center for Heart Failure Treatment and Recovery Outpatient Clinic in Broadview Heights, Ohio.
"With our virtual visits, we're really able to do almost everything that we're doing as an in-person visit," said Heart Failure and Heart Transplant Clinical Pharmacist Lucianne West.
She said those tasks include reviewing medications and laboratory test results and examining patients' blood pressure, heart rate, and weight logs as well as assessing sodium and fluid restrictions and answering questions about adverse events.
West noted that she can tell, during a video session, if one of her patients seems short of breath. But she acknowledged that symptoms such as body rashes that could indicate an adverse event may not be visible on the video screen and could be missed if the patient doesn't mention the problem.
An initial review of 52 virtual visits at the heart failure clinic found that all patients received medication reconciliation and medication and lifestyle education. Laboratory monitoring was ordered for 40 percent of the virtual visit patients, and a substantial number of patients required medication initiation, discontinuation, or dosage adjustment.
West added that when bad weather is predicted in the area, the clinic staff can substitute virtual visits for previously scheduled office visits so patients don't have to travel during a storm.
"Our patients really do appreciate the virtual visit technology," West said.
Posted December 20, 2019