 Hospitals are resuming services that were suspended at the start of the COVID-19 pandemic while also coping with revenue losses suffered in the initial months of the crisis.
"The impact has equally affected critical access hospitals and large health systems as they grapple with business recovery, reinitiating non-COVID patient care, and plan for the growing COVID-positive populations in rural and urban areas of the United States," said David Chen, ASHP's assistant vice president for pharmacy leadership and planning.
Megan Schlaebitz, pharmacy manager at 21-bed Pender Community Hospital in northeast Nebraska, said that compared with many other critical access hospitals, her facility was in good fiscal shape before the pandemic.
The outlook has changed since March, she said. There will be no bonuses this year, salaries are frozen, and the hospital suspended retirement plan matching contributions.
For next year's budget, "we're reevaluating everything we spend money on," she said.
U.S. hospitals cancelled surgeries and elective procedures during the initial months of the pandemic, resulting in an estimated $50 billion in lost revenue each month, the American Hospital Association (AHA) announced in May. The organization estimated in late June that total revenue losses will reach $323.1 billion this year.
AHA's estimate precedes new state and municipal actions to again halt elective hospital procedures in response to large increases in COVID-19 hospitalizations in areas that were largely spared at the beginning of the pandemic.
And the Centers for Disease Control and Prevention recently reported that emergency department visits declined 42% from late March to late April, compared with figures from the same time last year.
In ASHP's April 21–24 survey of pharmacy practice leaders, more than half of respondents said their hospital had cut back on pharmacy staffing during the pandemic by reducing work hours, furloughing staff, and other mechanisms.
Pharmacy leaders are also becoming actively involved in the development of low-census staffing plans.
That includes Schlaebitz, who said her hospital's April's census numbers were low overall; some days, there were no inpatients at all.
The concept of low-census staffing — also known as flex staffing — is new to the three-person pharmacy department, though the model has long been used in hospitals to tie nurse staffing to daily census levels.
Schlaebitz said accounting for her staff's behind-the-scenes work was her biggest challenge when she was asked to create the department's low-census plan.
"How do you quantify productivity when some of the tasks we're doing don't generate revenue?" Schlaebitz asked. She ultimately based the low-census plan mostly on medication order volume, accounting for medication use in inpatients, surgical patients, and infusion clinic patients.
"I think we're all a little nervous" about working under a low-census plan, she said.
Thurston County, which includes Pender, reported a total of 128 COVID-19 cases through July 6.
Schlaebitz noted that although the hospital had seen "just a handful" of COVID-19 patients, her team has been busy preparing for a potential surge. Necessary but non-revenue-generating tasks have included developing and frequently revising order sets; identifying, ordering, and stocking new medications for intubation procedures and, potentially, maintaining patients on mechanical ventilation; updating the formulary; programming IV pumps; and developing procedures for emergency use authorizations.
She said the hospital's surge planning envisions a COVID-19 patient volume up to four times the 21-bed hospital's capacity and far above the usual daily census of about 8–10 patients.
That surge could still occur, which creates an uncertain outlook for staff.
"If we see a decrease in whatever measures we put in our plan, then we're expected to take low census," Schlaebitz explained. "If we see a big surge in patients, we're all expected to be here for that as well. So it kind of works both ways."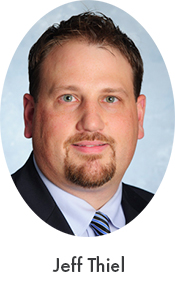 Jeff Thiel, assistant vice president of pharmacy services at NorthShore University HealthSystem, said the organization has needed substantial resources to care for COVID-19 patients in hard-hit Cook County, Illinois. But the health system is also adjusting to an overall decline in patient visits.
"I think the hardest thing is that we're all trying to grapple with the unknown," Thiel said. "There's no manual for something like this."
He said the clinical pharmacy team has long operated by "staffing to our volumes," with assistance from the health system's analytics group.
"We have a formula that we've developed to incorporate many different aspects of our work that gives us a fairly good idea of how much staff we would need," Thiel said. The staffing model reflects medication order volume, dispensing volume, patient census, and clinical tasks such as drug-level monitoring.
Thiel said the pharmacy team has been flexible when asked to work different shifts or to fill scheduling gaps throughout the five-hospital system.
The pandemic has also created new opportunities for the department to launch or expand services, such as curbside medication pickup, home medication delivery, and telehealth.
"The biggest opportunities that we've had relate to more non-face-to-face encounters," Thiel said. "So [there's] a lot of innovation around providing care either virtually or via telephone."
Thiel said the analytics group is monitoring clinical staffing capacity, the availability of personal protective equipment, and other readiness indicators as the health system restarts surgical procedures and other services that were curtailed early this year.
Schlaebitz is likewise preparing for what lies ahead as her hospital adapts to changing circumstances.
"We've kind of determined that we really don't have a new normal. Our normal is that nothing is normal; things change daily," she said.
ASHP's Business Recovery Toolkit provides critical insights from pharmacy leaders who participated in the May 1–7 virtual roundtable on pandemic-related business topics. For additional tools and resources related to the pandemic, including the Assessment of Evidence for COVID-19-Related Treatments, visit ASHP's COVID-19 Resource Center and the COVID-19 Community at ASHP Connect.
[This news story appears in the October 1, 2020, issue of AJHP.]
Posted July 6, 2020