 Military pharmacists in Germany are supporting Operation Allies Refuge, the joint endeavor to care for tens of thousands of evacuees who left their homes in Afghanistan as the United States ended its military presence in the country.
"It's been a privilege to be a part of it," said U.S. Army Colonel Paul Kassebaum, pharmacy chief at Landstuhl Regional Medical Center. "Everyone's leaning forward so much to assist."
The White House announced Operation Allies Refuge July 14. About a month later, Ramstein Air Base became the operation's major processing center, receiving flights around the clock and providing medical care, housing, and other support to the evacuees.
The U.S. Air Force reported Sept. 7 that approximately 22,000 men, women, and children had departed Ramstein en route to the United States or another safe location, and about 12,000 remained on base awaiting travel to their new homes. The report described the operation as the largest airlift in U.S. history.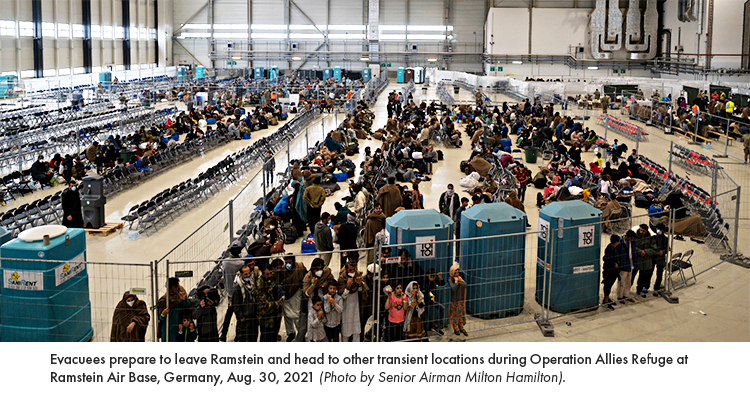 Kassebaum said the medical center at Landstuhl works in concert with Ramstein, which lacks a hospital, to care for evacuees. People with minor illnesses are handled as outpatients at Ramstein. Some acute care needs are met at Ramstein's newly deployed temporary field hospital. People with more serious needs are transferred to the medical center at Landstuhl, located about five miles from the base.
"The pharmacy is supporting approximately eight or nine different clinical areas ... across a couple of different installations," said Air Force Major Kevin Bourne, pharmacy chief at Ramstein Air Base. "We have clinical teams who are set up in different sections to assist all of the evacuees. And we've got pharmaceutical teams who are just providing 24/7 support."
The pharmacy normally serves a largely healthy population of active duty service members and their dependents, and that work continues during Operation Allies Refuge. But the evacuee population includes people with complex medical needs and many more children than the healthcare team usually encounters.
"It is a very different patient population compared to what we normally have," Bourne said.
Some evacuees don't know their medication history, and others may be taking medicines that aren't sold in the United States. So the pharmacy team may need to substitute products and make other adjustments to create appropriate drug regimens for the evacuees.
"We've been working to provide care with the supplies that we have available here," Bourne explained. "We're just trying the closest equivalent and then trying to match an equivalent dose to the things that they were on previously."
For the most part, evacuees' medication needs involve pain and minor illnesses that are easily treated with ibuprofen, acetaminophen, naproxen, and cold and allergy medications. Bourne said there's also a large demand for antimicrobials to treat conditions like strep throat in pediatric patients.
Kassebaum said the evacuation increased the patient volume at Landstuhl Regional Medical Center, with the population characterized by "increased acuity and many more pediatric patients than usual."
He said the medical center has seen a small number of patients with unusual infections, including cases of multidrug-resistant Acinetobacter that required treatment with tigecycline, colistimethate and meropenem.
"One of the challenges for our clinical pharmacists has been really doing the right thing from an antimicrobial stewardship perspective," Kassebaum said. "We have antibiograms, but that doesn't really apply for patients coming from Afghanistan. So there has been some close collaboration with infectious disease specialists here at Landstuhl."
He also noted that malnutrition and its consequences is a fairly common issue that clinicians contend with in caring for the evacuees.
"It makes treating infections, or whatever is being treated, really more challenging," Kassebaum said.
He said he's proud of how his team met clinical and operational challenges and then looked elsewhere for ways to help.
"Lots of folks, after their shifts — that were longer than usual — were going to Ramstein to volunteer for other things that they needed, like sorting out donated items, serving meals, washing dishes, things like that," Kassebaum said.
Bourne called participation in the operation a "once-in-a-lifetime opportunity" to be of service.
"We're doing the best that we're able to, and it's just a fantastic opportunity for us to be able to help them," Bourne said. "It's been an opportunity to put into practice everything we've trained for."
Posted September 14, 2021