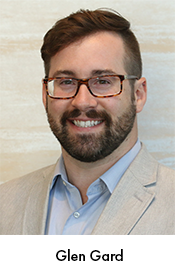 Illinois pharmacy technician Glen Gard has a new leadership role this year as the first-ever technician member of the Illinois State Board of Pharmacy.
Gard, who is national director of sterile compounding compliance for Option Care Health in Chicago, was officially welcomed by his colleagues during the board's March 8 virtual meeting.
According the most recent Department of Labor data, state pharmacy boards collectively regulate nearly 420,000 U.S. pharmacy technicians. Gard said it should thus be "a no-brainer" to have pharmacy technicians serve on state boards.
"Having representation, having a seat at the table is important," he said. "It's another outlet to have my voice heard and to advance the pharmacy technician profession. ... And I think that a pharmacy technician's perspective also can be influential in discussions for pharmacists."
The Illinois pharmacy board was expanded this year and now includes eight pharmacists, two public members, and one pharmacy technician. Board members are appointed by the governor and may serve up to two five-year terms.
Gard was recommended for the appointment by ASHP and other colleagues in the pharmacy community. He said he's eager to work with his fellow board members and share his perspective on issues affecting pharmacy.
Pharmacy technicians are seated on the pharmacy boards in Arizona, Illinois, Iowa, Massachusetts, Michigan, Montana, North Dakota, Oregon, Rhode Island, Texas, Utah, Vermont, and Washington.
Kyle Robb, director of state policy advocacy for ASHP, said that to protect patient safety, state pharmacy boards should reflect the entirety of the pharmacy workforce — including technicians — in all practice settings.
"Having a pharmacy technician serving on the board can also be instrumental to ensuring the perspectives of technicians are reflected in the board's policy actions," Robb noted.
Julie Lanza, pharmacy technician and student manager for Beth Israel Deaconess Medical Center in Boston, has been the pharmacy technician representative on the Massachusetts Board of Registration in Pharmacy since 2018 and has served as secretary and president of the board.
Lanza said she was recommended by a pharmacy colleague to fill a vacant pharmacy technician seat on the board. At the time, the Pharmacy Technician Certification Board was expanding its certificate programs for technicians, and Lanza saw an opportunity to help advance technician practice in her state.
"And I felt like it was the perfect time for myself — for my own career — to expand into different things, to learn more about what pharmacy technicians can do," she added. "I wanted to challenge myself."
Pharmacy board activities that affect technicians include establishing registration and certification requirements, taking disciplinary actions, and defining technicians' scope of practice — including advanced roles such as administering vaccines, product verification (tech-check-tech), and obtaining medication histories from patients.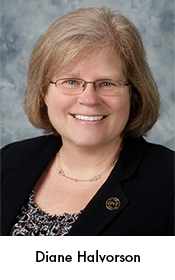 Diane Halvorson, pharmacy technician representative on the North Dakota Board of Pharmacy, has helped usher in contemporary technician practices during her 11 years as a board member. Halvorson's service includes two terms as president of the pharmacy board.
"Throughout my whole career, I have been an advocate of technicians working to advance the practice," said Halvorson, who has been a hospital-based technician for almost 30 years and recently became a buyer for Sanford Health.
Halvorson said the registration of pharmacy technicians, which North Dakota has required for decades, was the initial building block for technician advancement in the state. Next came mandates for technicians to complete an ASHP-accredited training program and obtain national certification.
"Once we had that all in place, we ... started developing the roles, expanding the roles," she said.
North Dakota law now permits pharmacy technicians to perform any service assigned by the pharmacist-in-charge to prepare medications for dispensing by the pharmacist. In addition, the state authorizes qualified pharmacy technicians to counsel patients when they pick up prescription refills. During these counseling sessions, the technician must ask a series of open-ended questions and call in a pharmacist to resolve any problematic responses.
"We feel that the technicians are educated enough to be able to offer that service ... for our patients," Halvorson said.
Lanza said the COVID-19 pandemic has also presented opportunities to expand pharmacy technicians' responsibilities.
"My board did a very good job with putting out some policies and advisories ... on different regulations that could be changed or lifted or paused during the state of emergency," she said. "Here in Massachusetts, the biggest thing was that technicians were approved ... to immunize."
Lanza noted that the authority was granted under the federal Public Readiness and Emergency Preparedness Act and hasn't yet been made permanent. But she said the authorization is a welcome recognition by the board that technicians are capable and knowledgeable members of the pharmacy workforce.
Halvorson said the most important thing she's learned from her service on the board is "the value of a technician and that our voice can be heard, should be heard, and that together we can work as a team and provide the best service for our patients."
When she was new to the board, Halvorson expected her influence would be limited to issues directly involving pharmacy technicians. Instead, she found colleagues who value her insights, and she gained new confidence in her critical thinking skills and her ability to make decisions on issues affecting all aspects of pharmacy.
"I have become a strong part of the group, an important part of the group," Halvorson said. "I feel very comfortable in the spot that I'm in as an equal board member with our pharmacists and our public member."
Lanza said she feels equally at home with her fellow board members, who quickly allayed her initial concerns about being heard and valued during discussions. She said one of the greatest benefits to her service is the mentorship she has received from her colleagues on the board.
"We spend a lot of time in the pharmacy world mentoring and taking pharmacy students under our wing and precepting pharmacy students," Lanza noted. "We don't spend a lot of time mentoring pharmacy technicians and helping them develop into real pharmacy professionals."
Lanza must step down from the board at the end of 2023, but she's eligible for one more term later. She said she would love to continue her service as long as possible.
"It has been the most educational, enlightening experience that I've had in my more than 20 years as a pharmacy technician," she said.
Posted June 6, 2022