 The pharmacy residency enterprise founded by Harvey A.K. Whitney at the University of Michigan marked its 95th anniversary by welcoming about 80 former residents back to campus for a July 22–23 celebration.
Chief Pharmacy Officer Stan Kent said the event was an opportunity for past preceptors and residents to reconnect and catch up on what's new at Michigan Medicine's pharmacy department. The weekend activities included a reception, campus tour, and banquet.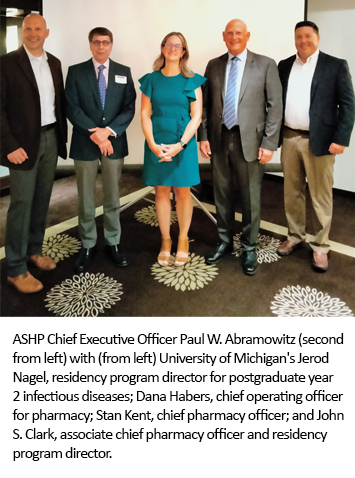 ASHP Chief Executive Officer Paul W. Abramowitz, a graduate of the residency class of 1979, gave remarks on behalf of ASHP during the banquet. The program also included a speech by Dana Habers, interim chief operating officer for pharmacy at Michigan Medicine, who emphasized the pharmacy team's response to the COVID-19 pandemic.
"The people that came had a really great time," said Kent, who has led the pharmacy department since 2015.
And he's already looking ahead to the program's 100th anniversary, which he hopes to hold at Michigan Stadium — the Big House, as it's known on campus — to welcome as many past residents, preceptors, staff, and other Wolverines as possible.
"The 100th is definitely going to be a big bash," Kent said. "Anybody that ever did their residency or worked at the University of Michigan should put the summer of 2027 on their calendar."
Harvey A.K. Whitney is credited with launching the nation's first hospital pharmacy residency program in 1927, when he came to University Hospital in Michigan to lead the pharmacy department. As was common at the time, the program was referred to as an internship. Notable graduates during the program's early decades include Paul F. Parker, Clifton Latiolais, Harvey A.K. Whitney Jr., and Paul Pierpaoli.
When ASHP began conducting pharmacy residency accreditation surveys in 1963, the University of Michigan program was part of the first group of applicants to complete the accreditation process. AJHP reported that in the summer of 1964, a total of 31 ASHP-accredited pharmacy residency programs were underway at 32 different hospitals.
John S. Clark, associate chief pharmacy officer and residency program director for Michigan Medicine, said the residency curriculum initially focused on pharmacy administration and evolved over time, adding specialties that provided advanced clinical training. The health system now operates pharmacy residency programs in a wide variety of clinical and administrative areas.
"Right now, we have 17 programs and 33 residents," Clark said. He and Kent said approximately 380 people have completed a pharmacy residency or internship at the university since 1946. There aren't reliable records prior to that time.
Clark said one of the things that sets the Michigan pharmacy residency experience apart is its focus on research and publication.
"Our residents complete the required residency project by the ASHP standard. And they also complete a writing project, which is separate from the required ASHP project," Clark said. "That's one of the reasons why we have a high publication rate for our residents."
Clark was residency program director in 2010, when the University of Michigan Hospitals and Health Centers received the Pharmacy Residency Excellence Program Award from the ASHP Foundation.
Kent said one of the noteworthy residency options at Michigan Medicine is the combined postgraduate year 1 and 2 residency in health-system pharmacy administration and leadership. Graduates of the program earn a master's degree in business administration from the University of Michigan Ross School of Business and then stay for a third year to complete a fellowship.
Jenn Leja completed the combined residency program in 2019 and is now manager of central pharmacy operations and transplant pharmacy services at Michigan Medicine. She said the residency was an invaluable experience that's helping to shape her career.
As a resident, Leja took part in what she called a "residency mini-project" by helping to plan the program's 90th anniversary gathering. Five years later, she was putting together the program for the 95th anniversary celebration.
"Since I stuck around after residency, was a past resident, and had some experience with it, Stan asked me to lead it again," Leja explained. She hasn't yet committed to organizing the upcoming 100th anniversary program.
But Kent and Clark are already encouraging past residents to update their contact information and think about coming back for the 100th anniversary or simply to reconnect with the pharmacy team.
"We would like to keep past residents informed as to what's going on where they trained," Kent said. "So please make sure we have your current contact information — and feel free to connect with me directly at [email protected]. And of course — Go Blue!"
Posted August 4, 2022