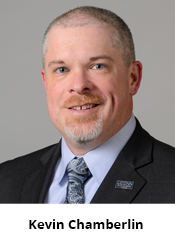 At UConn Health in Framingham, Connecticut, the pharmacy residency program team used one of its bimonthly meetings as a creative way to counter the accumulated stress from operating a learning environment during the COVID-19 pandemic.
"Instead of sitting there and discussing a leadership article or a new leadership technique that they could implement, we just forewent the scheduled discussion items and we played trivia," said Kevin W. Chamberlin, university director of pharmacy residency programs. "Everybody laughed, and it was just a way to loosen up at the end of a stressful run."
He said the program has also extended the creative approach to residents' wellness by hosting virtual game nights, escape rooms, and other activities as alternatives to the in-person social events that were abandoned during the COVID-19 pandemic.
But Chamberlin emphasized that stress management is serious business for the residency team, which has built education, monitoring, and resources into the workday to create a supportive and wellness-focused culture.
Kate Cozart, clinical pharmacist practitioner in primary care at U.S. Department of Veterans Affairs in Clarksville, Tennessee, also said her team takes a serious but imaginative approach to tackling stress and burnout. In addition to formal training on wellness, residents receive weekly resilience check-ins by email that may include unconventional activities, such as a personality test based on Disney movie characters.
"We have a lot of different tools that we use to try to reach our residents, our pharmacists," she said. "We started a resiliency committee for our healthcare system because we knew ... things were starting to boil over in the heat of the pandemic. And so we wanted to be sure our residents were taking care of themselves."
A March 2022 update to ASHP's pharmacy residency accreditation standards on duty hours acknowledges that residents are at increased risk for burnout and depression. The update emphasizes that residents need support during training to ensure their psychological, emotional, and physical well-being. The standards also encourage pharmacy leaders to educate preceptors about burnout syndrome and to implement strategies that can mitigate burnout.
Additional requirements related to residents' well-being and workforce diversity go into effect next year.
"ASHP is committed to addressing clinician well-being as it relates to the learning and work environment," said Janet Silvester, vice president of ASHP's Office of Accreditation Services. "By improving well-being and resilience and diversity and inclusion within residency training and the organizations where they are conducted, we can positively impact our ability to provide safe, high-quality care to patients."
The revised standards will require ASHP-accredited residency programs to incorporate an assessment of residents' wellness and resilience into initial and quarterly development plans. The standards also charge pharmacy leaders with overseeing the hiring, development, and support of an inclusive pharmacy workforce that's positioned to improve the health and wellness of patients.
Chamberlin said his program's incoming pharmacy residents undergo initial and ongoing assessments, using the Grit Scale, to chart their ability to maintain focus, interest, and perseverance toward long-term goals.
The residency program also supports well-being by designating a wellness champion for residents. This person acts as a confidant with whom residents can freely share frustrations and concerns.
"They don't really have to worry about what they say. It's between them and that wellness champion," Chamberlin explained. "It's an opportunity to normalize their feelings."
In one instance, he said, a resident was upset about not matching with a postgraduate year 2 residency program. Chamberlin said the resident talked through their feelings with the wellness champion and refocused on participating in the second phase of the match.
Residents tell Chamberlin their biggest concerns are related to the COVID-19 pandemic. In addition to being stressed by the constant focus on COVID-19 clinical care, residents worry about their own exposures to SARS-CoV-2 and the need for repeated testing and quarantine.
"I think, across our department, that is something we're all fatigued about," Chamberlin said. "If somebody in the department tests positive, then 10 people on the list from a weekend staffing situation may have been exposed, and that stresses everyone."
He said a big worry for new residents is that the virtual training they received during the pandemic has left them with knowledge and experience gaps. That's also a concern for student pharmacists who are onsite for clinical rotations and getting ready to apply for residencies.
"I just had this discussion with one of my students, who's saying, 'I just don't know where I don't know stuff that I should know,'" Chamberlin said. "It's frustrating, and they feel like they're behind and that the rest of us are measuring them against something that they can't necessarily achieve easily because they had a different kind of pharmacy training."
The residency team addresses these concerns by holding a summer survival series for incoming residents to reinforce concepts that may have been difficult to fully master in virtual classrooms. The sessions cover critical care, parenteral nutrition, vancomycin administration, and other areas identified by the residency program team.
"It was really just shore up their knowledge and their backgrounds on those sorts of things, knowing that we could still augment their rotational experiences out on the floors and in the units or in the clinics," Chamberlin said.
Cozart said one of the manifestations of stress and self-doubt that she's observed in learners is imposter syndrome, a phenomenon in which people feel like a fraud in their daily lives.
"For a lot of us, it starts when we trick ourselves into thinking, maybe we don't deserve to be where we are, or we should have accomplished more at this point in our learning," Cozart said. "Those kind of thoughts, when they start really becoming pervasive, can have a big impact on the way that you see yourself."
She said the issue is exacerbated by societal problems, especially racism, that can make people question their worthiness for their place in life.
"I've seen a lot of people feel some degree of intellectual phoniness, where they know that they are in pharmacy school but maybe they're not sure they deserved it," Cozart said. "Maybe they've tricked themselves into buying into, 'I'm a first-generation college student, do I really deserve to be able to be in this position?'"
The residency program provides education on imposter syndrome in the faculty's wellness programs for residents. Cozart said she's found that affirmations and journaling can help people overcome imposter syndrome. She also recommends the John Acuff book Soundtracks: The Surprising Solution to Overthinking to help people change harmful thought patterns.
Cozart said the past two years have been hard for healthcare providers. But one positive development is that people seem more willing nowadays to acknowledge how stress affects them.
"I think that's why we're seeing students and residents willing to speak out more. Maybe before, they had a thought but didn't know that it was OK to say it," she speculated.
Revisions to ASHP's pharmacy residency accreditation standards will be published in the coming weeks, along with a crosswalk and guidance highlighting the changes. Revisions related to well-being are addressed in sections on duty hour requirements, orientation to the residency, resident development plans, and pharmacy leadership. Revisions related to diversity and cultural competence reflect priorities identified by the Diversity and Cultural Competence Initiative for residency training.
Posted August 25, 2022