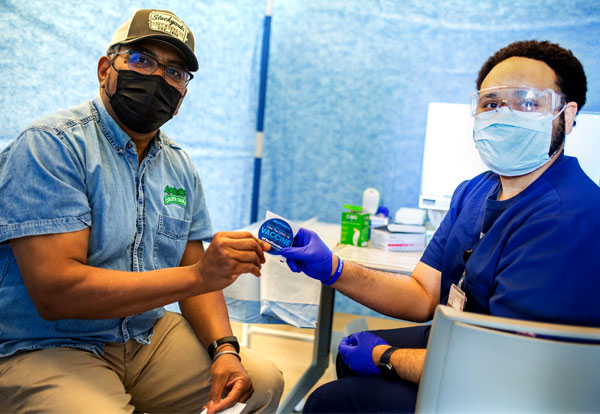 THE ROAD TOWARD GREATER DIVERSITY, inclusion, and equity is long, but Joshua Blackwell, Pharm.D., M.S., clinical pharmacy manager for ambulatory services at UT Southwestern Medical Center, is committed to seeing it through as best as he can.
Helping the Underrepresented
Dr. Blackwell has spent the better part of the last decade helping underserved pharmacists move up in their careers. In 2013, during his pharmacy studies, he took on leadership positions at the Student National Pharmacy Association (SNPhA), an organization dedicated to serving the underserved. Dr. Blackwell started off as his chapter's president but quickly rose to oversee all SNPhA chapters in the Midwest and ultimately became National President.
"I had the honor of helping the organization home in on their mission by creating innovative programs and opportunities to serve and strengthen communities," said Dr. Blackwell, an ASHP member since 2011.
One initiative he worked on was the Prescription for Service competition, a collaboration with Walmart and Sam's Club, which provides scholarships to pharmacy students based on projects they develop to help the underserved in their community.
"I'll never forget the winners of the very first competition, in 2013," Dr. Blackwell said. That project was done by pharmacy students at Howard University and led to a partnership between the University and the Capitol City Pharmacy Medical Reserves Corps, in which the school manages outreach efforts to local student organizations, including wellness fairs and scholarship opportunities. Another winning project Dr. Blackwell is particularly proud of was developed by pharmacy students at Texas A&M University and included a cleanup of a community park and a mural painted on a nearby basketball court to help promote equity and inclusion.
Addressing Vaccine Hesitancy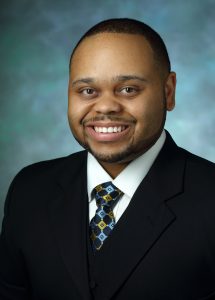 After strengthening his leadership chops at SNPhA, Dr. Blackwell co-founded the Pharmacy Initiative Leaders (PILs), a nonprofit organization aimed at empowering underrepresented individuals and "helping them, through authentic support and connection, succeed at every stage of their pharmacy journey," he said.
"A key to the organization's success has been creating a culture of community and going out and really cultivating and amplifying people's strengths, particularly those who may not have an advanced education or the greatest financial resources," said Dr. Blackwell.
Recently, he and his colleagues at PILs addressed vaccine hesitancy in Black communities through a webinar open to the public.
"When I got the COVID-19 vaccine myself, I had reactions from family ranging from, 'I'm so happy for you, how're you feeling?' to, 'Are they trying to kill you with the vaccine?'" Dr. Blackwell said, pointing to the infamous Tuskegee Syphilis Study as an event that spawned suspicion in Black communities regarding the motives of healthcare institutions and public health campaigns.
While historical suspicions are understandable, "People who hold on to fears based on news and social media find it hard to see the positive impact COVID-19 vaccination can have on the community," Dr. Blackwell said.
To mitigate the impact of these fears, he and his co-presenters explained how COVID-19 vaccines work, answered questions about these medications and about the disease, and highlighted that vaccination is important for all, including Black communities.
Navigating Widespread Biases
Dr. Blackwell's passion for helping Black pharmacy students and practitioners reach their potential was sparked when, as a student, he faced his own race-based barriers.
"As a black male at a predominantly white institution, people assumed I played football just because a lot of African American males at the university did," said Dr. Blackwell. In other instances, he faced microaggressions, such as being told that he was "surprisingly articulate."
Rather than taking these slights to heart, Dr. Blackwell transformed their energy into a stronger resolve to serve his community and reach greater heights. "I've always tried to be an example so that other people that look like me try and have a seat at the table, along with the many other underrepresented groups out there," he said.
Divya Varkey, Pharm.D., M.S., clinical associate professor at University of Houston College of Pharmacy, has been one of Blackwell's most admired mentors. She said Dr. Blackwell "epitomizes the idea of 'paying it forward,' and his passion is easy to see when it comes to providing guidance, support, and mentorship to those around him."
"His goal for those around him is simply stated: to ensure they are equipped with the knowledge, skills, and confidence to be the best version of themselves," Dr. Varkey said. "To that end, as a mentor himself, Dr. Blackwell spends countless hours working with mentees to help them cultivate their own definition of success and then – and most importantly – connects them to opportunities to achieve those goals."
ASHP and Racial Diversity, Equity, and Inclusion
Dr. Blackwell recently served on ASHP's Task Force on Racial Diversity, Equity, and Inclusion (DEI), where he helped develop recommendations on marketing and advocacy. The recommendations range from calling on ASHP to provide scholarships to Black, Indigenous, and persons of color (BIPOC) to asking the organization to spotlight the accomplishments of BIPOC students.
"To make all pharmacists feel that ASHP is their home, they need to see themselves playing a role within the organization, and marketing and awareness of ASHP opportunities is one way to get more people at the table," Dr. Blackwell said, adding that by virtue of taking on leadership roles – including currently serving as a member of ASHP's House of Delegates – he believes he has helped further the cause of diversity, equity, and inclusion.
"Having a seat at the table is so important because it inspires others who look like me to go further, ultimately giving them more of a voice and expanding the conversation to include other viewpoints," said Dr. Blackwell.
He is hopeful the DEI Task Force recommendations will help chip away at society-wide racial inequality and urged ASHP members to review and reflect on the recommendations as well as the actions ASHP takes to address health disparities.
"And be a voice within your state affiliates for diversity, equity, and inclusion efforts," Dr. Blackwell urged. "While work at the national level is critical, it all starts at the state level."
Posted June 9, 2021