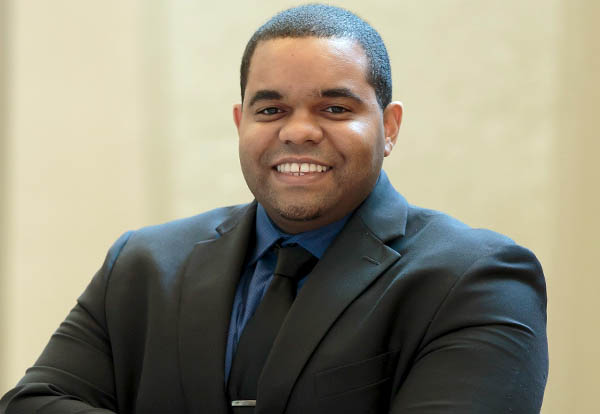 AFTER GRADUATING FROM a Bachelor of Science program, Jeffrey Clark was torn between applying to pharmacy school or medical school. As fate would have it, that hesitation dissipated when Clark entered the post-undergraduate working world.
While working as a program and wellness manager at the University System of Georgia, Clark was surprised to find out that pharmacists worked in managed care positions. "I'd always thought of pharmacists as being limited to the retail setting," Clark said.
Discovering the range of options available to pharmacists and feeling gratification from helping individuals achieve better health through the wellness programs inspired Clark to pursue a career in pharmacy.
Diversity Leadership
As a fourth-year Pharm.D. Candidate at the Philadelphia College of Osteopathic Medicine School of Pharmacy in Suwanee, Georgia, Clark's professional interests include pharmacy operations management, medication safety, and quality assurance. His plan at the moment, however, is to pursue a two-year residency in health-system pharmacy administration and leadership.
That choice of specialization is a natural one for Clark, who serves in several leadership roles, including Chair of the ASHP Pharmacy Student Forum Executive Committee and as a student representative to the ASHP House of Delegates.
Clark is perhaps most passionate about being a leader in diversity. This interest was sparked in high school, where he spearheaded the formation of diversity groups, and a task force. "I remember explaining to [my high school's] administration that we didn't have a diversity-focused organization and that we needed to hold a conversation around the topic," he said. After speaking up and voicing his concerns, Clark was asked to start a campus diversity organization.
Clark was called on again to lead diversity initiatives at college, where the campus president asked him to facilitate a task force on the issue, with the goal of finding ways to recruit individuals from underserved communities to college positions. "Those discussions ultimately led us to build awareness among faculty and staff and promote discussions on matters related to race," he recalled.
Clark's rich history of diversity leadership has led him to his current position as a member of the ASHP's Task Force on Racial Diversity, Equity, and Inclusion (DEI). His mentor, Joshua Blackwell, Pharm.D., clinical pharmacy manager, ambulatory services, at the University of Texas Southwestern Medical Center in Dallas, is excited to see what Clark will help achieve during his tenure on the ASHP DEI Task Force.
"When the call to action came from ASHP, Jeffrey immediately contacted me and expressed interest in serving as the student voice on the DEI Task Force," said Dr. Blackwell. "I think one of Jeffrey's greatest strengths is that he understands and listens to what other students around the country say their challenges and opportunities are within pharmacy schools. He wants to help them at every stage of their journey."
Diverse Mentors, Leaders, and Students
Clark has reached impressive heights as a leader, but the path as a black male has come with some challenges. "I initially struggled to find a leader in pharmacy that I really connected with and felt comfortable telling my life story to, and I partly attribute that to not having someone who looks like me," Clark said.
Although he eventually found leaders who supported and guided him, that lack of an early connection may have translated to some missed opportunities, he believes. "There are lots of opportunities available to pharmacy students, but you have to know about them and figure out where to put your time and effort," Clark said. "If you don't have a mentor to guide you, that can be difficult."
Clark hopes to dedicate part of his time on the ASHP DEI Task Force to ensuring that other potential and current pharmacy students do not similarly miss out on opportunities. Promoting awareness to communities and schools that have historically been less of a focus for pharmacy schools is one way he believes this can be done. Sharing the stories and achievements of diverse members of the pharmacy community should also make students feel more comfortable and interested in getting involved with pharmacy organizations, Clark believes.
"People of color sometimes don't feel like they stand a chance, and they don't see how they're going to find a mentor or some kind of connection to break through racial barriers," he said. "We need to be proactive in seeking out people from diverse backgrounds and to communicate better with them to let them know, 'Hey, you can do this!'"
Practitioner Diversity Improves Patient Care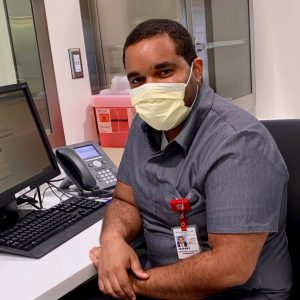 Clark believes that having practitioners that represent the mirror the diverse range of patient backgrounds – whether it is race, sex, or socioeconomic level – can help improve the quality of care that individuals receive.
For example, he recalls finding some patients from minority backgrounds reluctant to share information with the hospital rounding team during some of his patient rounds. While the sheer size of a large medical team may have intimidated them, "in some cases where the patient we treated was black, I noticed that when I went into the room alone, they would be much more open to talking," Clark recalled. "There are some people that feel more comfortable talking to a person who is like them."
For all the reasons that diversity is so important to him, Clark is excited about the changes he and his peers stand to make through ASHP's DEI Task Force. "Diversity is already happening," he said. "We're working hand-in-hand with ASHP staff to make sure we find every opportunity to grow, and to develop policies and accountability systems that keep us expanding our diversity, not just once, but on an ongoing basis."
By David Wild
# # #
Posted January 13, 2021