 BETHESDA, Md. — ASHP announced today that David Chen, B.S. Pharm., M.B.A., has been promoted to Assistant Vice President for Pharmacy Leadership and Planning.
Chen, who has been with ASHP since 2004, will be responsible for the development of enhanced services for pharmacy executives, including chief pharmacy officers and multi-hospital system leaders. He will also provide increased leadership in ASHP's product and service development efforts as a means to further support ASHP members and the patients they serve. He will continue to play a leading role with the ASHP Sections of Pharmacy Practice Leaders and Specialty Pharmacy Practitioners.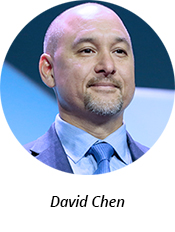 "Throughout his 15-year career with ASHP, David has demonstrated a strong commitment to serving our members and a keen ability to identify emerging trends that impact pharmacy practice now and in the future," said ASHP CEO Paul W. Abramowitz, Pharm.D., Sc.D. (Hon.), FASHP. "David has been a key figure in advancing ASHP's overall membership and practice advancement activities, and he was also recently recognized with the ASHP CEO Award for Staff Excellence. We are pleased to have David in this important new role, and know that our members will benefit from it."
Chen previously served as senior director for the ASHP Section of Pharmacy Practice Leaders and as staff liaison for the Section's Executive Committee and member groups. Prior to joining ASHP, he was director of pharmacy at Shady Grove Adventist Hospital in Rockville, MD, including the Kessler/Adventist Rehabilitation Hospital. He also served in director of pharmacy roles in Texas and Florida and as a central operations supervisor for the University of Maryland Medical Center Pharmacy. Additionally, he was a regional marketing manager for the west coast and regional recruiter for the northeast with Owen Healthcare, Inc. (now part of Cardinal Health).
Chen received his B.S.Pharm. from the University of Maryland School of Pharmacy and completed the Director-in-Training program for Owen Healthcare, Inc. in Texas. He earned his M.B.A. from the Loyola University Maryland.
Posted February 14, 2020