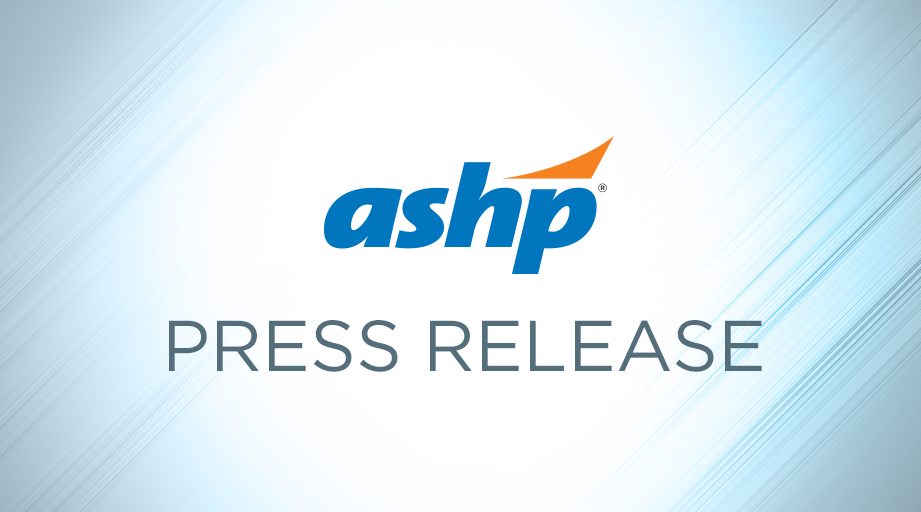 New Section Supports Educators to Prepare and Train Pharmacy Workforce

ASHP today announced the members of the new Section of Pharmacy Educators Executive Committee. This new membership section further strengthens and significantly enhances ASHP's efforts to help prepare the pharmacy workforce, and provides a unique and distinct membership home and leadership voice within ASHP for pharmacy school faculty and preceptors involved in the training of the pharmacy workforce.
Pharmacy educators play an essential role in preparing pharmacists to provide the highest possible level of interprofessional patient care. Building on ASHP's 78-year history of supporting heightened standards and training for pharmacy professionals, this new section will focus on elevating and further supporting educators in all practice settings as they help to prepare the next generation of practitioners for evolving opportunities and challenges in patient care and pharmacy practice.
"The new ASHP Section of Pharmacy Educators Executive Committee represents an exceptional and highly recognized and respected group of pharmacy leaders who are well-positioned to guide the success of this important new ASHP membership section," said ASHP Chief Executive Officer Paul W. Abramowitz, Pharm.D., Sc.D. (Hon.), FASHP. "Each executive committee member brings with them incredible depth, diverse knowledge, and expertise across a range of academic practice settings. This impressive group of leaders will undoubtedly build a very strong foundation for the success of the new section by establishing the vision and guiding the creation of the highest caliber professional development resources, networking, and mentorship offerings to serve section members and further advance patient care and pharmacy practice."
ASHP's Section of Pharmacy Educators Executive Committee, composed of five ASHP members recognized as pharmacy leaders with broad and diverse practice expertise, will guide the development of education, resources, strategic initiatives, professional policies, and advocacy to support pharmacy educators. Committee members for the 2020–2021 term are as follows:
Chair: Marie A. Chisholm-Burns, Pharm.D., M.P.H., M.B.A., FCCP, FASHP, FAST, is Dean and Distinguished Professor of the University of Tennessee Health Science Center College of Pharmacy and Professor of Surgery in the College of Medicine. Dr. Chisholm-Burns received her bachelor's degree in psychology and general studies (emphasis in biology) from Georgia College; her bachelors in pharmacy degree and Doctor of Pharmacy from the University of Georgia; her Master of Public Health from Emory University; and her Master of Business Administration from the University of Memphis. She completed her pharmacy residency at Mercer University Southern School of Pharmacy and at Piedmont Hospital in Atlanta, Georgia. Dr. Chisholm-Burns is Founder and Director of the Medication Access Program, which increases medication access to solid-organ transplant recipients. With more than 345 publications and over $17 million in external funding as principal investigator and co-investigator from organizations such as the National Institutes of Health and several foundations, she is a prolific scholar.
Member: Timothy R. Brown, Pharm.D., BCACP, FASHP, is the Director of Interprofessional Education for the University of Georgia's College of Pharmacy and a Professor in Pharmacology and Toxicology for Augusta University Medical College of Georgia and UGA Partnership. In his current role, Dr. Brown brings innovative interprofessional experiences to the pharmacy curriculum by building partnerships with other educational programs such as healthcare practitioners, information technology, finance, and business programs. Dr. Brown also teaches clinical pharmacy practice to medical students and serves as course coordinator for medical and pharmacy student simulation experiences. He received his Doctor of Pharmacy from Campbell University School of Pharmacy and completed his pharmacy residency at the Medical College of Virginia. Dr. Brown is a past board member of ASHP and is recognized nationally as a leader within ambulatory care. Dr. Brown has broadened and strengthened partnerships and expanded medical and pharmacy curricula to integrate the care of LGBTQ+ patients.
Member: Lea S. Eiland, Pharm.D., BCPPS, BCPS, FASHP, FPPA, is a Clinical Professor and Associate Department Head of Pharmacy Practice, Auburn University Harrison School of Pharmacy, and Clinical Professor of Pediatrics, the University of Alabama at Birmingham School of Medicine. She teaches in the areas of pediatrics, drugs in pregnancy and lactation, infectious disease, and leadership. She earned her Doctor of Pharmacy from the University of Texas at Austin and completed a pediatric specialty pharmacy residency at Texas Tech University. Dr. Eiland has developed pharmacy services in the pediatric intensive care unit, general pediatric inpatient, and pediatric ambulatory care settings. Dr. Eiland is a past board member of ASHP and a past member of ASHP's Women in Pharmacy Leadership Steering Committee. She has authored original research articles, review articles, and book chapters on pediatric pharmacotherapy and the scholarship of teaching and learning. Dr. Eiland currently serves as faculty advisor for the Auburn Student Society of Health-System Pharmacists.
Member: Cher Enderby, Pharm.D., BCPS, BCNSP, is the Coordinator of Education and Staff Development at Mayo Clinic in Florida. She supports all educational efforts for the department, including training and competencies, and professional development of pharmacists, pharmacy technicians, administrative assistants, pharmacy residents, student pharmacists, and pharmacy technician students. Dr. Enderby also serves as the PGY1 Pharmacy Residency Program Director, Coordinator for the PGY2 solid organ transplant program, Student Program Director, and the Mayo Clinic Technician Training Program Assistant Program Director. Dr. Enderby received her Doctor of Pharmacy from the University of Florida and completed a PGY1 pharmacy practice residency at Florida Hospital in Orlando. She is a Board Certified Pharmacotherapy Specialist, Board Certified Nutrition Support Pharmacist, and an Assistant Professor of Pharmacy at the Mayo Clinic College of Medicine.
Member: Winter J. Smith, Pharm.D., BCPS, is a Clinical Professor in the Department of Clinical Sciences at the University of Texas at Tyler Ben and Maytee Fisch College of Pharmacy (FCOP) and an inpatient internal medicine clinical pharmacist at Medical City Plano Hospital in Plano, Texas. She received a Doctor of Pharmacy from the University of Oklahoma College of Pharmacy. She completed a PGY1 pharmacy residency at Parkland Health & Hospital System in Dallas, Texas, and a PGY2 pharmacy residency at Duke University Medical Center in Durham, North Carolina. She teaches drug information and infectious diseases topics in various courses in the FCOP Pharm.D. curriculum. She is also primary preceptor for adult internal medicine advanced pharmacy practice experiences and PGY1 pharmacy residency learning experiences. Her pharmacy residency service has included roles as residency program director, director of residency programs, and ASHP practitioner surveyor for residency accreditation.
The Executive Committee will hold its first meeting in October. Additional volunteer engagement opportunities in the new section will be available to all ASHP members soon thereafter. For more information about the new ASHP Section of Pharmacy Educators, visit ashp.org/Pharmacy-Educators.
About ASHP
ASHP is the collective voice of pharmacists who serve as patient care providers in hospitals, health systems, ambulatory clinics, and other healthcare settings spanning the full spectrum of medication use. The organization's nearly 55,000 members include pharmacists, student pharmacists, and pharmacy technicians. For 78 years, ASHP has been at the forefront of efforts to improve medication use and enhance patient safety. For more information about the wide array of ASHP activities and the many ways in which pharmacists advance healthcare, visit ASHP's website, ashp.org, or its consumer website, SafeMedication.com.
Posted September 28, 2020