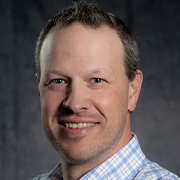 Brody Maack
Before 2020, North Dakota pharmacist Brody Maack almost always saw patients in his clinic for all their visits. But like huge numbers of fellow providers, he shifted to telehealth during the pandemic. And he saw benefits.
"I found that being able to offer video visits and more telephone-based services really increased patient access, especially to those in underserved populations," said Maack, an associate professor of pharmacy practice at North Dakota State University, whose clinical practice is at a federally qualified health center in Fargo. "Maybe they have difficulty with transportation, or they live in rural areas."
Now that many Covid-era rules ended in May, providers are still sorting through what they can do when it comes to telehealth, said Maack. He plans to talk about those changes and the implementation of telehealth services at Challenges and Opportunities in Telehealth: What Every Leader Needs to Know, a session being held Sunday at the 2023 Summer Meetings & Exhibition in Baltimore.
Maack spoke with ASHP in advance of the meetings. What follows is an edited transcript.
ASHP: What are pharmacists able to do via telehealth?
Maack: Almost anything can be done with telehealth, with some obvious exceptions like physical exams. Comprehensive medication management services, chronic disease state management, medication therapy management, remote blood sugar monitoring — those can all be done via telehealth. There are aspects that are not as easily done over the phone or through video conferencing: physical exams, or medication reconciliation. Just general communication is so much easier in person, and I think most would agree we would prefer seeing our patients face-to-face, but for those that cannot be seen in-person telehealth provides an effective alternative.
Pre-COVID-19, what did telehealth look like for the pharmacy workforce?
Telehealth existed, but it wasn't as common as it is now. Here in North Dakota, we have pharmacies that have a hub site, or "telepharmacy" location in another town where the pharmacist can communicate remotely with the staff, check prescriptions, and counsel patients. There are some other states that also have telepharmacy capabilities that have been going on for years, especially in rural areas. So telehealth was happening, but it was limited.
And then COVID-19 hit.
Some of the regulations around telehealth were lifted. We could start using Zoom, for example, to provide healthcare. Many practices went remote. And now post-COVID, we are starting to see things go back to pre-COVID, to a certain extent. But there are many services continuing to be provided remotely, and I think that's a cool thing.
You mentioned having patients in rural areas. Did any of them have trouble with having reliable Internet access for telehealth services?
Not everyone has a smartphone. Not everybody has internet access. The hope is that most people have some sort of telephone access. There were many more services allowed to be delivered telephone only. And when I say "allowed," I mean allowed to be billed. Some telehealth services can only be billed if they're provided over video, whereas some are permitted to be video or audio. With remote patient monitoring, we could use messaging systems that don't have a live component. Those are things that really came out of the COVID era. With some of these regulations sunsetting, we're in a period of unknown.
Such as?
I mentioned Zoom and Facetime, which were allowed in the COVID era. But post-COVID, are we still going to be able to use Zoom or will we need more of a secure platform?
How easy is it going to be to unwind all of this?
There is going to be a period where practices that shifted to mainly telehealth and are now shifting back are going to go through some frustration and growing pains. I think there are some definite benefits to doing telehealth. It is more convenient for patients. We are always going to want and need to have the in-person visits. But to be able to provide telehealth as an option really opens up that arsenal of patient care delivery options.
What members do you think are going to find this session most helpful?
One audience is people who are still trying to learn about telehealth: what is it, what does it mean, how can I implement it. We're going to talk about workflow considerations. So if you're going to implement telehealth, what kinds of things are you going to have to have in place. Another audience is those who are just looking for updates.
When you say workflow considerations, what do you mean?
Just the practice environment. What stakeholders do you need to get involved to change things: what platforms to use, what quality initiatives do you need to be looking at, what sort of revenue models are you in? How are you going to market it? How will patients know it's an option? What kind of training will you and your staff need? We will talk about all those things.
Challenges and Opportunities in Telehealth: What Every Leader Needs to Know
will be held Sunday from 9:45 a.m. to 11 a.m. at the
ASHP Summer Meetings
. Speakers include Maack and Jennifer Reiter, pharmacy manager for ambulatory care at Indiana University Health Southern Indiana Physicians in Bloomington, IN. For additional insights, listen to an
AJHP
Voices podcast about the journal's 2022
telehealth theme issue.
Posted June 9, 2023